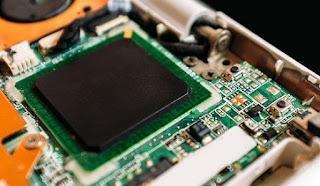 We have practically said everything about computer processors, the difference between CPUs and how to understand the speed of a multi-core processor but we know little about the processors used on smartphones.
In this case, different types of chips are available with different characteristics and variable power according to the chosen manufacturer and the number of cores offered.
In this article we will see together
the best smartphone processors
, so as to understand how different they are from the CPUs of normal computers and
how important are the "Cores"
.
The best smartphone processors
To facilitate the discussion of the topic, let's try to answer 4 questions as well as see if there is a
better and faster processor than others
.
1)
Are all smartphone CPUs the same?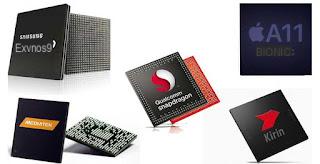 From the point of view of raw materials, the CPUs are all made with the same materials. If we have learned anything from the desktop computer though, it is that the performance of an AMD processor is different from that of an Intel processor.
For the CPUs intended for smartphones the speech is the same, even if they all belong to the same ARM family (which allows you to execute different instructions than the CPUs for PCs called x86), it would be wrong to say that they are all the same. The following are currently available
ARM CPU manufacturers
intended for smartphones and tablets:
-
Apple
(with its ARM procerssors AXX, where in place of the X there is an identification number)
-
Samsung
(which produces the ARM CPUs called Exynos exclusively for its devices)
-
Qualcomm
(leader of the sector with its ARM Snapdragon XXX CPUs, where in place of the X there is an identification number)
-
Mediatek
(whose ARM CPUs are widely used in the low-end smartphone sector)
-
Huawei
(which produces the ARM HiSilicon Kirin CPUs exclusively for its devices)
There are also other manufacturers such as NVIDIA and Intel but they are less popular than those presented above. Among these CPUs
the most powerful are certainly those produced by Apple, Qualcomm and Huawei
, the latter in rapid rise thanks to the spread of smartphones released by this manufacturer. Mediatek produces cheap CPUs aimed at the low end of the market, so we won't have to expect much in terms of performance but if we focus on models with at least 8 cores we will still have to obtain the necessary power to run the most famous apps without problems.
2)
Doesn't having a good CPU mean bad performance?
The performance of mobile devices depends on all components, including the CPU. A powerful CPU in a device with low amount of RAM and internal memory will not be fast and will show all its limitations very soon, as soon as we run or install many apps. Therefore, if possible, let's try to choose a smartphone with a good CPU but also with the right amount of RAM and internal memory, in particular if we want to buy an Android smartphone (in this case we recommend to focus only on models with 4 GB of RAM (or higher). ) and 32GB of internal memory (or higher), associated with a Qualcomm, Huawei or Samsung CPU).
3)
Are apps faster on multi-core devices?
Just like on the PC, not all mobile apps are developed to take advantage of more than one core.
Multitasking can work better with multiple cores
, but you will only notice the difference on applications designed to work in these environments.
Applications such as Facebook, Twitter, Kindle will not see significant speed benefits as more cores available; while multimedia apps like YouTube and games will likely be faster if there are more cores. If possible, we try to choose only smartphones with quad-core CPUs or higher, so as to always have the necessary power to start multiple applications at the same time without having to fear excessive slowdowns.
4)
Do multi-core processors consume more battery?
Some processors may shut down some cores when not in use, particularly in the
BIG.Little configuration
: the cores are divided into two groups (2 + 2 or 4 + 4) and only the cores with less frequency are used for daily operations, while when more power is needed, the other group of cores is also started with a much higher frequency .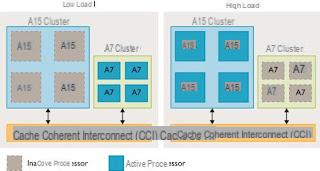 This allows you to use four energy-saving cores when the smartphone is with the screen off or with a low load of operations; as soon as more power is required the whole load shifts to the four powerful (high frequency) cores which can do the task much faster, all without the user noticing the switch (which takes place inside the processor in fractions of a second therefore without pauses or interruptions).
To answer the main question: if you take advantage of the low consumption choirs the battery will benefit, while using the high frequency cores often the battery will drop quickly.
To check the frequency of the processors on Android we recommend the CPU Control Free app, available here ->
CPU Control Free
.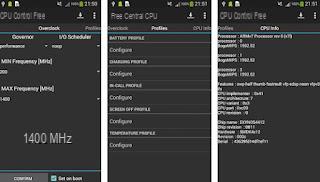 Other Android CPU Overclock applications allow you to lower or increase the CPU frequency.
5)
What is the best processor for smartphones?
To answer this question it is better to use comparison or benchmarking apps such as Vellamo or Antutu.
Currently the ranking of processors has the following elements.
Qualcomm Snapdragon 665
Qualcomm Snapdragon 865 865+
MediaTek Dimensity 1000
Qualcomm Snapdragon 855 +
Apple A13 Bionic
Huawei HiSilicon Kirin 990
Samsung Exynos 9825
Qualcomm Snapdragon 855
Apple A12 Bionic
Huawei HiSilicon Kirin 980
Samsung Exynos 990
Samsung Exynos 9611
MediaTek Helio P90
Qualcomm Snapdragon 720G
MediaTek Helio G90T
Huawei HiSilicon Kirin 810
Qualcomm Snapdragon 730G
Huawei HiSilicon Kirin 820 5G
Qualcomm Snapdragon 765G
The fastest processors are those produced by Qualcom, followed by Apple for the latest generation iPhones and by the Exynos of the latest Samsung Galaxy S and CPUs manufactured by Huawei (which are getting faster every day!). Not to be despised also the Mediatek processors, which however are placed in the upper part of the ranking demonstrating great balance between performance, energy saving and price even in 8-core configurations.
What are the best processors for mobile phones and smartphones?