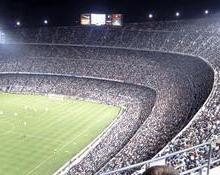 With rare exceptions, sports video games today are played mainly on smartphones and tablets because they are portable and because thanks to sensors such as the accelerometer and the touchscreen, active fun is always high.
So let's see a small list of
best sports games available for free
to
iPhone / iPad
and for
mobile phones (Samsung Galaxy, OnePlus, Xiaomi, LG etc.) and Android tablets
trying to give priority to the free ones but also mentioning the best paid ones that, for a few Euros, might deserve the purchase.
Best Tennis games for Android and iPhone
1)
Virtua Tennis Challenge
della Sega is the best title for tennis fans. The 3D game is played perfectly on the screen of Android smartphones and on iPhones or iPads, with absolutely realistic sports dynamics, with the best players in the world competing in 18 world tournaments. The game also supports double the cooperative mode so you can play a game together with a friend using the bluetooth or Wifi connection. Because of this, Virtua Tennis is one of the best sports games that can be found. Unfortunately it is not free and costs around 4 Euros for iPhone and Android.
2)
Tennis clash
for Android and iPhone is among the most awarded games of 2019, a very nice Tennis game, in multiplayer, with 3D graphics, free to play.
3)
Ultimate Tennis
for Android and iPhone is the free alternative to Virtua Tennis, with the same gameplay, high-level 3D graphics and, above all, with the ability to play in real time against other people by challenging each other in very fun and stimulating tennis matches.
4)
Stick tennis
per Android e per iPhone e
Stick Cricket
, on Android and also for iPhone, are two sports games by the same developer, very fun, fast and dynamic, characterized by the design of very thin players like toothpicks.
5)
World of Tennis 1920
for Android and iPhone is a surprisingly popular, new and very beautiful tennis game. You start your career as a tennis player with a 20s setting, then you can grow in career mode and multiplayer mode to improve your stats and unlock lots of customizations.
Best Golf games for Android and iPhone
1)
Golf Clash
, for Android and iPhone, is another much appreciated and popular Golf game, of the faster type, with very fun one-on-one challenges.
2)
Mini golf King
is the very nice Mini Golf game graphically, all in 3D, very relaxing and perfect as a pastime.
MiniGolf 3D is free for iPhone and Android
3)
golf star
is perhaps the best Golf game for Android and iPhone, very realistic, in 3D, easy controls and game modes with a progression career.
Another nice game of Golf, which costs 2 Euros, is also
OK Golf
, for Android and iPhone, very realistic and well done.
Various Sports Games for Android and iPhone
1)
Prizefighters
for Android and for iPhone is a nice boxing game with 8 bit graphics, very funny.
2)
Baseball MLB 9 Innings 21
is the game for those who want to play Baseball on iPhone and Android that also stands out because it is free. MLB 9 Innings 20 is one of the best smartphone baseball games where you can also coach a team and compete with other players online.
For those who want to play real American Baseball, the game can be purchased
R.B.I. Baseball
a 7 Euro, per Android e iPhone.
3)
MLB Home Run Derby
for iPhone and Android is another simpler baseball game, where you can also play against other players online.
4)
8 Ball Pool is free Billiards on iPhone, iPad and Android
already described in another article, fun and very nice to see.
5)
Bowling, Darts and Billiards games on Android and iPhone
I'm in another post.
6)
3D Table Tennis
is the best free game of Ping Pong or table tennis, fluid and very fun to play with your finger on the screen, available for both Android phones and iPhones and iPads.
7)
Glow Hockey
it's not really a sports game but it's always a very fun arcade competition game, where you can play in two on one screen, trying to score the opponent by pushing the puck with your finger. Glow Hockey is the best free Air Hocket for Android.
8) For the
archery
we have the beautiful game
Archery King di Mini Clip
for iPhone and Android and then also
Archer world cup
free
per iPhone
and Arco 3D for
for Android
, are the best archery games, which can be played online against other players, in a real world tournament.
9)
The 10 best basketball and basketball games for Android and iPhone
, such as NBA LIVE Mobile, are listed in another article.
10 )
Madden NFL Mobile
, for Android and iPhone, is the EA American Football game, featuring real NFL teams and players. The game is not about sport played, but based on collectible stickers.
11 )
Hockey All Stars
, for iPhone and Android, is a great hockey game played, where you guide the players in a game with the pitch seen from above. The game can be started for free, although it must be purchased to unlock the teams.
12 )
Badmington League
: While Badmington is certainly not the popular sport in the city, this is a super fun game, which can also be played as a two-on-one with a friend. Badmington is similar to tennis, except that the ball (which is not a ball) travels much slower. With a 2D horizontal view, it is easy to play and the player who scores the most points with smash hits wins. Badmington League is free for Android and iPhone.
13 )
Grand Mountain Adventure
, for Android and for iPhone is a beautiful one
ski game
, where you can ski along snow-capped mountains in complete freedom or compete to earn the ski pass and climb other mountains to explore. The game has a top view, very nice and relaxing graphics, great game controls.
14 )
Skateboard Party 3
, for Android and iPhone, is the best game of the
skateboard
in 3D, where you have to do jumps with the skate in the most advanced parks.
15 )
Ski Challenge, the best free 3D ski game for Android and iPhone
16) Between the
beating and fighting games for Android and iPhone
we have boxing, martial arts and fighting games of all kinds.
17 )
FIE SwordPlay
, for Android and for iPhone it is one of the most popular sports games that is really worth trying for its originality, it is in fact a fencing game, with saber and foil challenges against other players, in PvP mode, time real.
18 )
RAPALA Fishing
, for Android and for iPhone, is the most beautiful free fishing game that can be played on smartphones and tablets, realistic and highly addictive. The game features various fishing locations, easy controls and daily tournaments, with no energy bars to refill that can limit games.
Best sports games for Android, iPhone and iPad