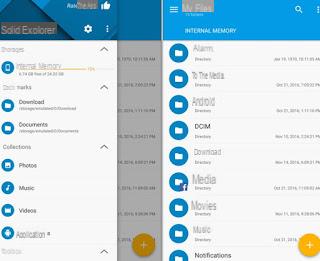 While many users can live their entire life without the need to touch files inside the smartphone, there are times when this may be necessary, for example to install an app manually, to hide photos or even to change some configurations. internal.
Exploring and managing the phone files as if it were a normal computer is one of the best qualities of smartphones and tablets with Android system, where it is possible to use the memory as if it were that of a normal USB pen or hard disk. external, without constraints and limits, with the ability to browse all files and folders.
Files on Android can be moved between folders, deleted, copied, renamed directly from the mobile phone or tablet using one of the "File Manager" applications, which work like an Android "Explorer", convenient for finding downloaded files such as music, photos or documents and also
to access cloud storage services
.
As always, the
best free applications to browse files on your android mobile, only free
.
1)
X-Plore File Manager
is the first one I mention on this list, which until recently has always been the best file manager and the most recommended. With a very easy to understand interface, ES File Explorer allows you to access SD card files, system files (if Android is unlocked with root permissions) and works as an FTP server and Bluetooth. With this app you can also browse the cloud storage Google Drive, OneDrive, Dropbox or others and open network or shared folders from Windows PC. The app also has file copying and moving tools, clipboard agestore, zip archive creator, wifi server function (to connect from PC to mobile via web browser), access to system files with root permissions, dark theme, support DLNA and FTP.
2)
Solid Explorer
it could be there
best alternative to ES File Manager
(now gone and to be deleted because it was discovered to be a spy app), except that it's not all free. This file manager is beautiful to look at, easy and full of useful features. This application allows you to quickly explore the most used files such as photos, music, videos and applications and also allows you to bookmark the folders and locations that you access the most. The best feature is the dual panel mode, so that by opening the app in landscape mode, you can see two folders next to each other, perfect for moving or copying files. In addition, it also allows you to hide some folders, where maybe you can put private photos that you don't want to show to those who can pick up our phone.
Solid also has support for browsing system files if you have root access to Android. Not secondary is the support function to access cloud services such as Dropbox, OneDrive, Google Drive and to access network files via FTP, SMB or WebDav, to also explore the files of the computer connected to the network.
3)
Xiaomi File Manager
is the app to explore the files of Xiaomi smartphones that can also be installed on other Android models. With this tool you can search for files, move them, copy them, paste them, rename them and then extract them from archives and much more.
With a simple and aesthetically pleasing design, Mi File Manager has a beautiful category screen that allows you to organize and label your files. It is compatible with a number of cloud storage services such as OneDrive, Google Drive and Dropbox, allows you to compress and decompress rar and zip files and transfer files between phone and PC, over wifi. Mi File Manager is completely ad-free, which is an important feature.
4)
Total Commander
is another great choice to manage Android files, very light, feature-rich, ad-free and free.
Total Commander also has the function of the two panels side by side, support for connecting to another computer via FTP or LAN, support for clouds via WebDav, support for root explorer and plugins to play videos saved in cloud services.
This app can be considered as the best and most recommended free file manager for Android.
5)
Ghost commander
it has a double panel for browsing files, it has a thumbnail view and it is equipped with a text editor to edit and create text files quickly.
The user interface isn't the best though.
6)
FX File Explorer
is a great and simple resource explorer that also allows you to enter system files with root permissions.
Its best feature, however, is the ability to access the cloud storage of
Google Drive e Google Docs
.
Features include: multiple windows, cloud services support, OG support, text editor, image and text viewer, Zip, RAR and other archive extractor, Bluetooth and FTP access.
7)
ASTRO File Manager
is among the historical applications of the Android market and remains among the most complete for exploring files and folders.
Astro is also a backup app, image viewer, text editor, download manager and task manager.
8)
File Manager
it has an extremely user-friendly user interface and you can see all the files organized in the various folders or directories of the SD card and phone memory. The application was among the best before, now it has lost a bit of polish also because some functions are paid.
9)
Amaze file manager
is a great open source app to explore mobile files and to transfer files from PC to mobile and vice versa.
10 )
The File Explorer integrated by Android
it's not as bad as you might think, but only on Android 7 and above. If you are using a smartphone with Android 6, the file manager under the "Downloads" app allows you to access the download folder.
Best Android File Manager to manage phone files and folders