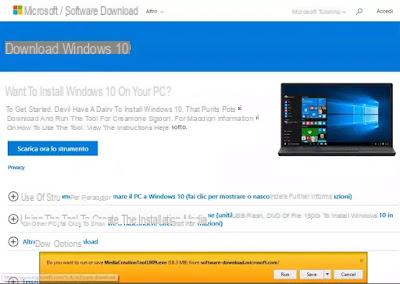 Microsoft acted intelligently with Windows 10 and to push its spread it had given a year of time in which it was possible to switch from Windows 7 to Windows 8.1 to Windows 10 for free.
This period of time had then officially ended in July 2016, although for a long time, until December 2017, the possibility remained active of being able to proceed with the update from the assistive technologies page, i.e. for those with disabilities. But since there was no control, anyone could download and install Windows 10 for free.
Now, in 2020, even though there is officially no free update tool and after Microsoft has ended support for Windows 7, you can still
upgrade to Windows 10 for free by updating Windows 7 or Windows 8.1
.
Reading forums and specialized sites we found that
Windows 10 can still be installed for free on Windows 7 and Windows 8 PCs
.
Only a minority of people report that the update fails with an error message stating that "Windows 10 installation failed to validate the product key".
However, this has always been a known problem that occurred even when the free upgrade offer was available and for which we had also written a guide to activate Windows 10 and resolve product key errors.
Today, four years after the free upgrade offer expired, you can still upgrade to Windows 10 from Windows 7 or Windows 8.1 and claim a free, regular digital right.
This surprising gift that Microsoft left active I can confirm it from a couple of tests made by updating two Windows 7 virtual machines (even activated with pirated copy) updated to Windows 10, where the license code was immediately validated without requiring a new one as I did. I expected.
If, therefore, you have a PC with an "original" copy of Windows 7/8 / 8.1 (with license activated correctly), you can download Windows 10 from the Microsoft site, follow the steps to
download Windows 10 as a free upgrade
.
Then press the button Download the tool to download the
Media Creation Tool
and then run it and follow the wizard. If you download the Media Creation Tool on the PC you want to update, you can choose the Update this PC directly option. The update procedure does not delete any personal files nor does it remove installed programs.
If you download the Media Creation Tool to be able to update another PC, then you can use the option to save the installation files to a USB drive or as an ISO file. After the download is complete, double-click the ISO file to mount it as a virtual CD to open in a File Explorer window. If you created a USB installation drive, open the USB drive in File Explorer and run the installation file.
Following the simple instructions for
complete the update, no product key will be required
and when the update is complete, if your PC is connected to the internet, you can check the Windows 10 digital license in Settings> Update and security> Activation.
At that point, you can also reformat your PC, reinstall Windows 10, or perform a clean install of Windows 10 on that PC without any problems.
While Windows 10 should work fine on any PC even old (the minimum requirements are Processor: 1 gigahertz, RAM: 1 GB (32 bit) or 2 GB (64 bit), Free disk space: 16 GB), I remember that it is always possible
revert to the previous version Windows 7 or Windows 8.1
in a simple and automatic way, if there were problems or there was an afterthought.
It is also possible
switch from Windows 10 Home to Windows 10 Pro
using a product key from an older Windows 7, 8 or 8.1 (Pro / Ultimate) e
upgrade from Windows 10 32-bit to Windows 10 64-bit for free
as explained in the past.
Obviously, if you want to install Windows 10 on a PC without an operating system, the license to be purchased will still be required.
In this case, it is still possible to buy the Windows 10 Pro and Home license for a few Euros on Amazon or Ebay.
Upgrading to Windows 10 is free by updating Windows 7 or 8