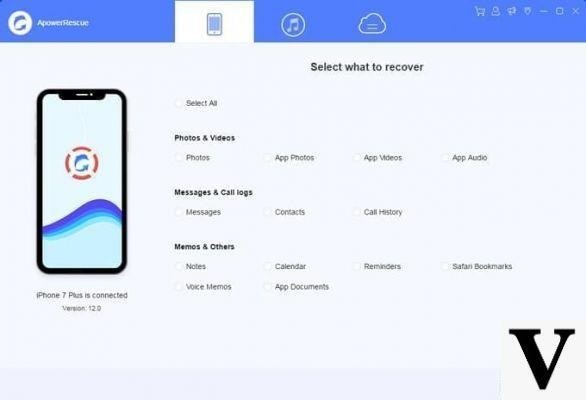 How to recover deleted call history on iPhone
In this guide you will find all the answers you need to recover iPhone call history, we will introduce you to various methods, so that if one does not work, you will have an alternative. We are sure that with the numerous methods that we will present to you at least one will be for you, so let's get to work.
Phone history recovery on iPhone with the best software
Fortunately, there are many software designed and studied specifically for this type of situation. It would be thought that Apple devices tend to be more difficult to use when they have to connect to external programs or non-branded software Apple. The reality is that this is not the case.
The only thing you will need to start this recovery process is a computer, no matter what it is Windows o Mac and a cable USB to be able to connect the mobile phone to the PC.
Here are the software that can help you to recover call history on iPhone:
Fonelab.
EaseUs.
Dr Phone.
Warning! For more details on how to use these software go to our article on
how to recover data from iPhone
How to recover deleted call log from iPhone via iTunes
Another method to be able to recover the log is through iTunes, this program pre-installed on all iOS devices, which many adore and others loathe. If you are among the first and backup your phone with iTunes this method will be for you, while if you are not part of this category, read on that there are other solutions that suit you.
Here are the steps to follow on iTunes:
Go to your PC and install Wondershare Dr Fone.
Once installed click on Data recovery and then IOS data recovery.
Click on ITunes Backup Recovery.
Click on backup you need depending on the proposed dates.
Click Start Scan.
In the navigation bar on the left click on the menu Call.
Choose the numbers to recover and click on Computer Recovery.
Done! After completing these steps, you will be able to find your call log and the number you lost and couldn't remember.
IPhone call log recovery via iCloud
Backup your iPhone with iCloud? If you are not sure this is the method to check: go up Settings> Accounts and passwords> iCloud. Look for the iCloud Backup entry and make sure it says Yup. If this is the case, this is definitely the method for you!
In this paragraph we will explain how to do it step by step so that you can recover the lost information. Beware though that the call backup lasts up to 4 months. Let's see how to do it:
Download and install Phone on your computer.
Click on Recovery> iOS Data Recovery> iCloud Backup Restore.
You will need to enter the credentials of yours AppleID and click Log in.
Choose the back up of the device you are interested in on the date you are interested in.
Press the button Download next to the backup you are interested in ..
Give it a tick Call. and click on Next.
Wait for the download to finish and select the numbers to retrieve.
Click on Recovery to save the data to your computer.
Voila! Everything is ready, this is the simplest method of all!
IPhone Call Log Settings: View and Delete
Sometimes you receive unwelcome calls, from call center or simply from wrong numbers. We never save these numbers and often annoy us in the call log because they send us into confusion.
Perhaps among all the unknown numbers there is an important one that you cannot find. The call log should be like your email: always well ordered to find everything immediately.
visualize the call log just go to Telephone and at the bottom click on Recent.
eliminate calls instead, once you are on the log, tap the button at the top right Modification. A red circle to the left of the number, click on it and then click on Delete. Another way to delete a call from the log is by sliding your finger to the left, placing it on the number to be deleted.
delete all calls from the register in one go, just click on Modification top right and up Clear, top left.
These are the different ways you have to retrieve the call log, in summary you will have several at your disposal software, programs to install on your PC, and the simplest help: iCloud, for this reason it is always good to always make a backup of your mobile phone. We hope we have been helpful with this guide to recover iPhone calls.