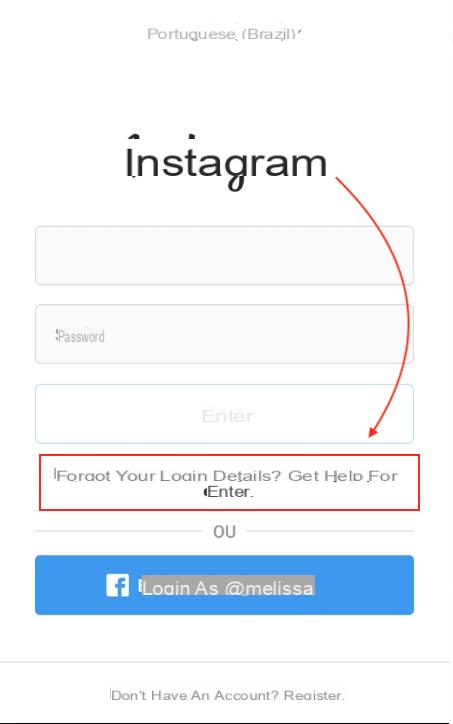 I forgot my Instagram password: how to recover?
First of all do not despair, if you have forgotten your password there are many ways to be able to log in: the platform is very friendly in this sense, for which there are different options to get around the problem and get you logged in as quickly as possible.
How to recover and reset Instagram password via email
To request the delivery of an email, just enter the platform, click on Forgot your password?, enter yours username or yours email address associated with the profile.
This operation really takes a few seconds, you won't have to wait to receive their email. A. Will appear in this mail celestial bar on which you can click to reset your password.
Once clicked I should enter your new password, confirm it and finally click on Reset Password. It's really very simple and you'll be ready to log into the platform again!
Retrieve password from computer or browser
You don't have to enter the platform through your mobile device, you can always log in from your own PC or using a browser whatever.
Enter your This Page.
Then enter the data you remember, be it your username, your email address or your phone number
Click on send login link.
A bar will appear at the bottom explaining that they have sent you an SMS or an email with the link to log in, based on the data provided.
Retrieve your Instagram password via the Android or iOS app
There are three: different methods to recover your account password through the app, let's get to know them.
If you remember yours username
Enter Instagram on the home page and click on Forgot Password, at the bottom right in blue
Please enter your username
Click Next
You will receive an email with a link to be able to change your password.
PLEASE NOTE If you do not remember the linked email address, it will appear with asterisks, but it will surely give you the necessary clues so that you can remember it.
If you remember e-mail address linked to the account:
Enter Instagram on the home page and click on Forgot password, bottom right in blue.
Please enter your e-mail address.
Click Next.
You will receive an email with a six-digit code, which you will need to enter in order to change your password.
If you remember the telephone number linked to the account
Enter Instagram on the home page and click on Forgot Password, in the bottom right corner in blue.
Please enter your phone number.
Click Next.
A window will appear explaining that they have sent you an SMS with the link to log in.
Can I recover the password if I don't remember the email and the associated number?
Fortunately, there is a method. If you really can't remember which e-mail address you associated with, or the telephone number, you must hope that you have or connected the two social networks Instagram e Facebook or that you have registered on the platform using your Facebook data.
If you remember doing one of two things, then the steps are very simple and very fast:
Open Instagram from the App or the Web.
On the home page you will see the option with the Facebook icon down.
Click on Continue as followed by your name.
You log in to your account without the need to enter the password.
Once inside we recommend that you enter your profile and change the email address and telephone number to have all the information correctly updated.
How to recover stolen or hacked Instagram password
It may also happen that you remember very well what your password is, but notice that you are unable to log in, in this case it could be that your account has been the victim of a hacker attack or that the password has been to you stolen.
First of all, don't panic. The method to recover your account exists, and we are ready to reveal it to you.
Your account will be denied access inexorably, because if your account has been stolen, the hacker has probably also decided to change your personal information, such as your email address and phone number.
What you can do is log in to the Instagram platform with an account that is not yours: ask a friend or relative if they allow you to log in, then contact the service center.
If you need a step by step guide to follow this procedure go to our post "How to recover a hacked Instagram"And you will find all the information you need to be able to regain possession of your account.
Tips for not forgetting your password on Instagram
Nowadays, you know, we are no longer used to using the the memory, it's already a lot if we remember our own phone number, so it won't be a surprise not to remember a password.
Furthermore, there are more and more platforms to which we have to stay behind and therefore have more data to memorize, Facebook, the email address, Twitter and so on and so forth, here we will give you some simple tips and basic to remember the password.
Write a clue to remind you what your password is, but do not write down your entire password, because in this case they may read it to you. For example, an idea is to write on the piece of paper: "last book read", or information that only you will know.
Write your password on a piece of paper, but make sure it's not your real password. Like? For instance replace all the "o" with zero, or the letter of your choice with a number, in this case, only you will know the correct combination. Another idea is to write a word that actually rhymes, but isn't the same.
Use of the shortcuts for your memory, in what sense? We know that having the same password for all platforms is not an advisable idea, but establish a model, for example for Instagram use IG + password, for Facebook FB + password and so on
Write theacronym password, this will stimulate your memory, but you won't need to remember it completely
Write a sentence on a post it, perhaps a motivational sentence, then use theinitial of each word as a password, this will help you remember it all the time, but don't leave your details in plain sight.
Get help from technology, using that store your data, so you don't have to.
Play with your memory, but avoid getting your credentials stolen, there are also tips to prevent your password from being stolen:
Do not use the same password for all platforms.
Not be never banal and use generic passwords such as 1234.
Do not use personal data such as your name and date of birth.
We hope these tips have been helpful for you to avoid the inconvenience caused when a password is forgotten.