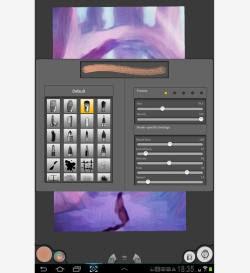 Digital painting has made great strides in recent years thanks to applications for tablets and smartphones that make it easy to draw using your finger or a stylus on the touchscreen. It is therefore worth discovering the best applications for drawing on Android smartphones and tablets, for iPhone and iPad, looking for only the free ones that have all the features required by a painting software and that, above all, are easy to use even for less experienced.
Hereinafter then the
best paint, draw and paint apps on android and iPhone / iPad
.
1)
Adobe Photoshop Sketch
, free for Android and iPhone, is the best application for drawing on your smartphone or tablet screen. You can draw using pencils, pens, highlighters, erasers, acrylic paints, brushes, crayons, watercolor brushes to create illustrations and paintings, with an infinite variety. This is the ideal application for professional designers and even simple enthusiasts.
1)
Infinite painter
(for Android and for iPhone / iPad) is a full-featured painting program, with a well thought-out user interface to make your work easier. The relevant buttons are all lined up in a narrow strip along the bottom of the screen. The choice of brush and color is easy and there is also a button to access more complex functions, such as transparency and distortion. The app also implements multi-touch gestures to rotate and zoom the drawing. While not all options are available in the free version, they are more than enough to work on a drawing without finding limitations.
2)
Adobe Illustrator Draw
(for iPad and Android) is the app for professional vector graphic designers, free to use. You can customize the brushes to use and quickly draw using circles, squares, polygons and comic bubbles.
3)
SketchBook Express
by Autodesk (Android and iPhone / iPad) is a complete image editor that includes several drawing modes, support for layers and text, and editing tools. The app's user interface is a bit more complex, but still perfectly usable even if some buttons remain hidden under the "plus".
4)
How to Draw - Art Lessons
to
Android
is a nice collection of tutorials to learn how to draw from your tablet or smartphone, with lots of free lessons.
Alternatively it is also excellent
How to draw
, always free and always for Android.
5)
Tayasui Sketches
for Android and iPhone / iPad is an award-winning drawing app in 2020 for its ability to make simple painting controls on your phone or tablet screen making it very realistic and making it look like drawing on a canvas.
6)
Dotpict
, for Android and for
iPhone and iPad
is the app for drawing in Pixel Art, thus creating figures and scenarios with the squares typical of 8-bit games of some time ago.
Easy and fun to use, this is an app for everyone.
7)
ArtFlow
only for android it has all the tools to draw freely using the screen as if it were a piece of paper. There are seventy brushes, color adjustments and supports saving high resolution images.
8)
Ibis PaintXAdobe Ideas
, on Android and on
iPhone and iPad
is a painting app with many fun features, over 140 different brushes, including felt tip pens, real brushes and others, support for layers and functions for specific types of drawing, such as manga.
9)
Infinite painter
to
Android
is an excellent app to draw on tablets and smartphones in a free way, to create real painting works of art. You can paint with relative ease and there is full support for layers and filters.
10 )
Draw Something
is that famous game where you have to guess what you are drawing, one of the most popular for iPhone and Android, free, which is also played online.
11 )
Medibang Paint
, on Android and on
iPhone and iPad
is one of the best free hand drawing apps. Its best feature is that you can draw from the PC or Mac app and continue on the iPhone or Android mobile without losing anything. There are quite a number of brushes, tools for both free drawing and comic books, and other fun little tools and add-ons.
12 )
Bamboo Paper
, for Android and iPhone / iPad, is a great free drawing application (from the developers of Inkscape) that allows you to not only create sketches, but also take notes and act as a highlighter.
13 )
Paper by FiftyThree
(iPhone and iPad only) is a great free app for drawing on the screen, very simple, complete and that does not require you to unlock functions by paying.
14 )
Paperdraw
, on Android is one of those drawing applications that tries to emulate real design as much as possible. What makes it different is its tracking feature, the ability to import a photo and set it to translucent mode in order to trace it.
15 )
ibis Paint X
for Android and iPhone / iPad allows you to create drawings and paint on the smartphone screen, in a simple way and with the tools all collected in the menu. The options allow you to select the colors, the brushes and the stroke, you can choose the intensity, add shades, transformations, filters, levels.
16 )
Drawing Desk
for Android and iPhone / iPad is one of the best drawing apps for making children's drawings, sketches, scribbles or colors, depending on your options. The app works as both a drawing app and a painting app. It works in landscape orientation and is easy to use.
In another article I had already talked about some
web applications for drawing on PC and Tablet
, which does not need to be installed, available via browser.
Best apps for painting and drawing on Android, iPhone and iPad