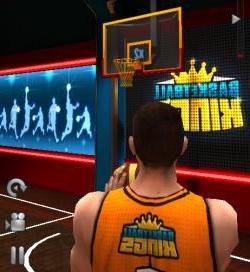 Just to be non-trivial sportsmen, instead of playing football this time the sport we dedicate ourselves to is basketball. Obviously the reference point, when it comes to basketball, is the American NBA championship that inspires most of the video games.
Speaking of basketball games for mobile, on Android smartphones and tablets, on iPhones and iPads, we also have street-basketball titles, a lot of fun and simpler free throw games, where, using your finger, you have to shoot the ball. and do as much as possible, which always remains an excellent anti-boredom pastime.
Below, i
best free basketball games for android and iphone
, favoring the free titles on the Apple Store and Google Play.
1)
BasketBall Stars
of Miniclip, for Android and for iPhone, is the most beautiful basketball game currently for Android and for iPhone, both for the 3D graphics and for the fact that you can play against other people in real time.
The race is just one on one on the road where the winner is whoever makes the most baskets from various positions.
The match also includes the melee challenge attack against defense, where you have to try to block the opponent who has the ball or go to the basket by overcoming the opposition.
2)
NBA 2K Mobile Basket
for Android and for iPhone is a free-to-play game released in 2019 featuring real NBA players and teams, each with their own stats. You can play basketball in 3D against other real players and you can also buy the best players in the NBA to build a stronger and stronger team. While the game is fairly simple in its mechanics, it may appeal to NBA fans to find updated names and stats.
3)
Big win basketball
(Android - iPhone) is a great basketball game with Nintendo Wii-style graphics, with absolutely fun games. You create the team, improve it with bonuses and play a championship against all the players in the world who have installed this app.
4)
Dude Perfect 2
, free for Android and for iPhone, is a nice and simple game where all you have to do is
put the ball into the basket with a free throw
which must be as precise as possible.
5)
NBA Live Mobile by EA SPORTS
(Android - on iPhone it's an old version) is the official NBA game where you can play the best basketball league in the world with real teams and a truly console quality 3D simulator, beautiful.
6)
Basketball Shots 3D
(Android) is a free throw game from afar, a fun pastime, where you can hit the basket in various challenges
7)
Basketball Kings
(Android - iPhone) is a simple basketball game with beautiful 3D graphics and real-looking players, where you have to shoot, using your finger, from different positions trying to always make a basket.
8)
Basketball Shoot
(Android - on iPhone it is a similar game but with a different title) is the free and simple game of free throws at the basket, an excellent stress reliever with different levels and increasingly unlikely scenarios.
9)
Basketball battle
(Android - iPhone) is a fun game with 2 vs 2 challenges (multiplayer PvP) in a city field, cartoonic graphics and with horizontal scrolling.
10 )
Basketball stars
(Android - iPhone) is a multiplayer free throw game with realistic graphics.
11 )
Jam City
(Android - iPhone) is a nice 2vXNUMX streetbasket arcade game, where you can do spectacular dunks and play in teams even with friends.
12 )
Bouncy basketball
(Android - iPhone) is an original arcade basketball game, similar to NBA Jam, but free. You can play up to four halves of up to 90 seconds each, the controls are simple, there are various unlockable characters, basketball player customization and more to pass the time.
13 )
Street Basketball Association
(Android - iPhone) is another street-style, 3v3 single-hoop basketball game with various game modes, including online and local multiplayer, a fast-paced game mode, league matches, special events and a training mode. The mechanics are simple, the rules simple, the graphics with a top view and there are different levels of difficulty.
Best Basketball games for Android and iPhone