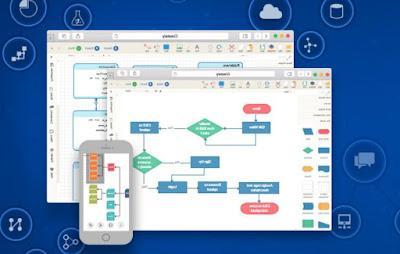 Flowcharts are not only an excellent organizational tool for ideas and projects, they also work very well for organizing personal ideas and also for creating network diagrams, i.e. of cables and connections for computer networks or even electrical networks.
Precisely to meet all these needs we have decided to create a complete guide with
the best apps, the best programs and the best websites to create flowcharts
, so you can choose from time to time the best tool to create these neat patterns at work, in the office or at home (for fun or for study).
All the programs and apps that we will recommend are free, freely usable without having to pay any type of license or subscription.
How to create flowcharts
All the tools described in the following chapters of the guide integrated a free option that also allows you to create a diagram and save it as a PDF or image file, so you can export it to a sheet of paper or share it with colleagues and friends via group chat or chat of work.
Best programs for making flowcharts
If we use a desktop PC or a notebook a lot, below we have collected, in a handy list, all the programs that can be used to create flow charts quickly and easily.
LibreOffice Draw: Probably the best solution to quickly create free flowcharts, as the program is an integral part of the most popular open source office suite in the world. Draw offers all the tools to insert the individual items and connect everything with arrows and, once the work is finished, we can export everything in PDF format or in any other format.
Dia Diagram Editor: a simple and light program to be able to quickly create flowcharts, with all the tools just a click away on the left side of the interface. The program is also available for free for Mac OS and Linux systems.
yEd - Graph Editor: another handy graph editor provided free of charge and, in its simplicity, it offers one of the most complete interfaces for creating flowcharts, even very long and complex ones.
ThinkComposer: without a doubt one of the most complete and customizable programs for creating beautiful, complex and interactive flowcharts.
Diagram Designer: light and practical open source program, useful for quickly generating flow diagrams, with ready-to-use tools on the right side of the interface.
Best apps for making flowcharts
If we work a lot from a tablet or smartphone and want to create a flow chart or a conceptual (mental) map on the fly, we can rely on one of the apps in the following list, sure to immediately find the app that suits our needs.
Flowdia Diagrams (Android and iPhone / iPad): Without a doubt the best app to create flowcharts, compatible with any modern smartphone or tablet (even if it gives its best on devices with a very large screen.
Mindmapper (Android and iPhone / iPad): another free app that is very easy to use, it allows you to quickly create mind maps and concept maps that are very beautiful to see and share.
Mindly (Android and iPhone / iPad): a complete app to create concept maps or flowcharts in a simple and fun way.
Mindomo (Android and iPhone / iPad): among the best apps to try on modern smartphones, as it provides a wide variety of tools to be able to create any type of flowchart, concept map or a simple mind map.
Best websites for making flowcharts
If we don't want to install any programs but still want to create our flowcharts, we recommend using one of the web services listed below:
Draw.io is the most complete online tool that offers many functions for free. In particular, it is possible to save files in Google Drive, Dropbox, Microsoft OneDrive or even on the PC used and it provides many templates and templates to choose from so as not to start from scratch.
Wireflow is a free online tool for creating beautiful flowcharts of all kinds.com is a modern site, very easy to use, which also works as a collaborative app for working with other people on the same project.
Creately is another very good web application, to create flowcharts and diagrams of various kinds, even in collaboration with other people, to then save them on the PC or publish them on a website.
Lucidchart is another free site, which requires registration for a free account, with a really good and professional interface, which allows you to save diagrams and graphs as PNG, JPG, PDF or SVG files and also to link data files.
Cacoo in the free version has some limitations because it allows you to save documents only online and only to export them as PNG files. The platform is easy to use and offers formatting and layout options that other similar tools do not have; you can also create shared folders with other people to create collaborative diagrams.
yEd Live is a free online app that you can use without registering, which can be used freely to create and save flowcharts as PDF files or images.
Bubblus is a web app that can be used directly from the browser without registration. Diagrams are easy to create, bubble by bubble, with different colors and text formatting; the project can then be saved as an image file or HTML file.
Conclusions
Although flowcharts may seem difficult to create, once you use one of the apps, programs or websites recommended above you will realize how useful they can be, especially if we often work in smart working or if we have to plan a course of study to be shared with the class (perhaps in distance learning mode).
If we want to create flowcharts on Google's G Suite platform, we recommend that you read our guide on how
create flowcharts online with Google Drawings
.
If, on the other hand, we need to add graphics within a Word document or on a PowerPoint slide, we can continue reading in the articles
How to create charts in Word
e
How to add charts to PowerPoint
.
Create flowcharts: best apps and programs