What's that look lost in the void? Don't tell me you did it again: you accidentally deleted an important file you had on your smartphone and now you don't know how to recover it. Is that right? Well, I knew it... but I'm not going to lecture you today. In fact, I want to see if I can help you. What's the file you accidentally deleted and what kind of phone do you have? A picture and you have a Huawei smartphone? Then it shouldn't be a problem!
There are many smartphone apps and PC programs that make it easy to recover deleted photos from Huawei devices. All you have to do is download them, launch them and let them search for deleted files on your smartphone's memory (or on the SD installed inside it). I can assure you that the results are very good. Obviously, however, you should not expect miracles: if the portion of memory that housed the deleted photos was occupied by new data, there is very little you can do to recover your images. If not, however, you can get almost all your photos back in just a few taps, or very few clicks.
Come on, try it yourself: take a few minutes off, roll up your sleeves and try to practice the advice I'm about to give you. I used a P9 Lite equipped with Android 6.0 (EMUI 4.1.1) for the tutorial, but the instructions below are a bit valid for all the terminals of the Chinese House and all versions of Android and EMUI. Have a good read and good luck recovering your photos!
Google Photo (Android/Web)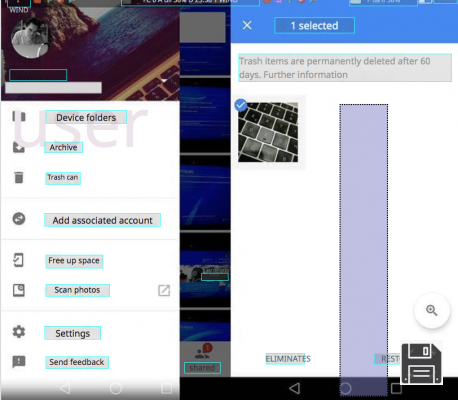 Do you use Google Photo to manage your smartphone's Gallery? Then I've got great news for you: when you delete a photo (or video) from Google Photo, it's not permanently deleted from the device's memory, it's moved to the Trash, a temporary folder where it stays for another 60 days before being deleted once and for all.
This means that if 60 days have not yet passed since you deleted the images you now want to retrieve, you can enter the Google Photo Basket and restore them all in a handful of taps. It's great, isn't it? Then take action now!
To recover deleted images from Google Photo, open the application in question, make a swipe from the left edge of the screen to the right and select the Recycle Bin item from the menu that appears on the side.
On the next screen, tap on the first photo you want to recover - to activate selection mode -, then select all other images you're interested in, and tap Restore (bottom right) to restore them. Easier than that?!
Note: if you want, you can also access the Google Photo Recycle Bin from your PC. All you have to do is open your favourite browser (e.g. Chrome), connect to this web page and, if necessary, log in to your Google account. When you're done, select the photos you want to recover and click the circular arrow at the top right to return them to the Google Photo Gallery.
DiskDigger (Android)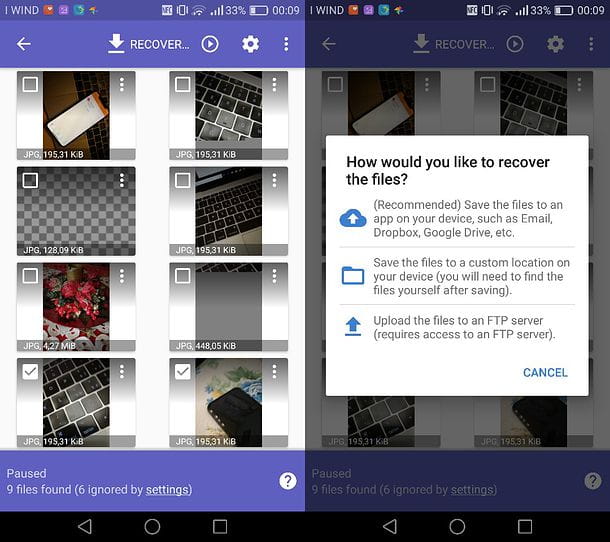 If you don't use Google Photo, you can try to recover the images you deleted from your smartphone with DiskDigger: a free application that allows you to recover JPG files (i.e. Gallery photos), PNG files (i.e. screenshots and app images) and MP4 files (i.e. videos) from the phone's internal memory or SD installed inside it. A paid version is also available, which costs €3.37 and allows you to recover other file formats as well, but you shouldn't care. The only real "problem" concerning the free version of DiskDigger (as well as the paid version) is that, in order to work effectively, it needs root permissions.
If you've done root on your Huawei smartphone and you don't have problems using data recovery apps, open the Play Store page dedicated to DiskDigger and install the app by pressing first the Install button and then the Accept button. When the download is complete, launch the app, press the Grant button to grant root permissions and refuse to switch to the Pro version by tapping No, thanks.
Now, select the memory drive you want to scan, using the menu at the bottom of the screen (the right drive should be the one already marked in bold), then tick next to JPG and/or next to PNG (depending on whether you want to recover only photos taken with the phone camera or also screenshots and app images) and press the OK button first and then Allow to allow DiskDigger to access the files on the device (or SD card).
Now, wait for the images of your interest to appear in the scan results, stop the search by pressing the pause button (top right corner) and select the thumbnails of the photos to be recovered. Then tap on the Recover button at the top right and choose what you want to do: tap on the cloud icon to save your photos to a cloud service or send them to yourself via email (recommended), tap on the folder icon to save them to a folder on your device or tap on the arrow icon to upload them to an FTP server.
Undeleter (Android)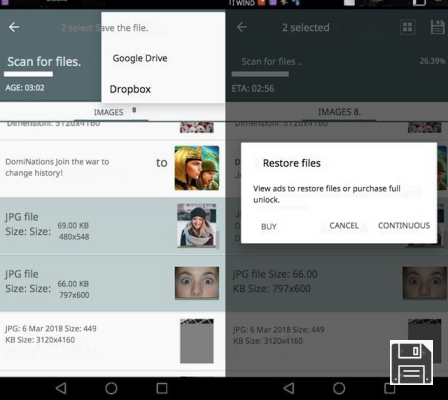 Should DiskDigger not fully satisfy you, you can try Undeleter - a data recovery app that supports photos, screenshots, videos and many other file types. It can be downloaded and used for free, but with one limitation: to allow effective data recovery, it forces the user to watch commercials for about 15 seconds. If you want to delete this limit, you have to buy its full version at a cost of 4.99 euros. Another important thing to underline is that this application, as well as DiskDigger, needs root permissions to work correctly.
If it's all clear to you, let's take action. To download Undeleter to your smartphone, open the Play Store app page and press the Install button first and then Accept. Then launch the app, tap the Next and Grant buttons (to activate root permissions) and close the dark box with the License Agreement.
At this point, press the Next button again, select the Restore files item, select the memory unit on which to search for deleted photos (Internal Storage to select the internal memory of your smartphone or External Storage to select the SD) and choose to perform a deep scan.
Then place a checkmark next to the JPG and/or PNG entries (depending on whether you only want to recover photos or also screenshots and app images), press the Scan button and wait for the images of your interest to appear in the search results.
To finish, select the photos you want to restore (by tapping on their name), tap on the floppy disk icon that appears in the top right corner and select one of the three options you are offered: Save the file to save the images to a folder on your device or SD, Google Drive to save them to Google Drive or Dropbox to save them to Dropbox. Answer Continue to view the commercial needed to unlock the save function, close the commercial (at the end of the countdown) and proceed with saving the images in the path you have chosen.
PhotoRec (Windows/macOS/Linux)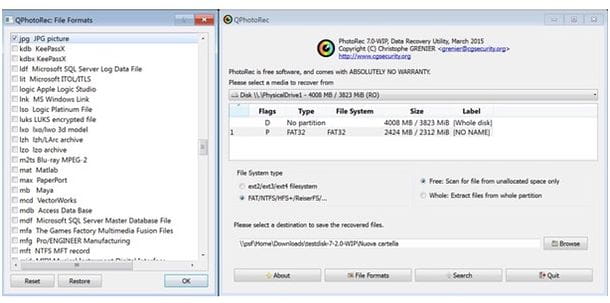 If, maybe after following the instructions in my tutorial on how to move photos to the SD card of a Huawei smartphone, you set your phone to save the photos to an external memory card, you can try inserting the card into your computer and recover the deleted photos with PhotoRec.
PhotoRec, in case you have never heard of it, is a free and open source software that allows you to recover deleted files from any type of drives: hard drives, external drives, USB sticks, SD cards etc. It is compatible with Windows, MacOS and Linux (only on Windows, however, it comes complete with graphical interface) and is very effective. Another important thing to know is that it doesn't work if your smartphone's SD card has been set as the main memory drive (which, in fact, makes the card unusable on your PC).
Having said that, let's move on to the action. To download PhotoRec to your PC, go to the official website of the program and click the Windows item under TestDisk & PhotoRec 7.0. Then, open the ZIP file you just downloaded to your computer, extract the contents to any folder and start the qphotorec_win.exe executable.
In the window that opens, use the drop down menu at the top to select the drive where you inserted the SD card, click on the partition from which you want to recover photos (e.g. 1. FAT32), tick next to FAT/NTFS/HFS+/ReiferFS) and Free and click the File formats button.
Now, click the Reset button and select the file types you want to recover from your SD card: JPG for Gallery photos only or PNG for screenshots and app images. Then on the Browse button, select the folder where you want to save the recovered photos from PhotoRec and click Search.
When the scan is finished, you will find all the photos recovered by PhotoRec in the folder you selected with the "Browse" button. If you don't understand some of the steps, please read my tutorial on how to recover deleted photos from SD, where I explained the operation of this program in more detail.
iReparo for Android (Windows/macOS)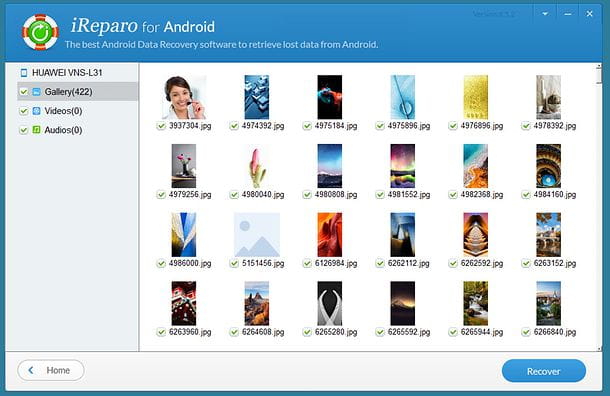 If none of the solutions proposed so far has allowed you to recover deleted photos from your Huawei smartphone, try iReparo for Android: it is a program compatible with both Windows and MacOS that allows you to recover photos, videos, messages and other files deleted from Android smartphones. Unfortunately, it is paid (it costs $49.95), but it has a free demo version that allows you to check which files you can recover with its full version (without being able to export them to your PC).
To download the trial version of iReparo for Android, go to its official website and first click on Windows or Mac (depending on the operating system you are using on your computer) and then click the Download button.
When the download is complete, if you use a Windows PC, start JIHO_iReparo_AR_Trial8.exe executable and then click Yes and then OK. Put a checkmark next to I accept the agreement and finish the setup by pressing Next four times in a row and then Install and Finish. If you are using a Mac, start the pkg package containing iReparo and click Continue twice in a row and then click Install. Then type in the password for your MacOS user account (the one you use to access the system) and finish the setup by pressing Install software first and then Move.
When installation is complete, start iReparo for Android and connect your smartphone to your computer. If the program doesn't recognize your phone, go to Settings menu > Developer options and enable USB debug function by checking it. If the "Developer options" menu is not available, go to Settings > Phone info and press Build Version or Serial Number 7 times to enable it.
Once you have passed this step, just click on the Multimedia button, put the check mark next to the file types to recover from your smartphone (e.g. JPG and/or PNG) and press the Next button. Wait for your PC and smartphone to correctly communicate with each other and click on Start to start searching for deleted photos.
When the scan is complete (it may take several minutes), select the Gallery item from the sidebar of iReparo for Android and you will be shown the images that can be recovered with the program. When you purchase the full version of iReparo for Android, you can select the thumbnails of the photos you are interested in and export them to your PC by pressing the Recover button.
Should iReparo for Android not meet your expectations, you can try Dr.Fone: a popular data recovery software for Android and iOS devices that works on both Windows PC and Mac. As well as the program I just told you about, it is a paid program (it has prices starting from 79 euros + VAT, except for promotions), but you can download it in a demo version that allows you to find out which files can be recovered with its full version.
Note: using iReparo on Android devices undergoing root, there is a risk of seeing the SuperSU app disappear. To solve the problem, you need to reinstall the app as you did when you rooted the device (e.g. flashing the ZIP package from Recovery).