Tools to fix Windows when it stops starting or has problems loading using BOOT CD, Rescue Disk and Windows PE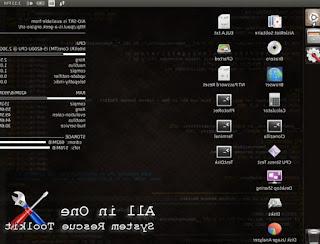 In this somewhat complex post (not so much from a technical point of view but rather to organize the many information in a synthetic way), let's try to
troubleshoot a Windows PC that no longer starts up
and which gives an error during the Boot procedure, i.e. when the initial black screen appears before the Windows logo.
When the PC does not start it may be that a continuous loading loop is created or error messages appear, usually in English, such as "I cannot find the operating system" or "I cannot find a boot disk" and so on. The problem lies with some
own error in the boot instructions
or in that sector of the disk called
MBR
(Master boot Record) which prevent the correct boot of Windows on the computer and do not start it at all. This error can be caused by malware or by a bad system configuration.
The solution in these cases is
use a boot cd that loads an emergency operating system or rescue disk
and which include all the most useful tools to solve errors, remove any viruses and restore the normal state of the PC. In more difficult cases, this type of boot disk can also be
useful for saving important data that was on the hard disk
before formatting it, delete everything and reinstall Windows from scratch.
ALSO READ:
How to open the Windows 10 recovery console
Boot CDs are live operating systems that can be booted from CDs or DVDs and even from USB sticks.
In general, these are ISO files that can be easily burned to a USB stick with programs such as Unetbootin or Rufus, which make the ISOs bootable.
You can then change the boot order of your computer to boot these Emergency Boot CDs or Rescue Disks and be able to use the tools they include.
1)
Ultimate Boot CD o UBCD
it is an emergency boot cd to check everything on the computer, even if there is hardware damage on the motherboard or ram. The cd contains a
emergency operating system
which has many built-in tools to perform tests and scans and to repair corrupt disks or partitions. The good thing is that to create the boot cd with UBCD is easy, the bad thing is that the tools inside then have to be known a little in order to avoid working haphazardly.
2)
Parted Magic 2013
(the latest version of Parted Magic is no longer free) is one of the best programs to clone disk, to fix partitioning problems, to scan with antivirus and to erase all data permanently.
3)
All In One System Rescue Toolkit
it is the best emergency disk that exists in the world and for those who want to learn how to repair any type of computer, the most complete boot CD that in the lite version also becomes easy to use even for those who are not systems analysts. The normal version of All In One System Rescque Toolkit is an ISO to download and burn to CD or USB. Among the many features within AiO-SRT are basic Ubuntu applications, remote desktop tools, programs to clone, partition and wipe disk, tool to recover and reset Windows password, stress test software and then automatic applications to check the integrity of the Windows system and resolve common errors.
This set of tools can also be obtained in
Lite version
downloading it as a
program to run on the Windows PC
, without having to boot the computer from CD or USB.
AiO-SRT Lite automates the process of repairing a computer that won't boot by using all of its built-in functions and thereby fixing Windows errors and problems. The application is very easy to use, just download it, run it and let it work for even a couple of hours, until the checks and tests are finished. While scanning, your computer may also restart automatically so it's best to save any jobs so you don't lose them. During the whole process, the Rescue System Toolkit can also download additional tools such as Kaspersky Virus Removal Tool for a virus check.
The checks that are carried out are:
CPU cooling test;
RAM memory test;
Test Hard Disk;
Windows PC security check;
Anti-Virus and Anti-Malware Scan;
Windows network recovery;
System file check
Disk Cleanup and Defrag.
AiO-SRT is certainly one of the most effective programs to repair the PC, both with a boot CD and also from Windows itself, running the lite version.
4)
Hiren's Boot Cd
is one of the most complete boot CD, containing multiple maintenance and recovery tools all together, recently updated with the Hiren Bot CD PE version, based on Windows 10 PE.
It contains all the latest antivirus, system tools that act on disks, partitions, MBR and system files, programs such as Partition Magic, Acronis True Image, Drive Image XML, Norton Ghost, Restoration, PC Doctor, MemTest, Bios Cracker. and also a light version of Windows 10 included in the package. In addition there are all the tools to find or reset the password on Windows, many antivirus, hijackthis and anti rootkits and over 100 famous or less famous programs that use the best hackers in the world.
5) Similar to Hiren BOOT CD there are other versions of Windows PE modified and with the purpose of providing a recovery environment for the computer that does not work or no longer starts normally. They are:
Bob.Omb's Modified Win10PEx64
WinPE 10-8 Sergei Strelec
5)
Medicat DVD
declares itself as the successor to Hiren boot CD, more modern, updated with all the latest tools inside, which also includes a live Windows PE system to boot any computer even without an operating system.
Among the tools there are those to do the virus check, to recover the administrator password, for the recovery of deleted data, for the diagnostics and correction of errors on the disk and to restore and repair the Windows startup.
Medicat DVD, depending on whether you choose to include Windows 10 PE or not, can be a chunky download from 1,5GB up to 8GB.
6)
Avira Antivir Rescue System
(not updated since 2016) is what they say
a rescue disk
, a system rescue disk, especially useful
in case your computer stops starting due to a virus
.
The tool is free and simple to use, in the sense that it checks, tries to correct errors and, in the end, gives the result of the scan, allowing Windows to restart or not. On Antivir rescue system, at the configuration menu you choose to correct the errors and to rename the corrupted or infected files if they cannot be solved. You can also choose which disk to check and in this case the nomenclature is that of unix systems where each partition is called with the initials SDA. Pressing on Smart Scan starts the control and, as we have seen, it is very simple to use.
7) To scan for viruses from cd or via usb, at system boot, you can also use:
Trendmicro Rescue Disk
.
Il
Kaspersky Rescue Disk
.
Avira Antivirus Rescue Sistem
AVG Rescue Disk
mentioned in the article with the procedure to use if you are unable to eliminate a virus.
8)
Trinity rescue Disk
is a Linux Live distribution, only to be copied to CD or USB stick to start the computer, which includes all tools for Windows repair.
9)
System Rescue CD
, a Linux-based toolset for recovering data and repairing a Windows system that won't boot.
Among the tools, the main ones are
Driveimage XML
to save data from broken pc to backup disk, MBRfix which fixes errors related to computer boot instructions,
MBRWix
and other partition tools to use very carefully, and then there are also some antivirus and antimalware such as Spybot or Avira Antivir, tools for disk defrag, scan disk or disk check, Cleaner and tools to remove registry keys unpacked and obsolete files, file recovery tools to recover deleted or corrupted data. This boot cd that is installed with Windows XP should also work on systems with Vista.
10)
I live cd
, like the two seen above, they can be
useful for saving important data
and to try to correct the errors of the registry keys or of the corrupted files, acting by hand, always if you know what you are doing.
Their operation is very easy, for example we have seen in other articles how to create
Live cd di Windows PE
or how to use Linux live cd to find Windows passwords including the administrator password.
In other posts, we have seen how
install operating systems on USB sticks
such as Puppy Linux, or even Kali Linux for security and networking tests or Fedora and Ubuntu.
These Linux systems are very simple and shouldn't scare you, especially because, in these cases, they can only be used to recover important files, even if you give up on fixing errors.
To be precise, a live cd is an operating system that uses RAM as its hard disk and does not write anything to the real disk, unless you force it to.
Finally, I remember another guide for
repair the MBR to restore boot loader and computer startup
.
On another page there are other ways to
fix Windows not starting problems and save all important data and files
.
Specifically, if your PC won't boot, check out the guides as well:
-
If Windows 8 doesn't start, how to restore or save your data
-
Ways to Repair Windows 10 and Create Recovery Disk
-
fix errors if your pc often crashes