It has happened to everyone, at least once in their life, to delete a photograph by mistake, realizing immediately afterwards the mistake made or maybe looking for it in the following days and not finding it anymore. Has that ever happened to you? I bet it has, and I'm sure you could have used a method to recover deleted data without too much effort. Am I right? If so, you're in the right place! With this guide, I'll show you how to recover lost photos from all your devices using a few simple but effective tools.
Once you follow my advice, you'll be able to fix the accidental deletion of your photos in a few steps. At least if you act in time. In fact, you should know that when you delete a file from your device, it is not completely lost but marked as deleted from the operating system. In this way, the part of memory that contained that image is made available for other files. As long as your operating system is not using that part of memory, however, you can recover the picture marked as deleted from it. It is therefore important to act before overwriting and avoid using the device on which the data to be recovered is present as much as possible (just to avoid data overwriting).
Is everything clear? Well, if you're ready to find out how to recover lost images from your mobile phone or PC, make yourself comfortable and take five minutes to try out the solutions I'm about to propose. You should be able to accomplish your "task" without too much trouble. Enjoy your reading and good luck with everything!
How to recover lost photos on Android
Your Android smartphone will surely be full of photos and with so much data stored, you may have accidentally deleted a photo. Did you do that? In this case, don't worry - it will take you very little time to recover your lost photos from your phone!
How to Recover Lost Photos from the Gallery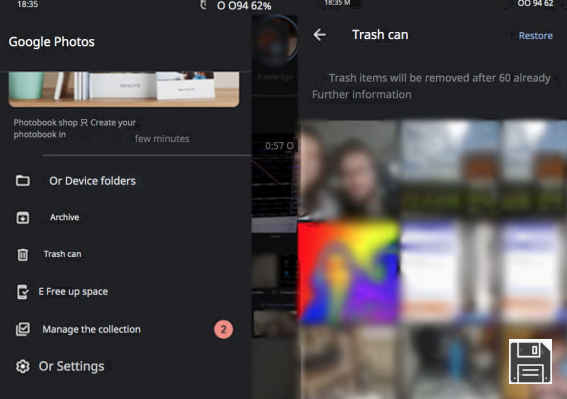 If you use an Android smartphone, it is highly likely that you are using Google Photo to manage your gallery.
You can check this by opening the app you use to view your photos, where you will see "Google Photos" appear at startup or in the search bar at the top. The icon should be a colored pinwheel.
If that's the case, I'll give you some great news: Google has thought of introducing a very useful feature that can move deleted photos into a temporary folder, the "Trash", and store them for sixty days. This of course only applies if you have deleted the image from Google Photo or if, however, you have activated the option to backup photos to the cloud via Google Photo (in the latter case, however, you should find the lost photos directly in the main screen of the application and not in the Trash).
After opening Google Photo, then press the button ☰ located in the top left corner. Among the various items in the opened menu, you will notice that Trashcan: press on it and you will see all the images deleted in the previous sixty days. Simply open one of them, by pressing on it, to display, at the bottom, the Restore option, which will return the image to where it was before it was accidentally deleted.
If you press and hold on a picture for a few seconds, you can also enable the selection of multiple pictures, so you can restore multiple files in a single step by selecting the Restore option at the bottom right.
App to recover lost photos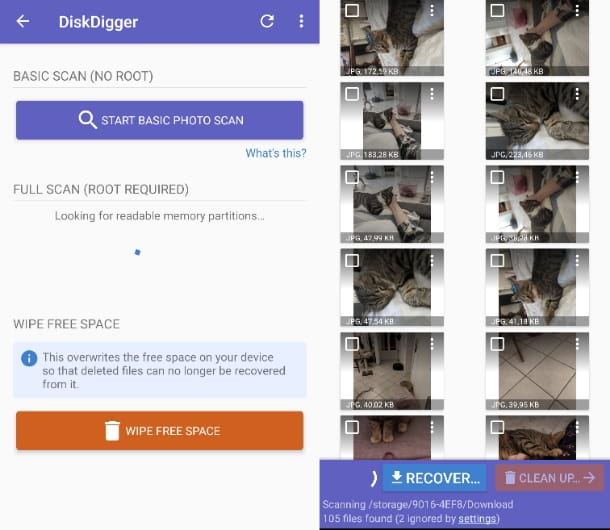 If you don't use Google Photo or if you deleted an image more than sixty days ago, don't despair: there are other methods to recover deleted photos from your mobile phone that you can use to find your images. One of these methods consists of using apps dedicated to recovering deleted data that allow you to act on the portions of memory not yet overwritten, as I explained in the opening lines of the tutorial.
DiskDigger, freely downloadable from the Android Play Store, is such an app that allows you to recover JPG and PNG files from smartphone and tablet memories and SD cards for free. There is also a paid version that allows you to recover other types of files as well, but at the moment you don't need it.
Although it works on all popular versions of Android, DiskDigger benefits enormously from root permissions, which allow it to scan deeper into the device's memory and thus recover more data. If you don't know what I'm talking about, I suggest you read my guide on how to root on Android, to find out more about this topic.
Once you open the application and grant root permissions, if required, simply press the central Start Basic Photo Scan button to start the memory scan. If you have granted root permissions to the app, I suggest you to use the Full Scan (Root Required) section, to get better results. In this case, be sure to select the location where the deleted images were located among the options.
Keep in mind that the process may be very long and you may see undeleted photographs or duplicates. The results are shown in real time. Simply press on one or more of the photos found to select them, then you can press the blue Recover button to start the recovery process.
You can also press the gear icon in the upper right corner to set filters that allow you to exclude images that are too small, such as previews or icons. DiskDigger will ask you if you want to save your pictures to a service like Google Drive, Dropbox or mailbox or if you want to save them on your device itself. Although it is very convenient to save them on your device, I always recommend you to use other options: this will allow you to avoid memory overwriting errors, especially if the space on your device is little or almost completely used.
If you have decided to save your images on an external service, you will see the file sharing screen appear: using this screen, you can decide where and how to save the recovered files. If, however, for any reason you want to save the recovered files directly to your device, you will be shown the list of folders present.
By pressing the blue Allow access followed by the location name, you can save the images in the selected folder. You can also decide to create a new folder by pressing the button with the three vertical dots at the top right and selecting the New folder option.
How to recover lost photos on iPhone
One of the strengths of iPhone smartphones is the excellent photo quality that allows you to take and keep lots of photos. If you also have a "melafon" and you have accidentally deleted a photograph or image, you don't have to worry: there are, again, some simple procedures that can help you recover lost photos from your mobile phone.
How to Recover Lost Photos from the Gallery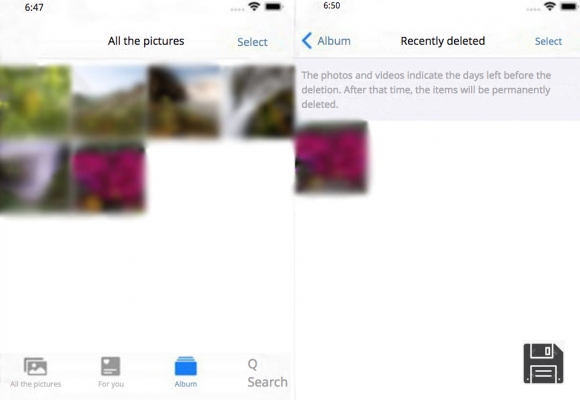 If you own an iPhone with iOS 8 or later, you can use an interesting new feature built into the Photo app. When you delete a photo or image in the Photo app, the iPhone moves the file to an album called Recently Deleted and stores it for forty days before it is permanently deleted. Here's how you access and recover the file.
First, open the Photos app as if you were viewing the photo gallery normally, then tap on the Albums panel at the bottom right and scroll down to the recently deleted album. Now tap the Select option and press on the photos you want to restore. As a last step, tap on the Recover option and confirm the operation, which will return the shots to their original location, preventing them from being permanently deleted.
If you've downloaded the Google Photo app to your "melafonino" and activated its cloud photo backup feature or use it as the default gallery app, you can also recover your photos through it, as explained in the chapter dedicated to Google Photo Recovery for Android: the steps are the same.
Programs to Recover Lost Photos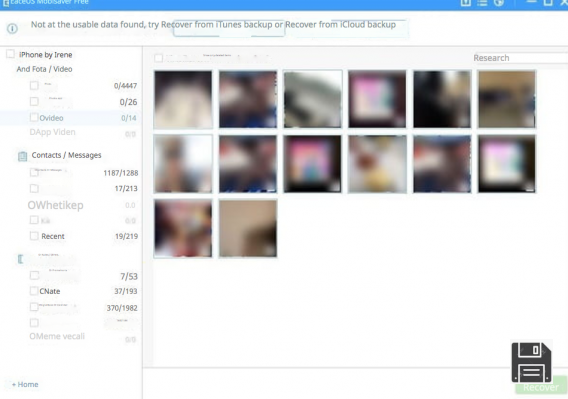 Can't find the deleted pictures on your iPhone or are you looking for an image from more than forty days ago? You may think you don't stand a chance of recovery, but you don't. In fact, there are PC programs that allow you to recover data from iPhone memory or backups on your PC or the cloud.
Unfortunately for iOS there are no apps that allow you to act directly on the device, as it happens on Android (this is due to the restrictions of the iOS operating system), but by connecting the phone to the computer - always keeping in mind the portions of memory not yet overwritten - you can bypass the problem.
For example, EaseUS MobiSaver is a program for Windows and macOS that just allows you to recover deleted data from iPhone by acting on the device or its backups: you can learn more by reading the guide I prepared for you on how to recover deleted files on iPhone.
In the same article you will also find instructions on how to use other data recovery software like Dr.Fone and PhoneRescue. Rely on them and you should be able to recover at least a little bit.
How to Recover Lost Photos on a PC
If you need to recover lost photos on PC, you will be pleased to know that there are many solutions that can help you achieve your goal. Just like on your mobile phone, in fact, there are programs created specifically to search for deleted files and restore them (as long as you act on time, but you know by now). Let me show you some of them, and I'm sure you'll find them useful.
Recuva (Windows)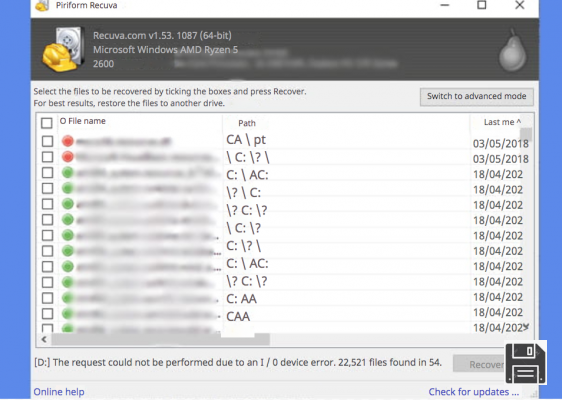 Recuva is an excellent software developed by Piriform that allows you to recover many of the files deleted by mistake from your computer drive but also from external drives such as USB flash drives, SD cards and more. With its search function and the option of choosing between fast and advanced scanning, Recuva can help you to recover deleted images within few minutes.
Recuva is available as a free version, more than enough for your purposes, but there is also a paid version (about 20 EUR/year) that allows you to recover files even from virtual disks and is able to update automatically.
That said, to download the free version of Recuva, visit the official website of the program and click first on the Download free version button and then on the Download button. Then open the obtained .exe file, select the language from the menu at the top right and then click on the Install button. Once the installation is finished, click on the button to start Recuva.
In the window that comes to you, you can press the Next button and choose the file types you want to recover - in your case Pictures. Then click Next again and choose the location where the data you want to recover was located. If you are not sure, you can select the Not sure option.
Then press the Next button twice and make yourself comfortable: Recuva will try to recover your images. You can also select the Enable deep scan option if the first scan does not return the desired results.
Once the scan is finished, Recuva will show you the found files. You can select them and press the Recover button, then choose the location where you want to save them. Remember that files marked with a red dot are very damaged files, which you will hardly be able to recover. Therefore, you prefer files with green or yellow dots.
PhotoRec (Windows/macOS/Linux)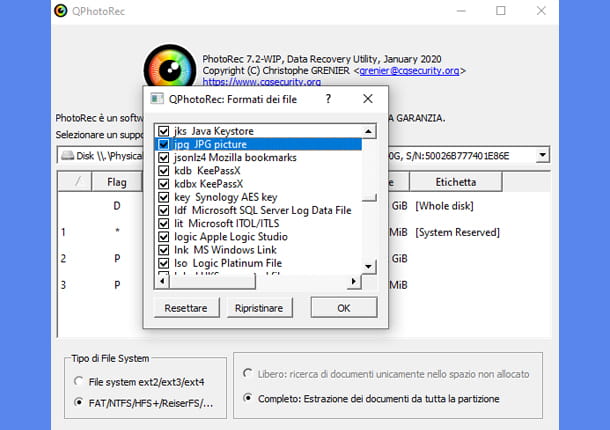 If the above mentioned solution did not convince you or was unable to recover your files, you can use PhotoRec to try to find the deleted pictures. This free and open source software is compatible with Windows, MacOS and Linux. Only on Windows, though, it has graphical interface, so I will focus on this version.
With PhotoRec, you can perform an advanced scan of your computer disk or external drives to recover all kinds of files, including photos and pictures. The software comes paired with TestDisk, a data recovery software designed to recover lost partitions, which you don't need right now.
To download PhotoRec, please visit the official website and press the green button TestDisk Free Download. Then open the zip archive you just downloaded and extract the files into a folder of your choice. Then double-click the qphotorec_win.exe file to start the software user interface.
If you have multiple disks on your PC, they will appear in the central menu at the top, so make sure you select the correct one before proceeding further. Then press the Navigate button at the bottom right to choose the folder where you want to save the recovered files. Then, also click the File Formats button, bottom center, to choose the file types to recover: in case of images, you have to choose jpg, png, bmp and gif formats. Finally, start scanning by clicking the Search button.
As I explained at the beginning of this chapter, PhotoRec does a very thorough scan, so be patient until the end of the process. Once completed, you can close the program and search the recovered images in the selected folder using the Navigate button.
Other solutions to recover lost photos on PC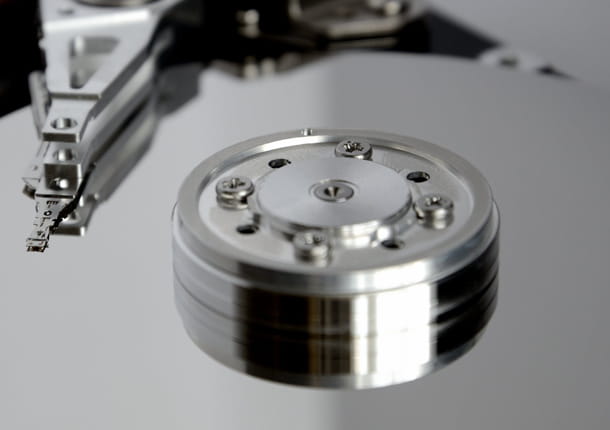 Although the programs that I have proposed in this guide are very good and will surely help you to find your images, there are many other software that could be useful.
If, therefore, you want to discover other programs to recover images and photos lost on your PC, I recommend you to read my guide to programs for recovering deleted photos, where you will find several of them to use on both Windows and MacOS.
How to recover lost photos on WhatsApp
If you accidentally deleted pictures or images you received on WhatsApp, don't worry - what I've explained in this guide can also be used to recover media files received or sent from the world's most popular messaging app.
Yes, you got that right! You can follow the same procedures listed above and get your files back in the blink of an eye. Specifically, if you're using an Android phone, follow the chapter on how to recover lost photos on Android, and if you're using iPhone, you'll find the chapter on how to recover lost photos on iPhone helpful. I am sure that by using the solutions listed in this guide, you will be able to recover the pictures you need. The best of luck!