Your mobile phone's memory is always full so you've finally decided to do some cleaning up and get rid of all those useless photos from your mobile device. Unfortunately, due to a distraction error, you accidentally deleted one of your favorite photos and now you're a bit panicky because you didn't make a backup copy and you don't know how to fix it. Don't worry, there's no need to get so anxious, fortunately all is not lost and the technology of modern smartphones most of the time manages to put things back in place.
What am I referring to? Well, applications that allow you to recover erroneously deleted photos from the memory of your mobile device. I beg your pardon? The question is of extreme interest to you and would you like to know what applications I recommend to perform this task? Do you own an iOS smartphone and you don't know how to recover deleted photos, since it is a closed operating system? Don't worry, in the course of this tutorial I will clarify all your main doubts about it and I will tell you in detail what are the applications I recommend to recover deleted photos, both on Android and iOS.
All you need is a few minutes of free time: keep your mobile device in your hand at all times, download and try with me the apps I'll recommend; I'll explain how to use it to recover deleted photos, step by step. Having said that, are you ready to get started? Calm and cold-blooded, you'll see that if you follow my instructions you'll be able to recover the photos you deleted by mistake. I wish you a good reading.
Recently Deleted Albums (iOS)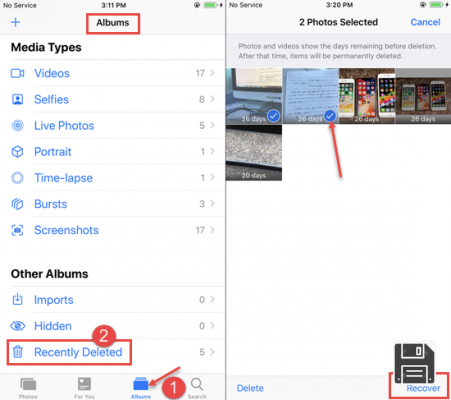 The main method dedicated to restoring deleted photos on iOS is apparently also the most trivial and simple of all. Maybe you don't know it, but on the devices of the bitten apple (in possession of an iOS 8 or later version) deleted photos are not immediately permanently deleted from the memory of the iPhone or iPad.
In the Photos application there are several albums that contain the photos taken by the device; among them there is also the Recently Deleted album which automatically includes all the photos that have been deleted by the user recently. We could therefore call it a sort of recycle bin in which the pictures that have been deleted remain in memory for 40 days; after this period, the oldest pictures are automatically deleted.
Therefore, if you have mistakenly deleted a photo on your iOS device and it hasn't been more than 40 days since it was deleted, you can try to recover it through this temporary photo album. To do so, open the Photos app on your iOS device and select the Albums tab from the menu below. Then scroll down the screen to locate your recently deleted album.
Then tap on this album to view the photos in it. You'll see a counter that indicates the number of days remaining when you delete photos from this specific album. To restore a photo in the Recently Deleted album, tap on the Select that you can find at the top right and then tap on the photo you want to recover first and then tap on the Recover (bottom right) to complete the restore operation.
The image(s) you have selected will be recovered and returned to the source album of the iOS Photo app, as if they had never been deleted.
iCloud Photo Library (iOS)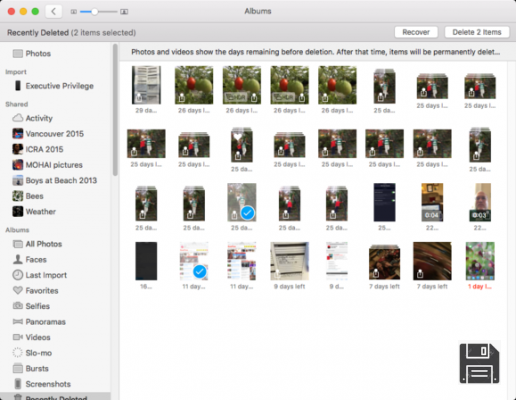 One of the most interesting features of iOS is the ability to use iCloud, a cloud storage service that allows you to keep a copy of all the photos taken from your device online.
Since it is a cloud service like many others, you can synchronize your photos and make them accessible from all connected devices. This means that if you have mistakenly deleted a photo on your iPhone, you can also retrieve it from your iPad to which the same Apple ID is connected. The iCloud service is therefore very useful both as a backup tool and as a multi-device restore tool.
iCloud is free, basic, but offers a rather limited space of only 5 GB. To take advantage of more storage space you need to subscribe to a paid storage plan. It should be noted, however, that iCloud prices are very affordable, since you only need to pay €0.99 per month to have access to 50 GB of cloud storage. The most expensive plan is €9.99 per month and provides 2TB of storage space.
As a result, if you need to recover deleted photos from your device and want to act from another connected device, you need to perform the same restore procedure from the Recently Deleted album (it is synchronised on all devices). Alternatively, you can also act from a computer by accessing the official iCloud website via any popular web browser.
In the latter case, all you need to do is connect to the iCloud.com website. Once you're logged in with your Apple account login details, click the Photos application. Similar to what I just explained, you'll find your photo album fully synchronized online. Then go to the Albums section, locate your recently deleted album and the photos you want to recover.
Then click on the ones you want to restore and then press the Recover button. That way the photos you have deleted will be restored and return to their original source folder.
Google Photo (Android/iOS)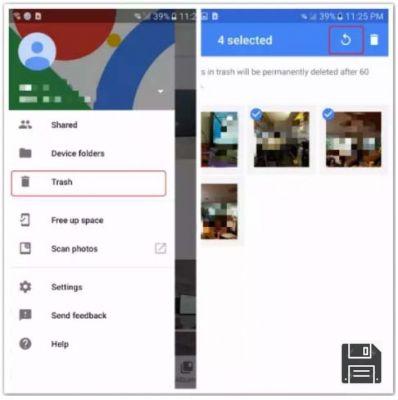 Fortunately, most Android devices also have an automatic photo recovery tool that doesn't require the installation of a third party application. I am talking about Google Photo application, the main tool for media gallery management on the main devices equipped with Google operating system.
The operation of Google Photo is quite similar to iCloud: this Google tool is also configured as a cloud storage service. The main difference of Google Foto, however, is its ability to have free and unlimited storage space for photos uploaded to the cloud at high resolution. If you want to store your photos at their original resolution, the free and available storage space will be 15 GB.
Apart from the main features of Google Photos I just told you about, what can be useful in your case is the Trash folder through which you can safely retrieve erroneously deleted photos.
If you have recently deleted a photo using the Android Photo app, it will not be permanently deleted but will be stored for 60 days in the Recycle Bin, a temporary folder that contains all the photos you have recently deleted.
Therefore, if you use Google Photo to view and manage your media content, tap on its icon to open it. To find the Trash folder then tap on the button (≡) located in the top left corner and tap on the Trash item from the side menu.
In the trash folder, then locate the photo you want to recover and tap on it to place a checkmark. To restore it, tap on the icon with the arrow symbol in the upper right corner. The image will return to its original folder.
Keep in mind that this operation can also be done in exactly the same way from Windows and MacOS computers. The Google Photo storage tool is in fact also accessible from a web browser. Google Photo is also available as an iOS application; you can do the same things I told you to do to recover photos that you recently deleted.
Google Photo application for Android and iOS and the Recently Deleted album of Android are the only methods that are currently 100% functional and without having a device with root permissions, they will safely allow you to recover a photo that you deleted by mistake.
In the following lines I'll tell you about other applications for recovering deleted photos, but keep in mind that a device with root permissions may be required for greater effectiveness.
DiskDigger (Android)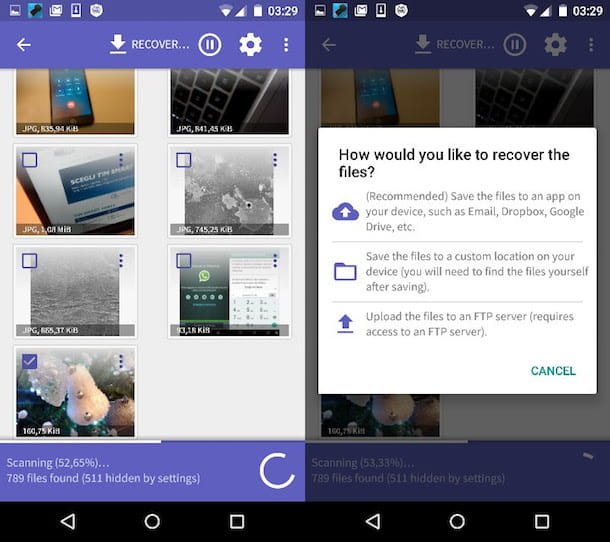 Available for Android only, this is an application dedicated to recovering deleted photos which, as you can imagine, is at its best on devices with root permissions. You can also use it on devices without root permissions even though the scan of deleted photos will be less thorough and will not always be able to find the deleted photos.
To use it, download the app from the Google PlayStore by pressing the Install/Access button and then press Open to start it.
To recover deleted photos via DiskDigger, accept if required that the app has access to your device's media gallery and then press the START BASIC PHOTO SCAN button. When the scan is complete, you will be prompted to view thumbnails corresponding to the photos you can recover.
The DiskDigger application performs a scan based on the cache memory of your device: if you have recently used cleaning tools such as CCleaner or formatted your device, it will be particularly difficult, if not almost impossible, to recover the photos you deleted.
If you find your deleted photos, to restore them, tap on the photo thumbnail to check and select them and then tap the RECOVER button. You will then be asked where you want the media item in question to be recovered (cloud storage service, folder on your Android device or FTP server). Once you tap on your choice, the photo will be restored to the folder or service you indicated.
More apps to recover deleted photos
If your goal is to recover deleted photos from Android or iOS device, what I suggest you to do is to use a software rather than an application for recovery. In fact, I suggested you a list of useful programs for that purpose in my guide titled "how to recover photos".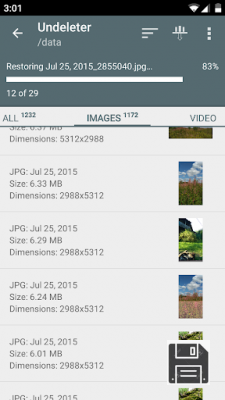 Alternatively, here is a suggestion of two other apps that can help you with file recovery directly on your smartphone
Dumpster (Android) - Can't recover photos from your Android device anymore? The free Dumpster app suggests that it is better to prevent than cure by providing an additional virtual trashcan tool. By configuring this application, the photos you delete from your device's memory will no longer be lost forever. The application is free of charge but allows you to take out an optional subscription to expand the memory of the virtual recycle bin.
Undeleter (Android) - Another valid file recovery application only available on Android. The application requires root permissions but not mandatory, since it is able to scan deleted items using the cache.