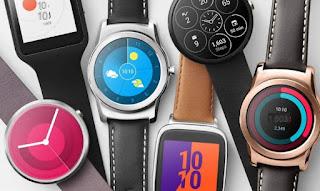 Even if they are not exactly a success, there are still many who have bought, for pleasure, out of curiosity or out of necessity, an Android Wear Smartwatch, of which today there are several models and for which many new applications have already been released to install for free. .
It is therefore worth having a list from which to start of the best apps for Android Smartwatches such as the Asus ZenWatch, the Moto360 or others, which are also the most suitable to be worn on a watch.
In this list we see some of the
Best Apps for Smartwatch Android Wear
selected and original.
Popular and discounted apps like Whatsapp Messenger, Facebook, Messenger, Telegram, Gmail, Google Maps, TripAdvisor, Spotify, Tinder will not be mentioned here.
I refer to the special page of the Google Play store with all the apps for Android Wear that can be installed for free and with one click.
NOTE: Of course, don't forget to install the app
Wear OS
on the smartphone to connect the watch to the Android mobile phone.
1)
Shazam
, the app for recognizing song titles only by listening, is really perfect to be worn on a smartwatch, always keeping it ready for use with a touch on the clock screen.
2)
SofaScore Live Scores
is the app to be installed for all football fans, to always have under control the results of live matches, not only in Serie A, but in all leagues.
3)
Google Keep
is the app for taking notes and creating to-do lists quickly from your android watch. Google Keep I prefer it to Evernote only because Google, because it synchronizes the notes taken also on PC and smartphone.
4)
Wear Audio Recorder
is the app to re-record the audio around us with a single touch on the screen, in order to capture more quickly than ever a funny or tense moment or to use for an interview or a lesson even without being too conspicuous .
5)
Runtastic
,
Google Fit
,
RunKeeper
e
Strava
are just three of the most popular fitness apps that, of course, work great when worn on your wrist on your Android smartpwatch, to record every sport and physical activity.
6)
Video per Android Wear
is an app to watch videos on the smartwatch screen that also works with Youtube and also supports Chromecast.
7)
Interval Timer
it is a simple timer for the android watch, basic and just for that done well.
8)
Wear Codes for Wear OS
allows you to create QR codes of anything, for example to share phone numbers, passwords or other types of information.
9)
InstaWeather
is an app for weather forecasts and for checking the weather from your smartwatch, with radar maps, hourly forecasts, wind and much more.
10 )
Find My Phone
is an app to have an alarm on your smartphone that sounds when you want to find it, which allows you to change the volume of the phone, activate the vibration function and also activate the flashlight to illuminate it in the dark.
11 )
Wear Camera Remote
is an app that allows you to use your smartwatch as a remote control to take pictures with your smartphone.
12 )
Sleep as Android
is the sleep monitor app that helps you sleep better, with smart alarm, perfect on smartwatch.
13 )
Wear Mini Launcher
is the most popular launcher to change the interface to the Android smartwatch and have a more convenient way to find and launch installed applications.
14 )
Web Browser for Android Wear
is the browser to open websites on the small screen of the Android watch.
15 )
Make Watch Faces
to change graphics and style to the clock and the background.
16 )
Unified Remote
allows you to manage and move a computer remotely by touching the Smart watch screen.
17 )
Calculator
, a very useful basic app on smartwatches.
18 )
Compass and spirit level
is the app that uses the motion sensors and magnetometer built into the smart watchi, you can use your android watch as a digital surface level and as a digital compass respectively.
To discover other new apps and have a better catalog than that of the Google Play Store, you can also install the application
Smartwatch Center
.
Best Apps for Smartwatch Android Wear OS