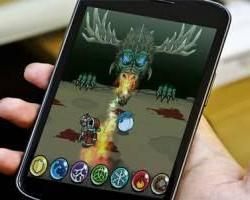 In the video game industry, RPGs are among the most challenging, but also among the most engaging that lead players to a continuous work to kill enemies one after the other, improving their skills or customizing the warriors. With an Android tablet, with an iPad or with an Android smartphone like the Samsung Galaxy or an iPhone you can play some really beautiful role-playing games, often with a top or three-quarter view, where you have to guide the player in a vast world full of adventures, enemies and things to do to improve and progress through the story.
In this list we see some of the
Best Adventure RPG RPGs and MMO RPGs
available, often even for free, on Google Play and the Apple store,
per Android, iPhone e iPad
extremely easy and fun to play, to play long games even more than a month.
1)
Game of Thrones - Beyond the Wall
for Android and for iPhone it finally came out in 2020 after a long pre-registration period. The game takes place nearly 50 years before the events of the TV series and novels, with the task of assuming command of the Night's Watch. Players can collect various characters from the series, fight with enemies and other online opponents. The game uses elements from various genres, including adventure, role playing, strategy and others.
2)
Bit Heroes
, for Android and iPhone is an MMORPG game, with 8 bit graphics, where you have to create an army of monsters to win battles in the arena with turn-based mode.
3)
Sword of Chaos
for Android and for iPhone is an action RPG with some MMORPG elements, very good graphics, smooth gameplay and lots of skills that characters can learn. The character is then created and the story continues improving it. The game also includes cooperative multiplayer, online PvP and guilds to team up with friends or participate in wars with other players.
4)
Quadropus Rampage
it's free for Android and for iPhone and iPad and besides being fun, fast and dynamic, it's also a game with beautiful graphics and a decent story. In Quadropus Rampage you will face sea creatures by guiding an octopus.
5)
Eternium
you can download it for free for both Android and iPhone. This is a classic action RPG, very fun, with simple controls and, above all, where you don't have to pay to win and can be played offline even without an internet connection. It is one of the most played RPGs in the world.
6)
Inotia 4
is a beautiful free RPG game for Android and for iPhone and iPad that gets more and more as you play. With nice retro manga-style graphics, three-quarter top view, Inotia 4 is a beautiful RPG game that's easy to play and suitable for both genre experts and novices.
7)
Lords Mobile: Kingdom War
it's free for iPhone and Android and it's an old-fashioned RPG with a huge world to discover. With more than 3 million installs on Google Play, it is perhaps the most played MMO-RPG on smartphones, obviously in multiplayer.
8)
One-Punch Man: Road to Hero 2.0
for Android and for iPhone is a story-style RPG, PvP online, an extreme trials mode inspired by the famous manga One Punch Man, with the same graphics as the cartoon, characters and all the heroes of the series.
9)
Arcane Legends
, free for Android and iPhone and iPad, voted best mobile MMO in 2012, is a 3D fantasy game with hundreds of players still looking for pets, equipment and skills to be won by defeating super-powerful orcs, dragons and bosses.
10 )
Sky: Children of the Light
, for Android and iPhone, is a wonderful game, with relaxing graphics, music, a complete RPG and in the truest sense of the word. In Sky you can live and play with a character to customize as you wish, in a luminous virtual world to be explored. During the game you will be able to meet other players, talk to them, organize yourself to face missions or simply socialize.
11 )
dragon raja
for Android and for iPhone is one of the most unique and original MMORPGs, with an exceptional character customization engine and excellent combat mechanics. The game also features a story to play, many social elements, a few different game modes, and a vast open world to explore.
12 )
Order & Chaos 2: Redemption
, for Android and for iPhone / iPad is a clone of World of Warcraft (WoW), free, with many registered players, five types of heroes (orcs, humans, Elves, Mendel and Kratan), five classes (Knight, Ranger, wizard , warrior and monk) hundreds of missions and many levels.
13 )
Angel stone
, free for Android and for iPhone / iPad is another game that looks a lot like Diablo, of the dark fantasy genre, very rich in variety and growth options. It is also possible to play via the browser with the same account as that of the mobile phone, which is a nice cross-platform touch.
14 )
Celtic Heroes
, free RPG game for Android and for iPhone / iPad draws from Celtic mythology a world of elves, druids, trolls, dragons and more, with four classes to choose from to gear up and venture out into the world to earn gold and glory.
15 )
Dungeon Legends
for Android tablets and iPads is an action RPG game, with real-time multiplayer challenges in the arena.
16 )
Pokemon Quest per Android e iPHone
(described in another article) is the Pokemon RPG game, very nice especially for the particular retro graphics.
17 )
Zenonia 5
it's a
Free RPG RPG game
both for iPhone / iPad and for Android phones and tablets. Zenonia is an old-fashioned RPG, with a top view, eight-directional movement and a great, highly engaging story. The fights are extremely smooth and responsive, with very high quality graphics. The only annoyance is that Zenonia requires an internet connection to play and you can't start the application without it. In-app purchases, in the form of a store where you can buy upgrades, are not essential to continue the adventure. If you like Zenonia you can also play the previous episodes such as Zenonia 4 and 3 and the future ones that will surely come out.
18 )
Lineage 2: Revolution
, free for Android and iPhone, is one of the best games released in 2017, online role-playing game with high quality graphics, a huge open world and large-scale PvP battles, with up to 200 people fighting in real time. It is a complete global MMORPG that can be played and enjoyed together with millions of people around the world.
19 )
Dissidia Final Fantasy Opera Omia
, for Android and iPhone, by Square Enix is ​​a 2018 game, from the popular Dissidia franchise, similar to Final Fantasy, with a long story, turn-based combat and cooperative multiplayer games.
20 )
GrandChase
, for Android and iPhone is an action RPG game with manga graphics, with 70 heroes to unlock and level. During the fight, you have to move the team to dodge the enemies and dragging and dropping the fire skills (MOBA style) at the right time to complete the level. The game's soundtrack is fun and the game is packed with content: campaign, PVP, bosses and lots to do.
21 )
Saint Seiya Awakening: Knights of the Zodiac
, for Android and iPhone, where it is possible to face the challenges of the story of the Knights of the Zodiac and also play online against other players.
22 )
Harry Potter: Wizard Unite per Android e iPhone
, Harry Potter RPG, based on augmented reality.
23 )
The Mighty Quest for Epic Loot
, for Android and iPhone is one of the best games of 2019, among the awarded by Google. It is an action and adventure RPG, which can be played following the story or fighting against other players, with heroes to create, a world to conquer and many monsters to beat.
24 )
Grimvalor
, for Android and iPhone, one of the most beautiful indie games, a hack & slash RPG adventure of exploration and combat, to be played on a solitary mission.
25 )
Assassin's Creed Rebellion
, for Android and iPhone, Ubisoft game, among the best of 2019, with the legends of the assassins to discover by collecting heroes to train in your base to develop and grow, also through missions in the fortresses of the Templars.
26 )
AdventureQuest 3D
, for Android and for iPhone, is a classic RPG that allows you to play in different roles, choosing the class and with the possibility of changing it even while the game is in progress.
27 )
RuneScape Mobile
, for Android is the smartphone version of the popular online role-playing game Ruinescape. RuneScape is a very old but still very popular MMORPG with a lot of content. You create a character to start the adventure and go on gaining experience and earning points.
28 )
Brown Dust - Tactical RPG
, for Android and for iPhone, is a strategic role-playing game, with manga-style graphics and real-time combat.
29 )
ANOTHER EDEN
, for Android and for iPhone is one of the best RPG games, different from most RPGs and with a fairly linear story.
30 )
Dark Legends
for Android and for iPhone it is one of the best free MMORPG games to play despite its very basic graphics. The game doesn't have a lot of character customization, but it does have a great deal of tweaks you can make to its skills and weapons. The story is that of a vampire who goes around killing zombies in an attempt to find the one who killed his master.
31 )
summoners War
for Android and iPhone is an action-packed RPG with more than 1000 different types of monsters, each with their own different abilities to use to win, all in real time. The game has endless battles and you can play solo or PvP against other players. The game has relaxing 3D visuals which, while not of a high standard, are effective in immersing the player in the game.
32 )
Toram Online
for Android and for iPhone is a nice role-playing game with manga graphics, with many options for customizing weapons and characters. Toram Online has both cooperative mode and solo campaign mode where you follow an adventure story through a fantasy world in which to train the character, improve strength and more.
33 )
Era of legends
for Android and for iPhone is an epic adventure in a fantasy universe where dozens of people meet, hundreds of other players, who fight against us in huge PvP arenas. The game has a quest based system with many classes and levels.
34 )
Dawn of Isles
for Android and for iPhone it's a breath of fresh air. It doesn't follow the dark fantasy world or the gothic world of other MMORPG games, but it has vibrant, bright and relaxing graphics. Although it has no character creation elements, it follows a very elaborate story, with a journey where, as a builder fighter, you have to start from scratch, build weapons and challenge enemies.
35 )
Dungeon Hunter 5
for Android and for iPhone / iPad is the fourth in a popular series of role-playing games, "dark fantasy", similar to the Diablo series. Once you've chosen one of four different warrior classes, you can embark on epic hack-n-slash missions to defeat monsters and bosses, collect loot, upgrade gear, and keep progressing to unlock levels. You can venture out alone, recruit friends for co-op missions, or face off against other players in PvP.
36 )
Aura kingdom 2
for Android and for iPhone is the mobile version of the MMORPG game for PC, with four classes to choose from, a huge open world to play in, an automatic mode for a quick search of the missions and many accessories to customize the character.
37 )
Guardian Tales
for Android and for iPhone is a hack-and-slash adventure game with puzzle elements and role-playing games. Players gather a group of adventurers and explore the dungeons, fight bosses and build their own floating castles. you can play quick games, online PvP, create guilds and much more.
38 )
TALES OF CRESTORIA
for Android and for iPhone is a role-playing game with Manga and Anime graphics, set in an original world of the Tales series, with a plot to follow and characters to explore.
39 )
Sword Master Story
for Android and for iPhone is another beautiful role-playing game with Manga and Anime graphics, with lots of animations and battles, where you can improve your warrior and collect heroes.
40 )
Tom Clancy's Elite Squad - GDR militare
for Android and for iPhone is a military tactical game where you have to put yourself in the shoes of the commander of a squad of soldiers chosen in order to win 5 vs 5 battles with the least possible casualties.
41 )
The Seven Deadly Sins: Grand Cross
for Android and iPhone is one of the RPGs with the best graphics, which faithfully reproduces the graphics of the Japanese cartoon of the same name. You can then meet the various characters, choose skills, make them grow and compete against other players.
42 )
Romancing SaGa Re; univerSe
for Android and for iPhone, is a highly regarded and popular 2020 role-playing game, with beautiful graphics, characters drawn as manga, good music and a tactical battle system not difficult to learn for casual players, but also fun. for the more experienced ones.
43 )
FINAL FANTASY BRAVE EXVIUS
for Android and iPhone is perhaps the best free Final Fantasy themed game around, with many elements of the original games, including city and dungeon explorations, hidden treasures and secrets to discover. The game is simple to learn, albeit challenging when it comes to finding ways to beat the toughest bosses and opponents.
40 RPG and MMO role-playing games for Android and iPhone