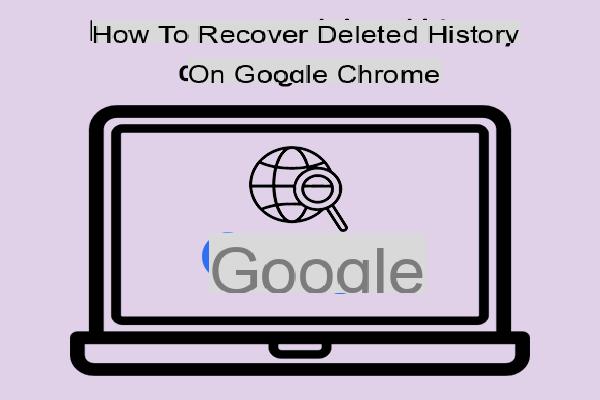 Is it possible to recover the Chrome history?
Recovering the deleted history is a possible operation and it's actually not too complicated if you know how to do it. Now we are going to walk you through several methods that will help you know how to see deleted Google history and not only.
Before continuing with the reading it is good to point out that through this guide on deleted history recovery we do not encourage any activity of "espionage". We remind you that browsing data is personal information, and our intent is only to help you solve this problem and not to try to find out other people's information.
Google Chrome history retrieval on different devices and operating systems
How to recover Chrome History on each device? Find out here:
On Windows
Below we go on to illustrate the main methods useful for recovering the history of Google Chrome is Windows through backup, DNS cache, restore to previous version and more.
By backing up Chrome on Windows
Start Google Chrome and then press the button located in the upper right corner of the window to display the browser drop-down menu.
SelectSettings, i.e. the item located at the bottom of the previous drop-down menu.
Then choose Log in to Chrome at the top right of the first section of options on the screen Settings.
If you have already logged into the browser with your Google account, your name is displayed in the "People"And you can skip the next three steps of the procedure.
If Chrome is currently linked to an account other than the one you want to use to back up, you need to click Logout.
Enter the email address of the Google account you wish to use for the backup and click on NEXT.
Enter the Password login of the account chosen for use and press on NEXT.
Then click OK to link Chrome to the Google account provided.
Select Synchronization, item present in the "People" section, under the name of the account in use.
If Chrome was already linked to a Google account, information synchronization is already active.
Attiva "Synchronize everything" moving the cursor from left to right. When the synchronization is activated you will see this written in blue. At this point the data stored by the browser, the configuration settings, the favorites, the installed apps will be synchronized with the Google account in use.
If you see the writing "Synchronize everything" already blue, it means that the information from Chrome has already been saved to your Google account.
Click the button for return to the previous page. It is characterized by the arrow icon pointing to the left.
At this point you will be able to restore all Chrome data to another computer or mobile device.
Via the Windows DNS cache
You can also use the DNS cache to recover lost Chrome history:
Click on the buttons at the same time " Windows + R ", type " cmd "And click on" OK".
On the screen you will see the command prompt appear, where you will have to type " ipconfig / displaydns "And press Submit to continue.
At this point you will be shown the websites you have recently visited.
This method, even if it is very fast, however, it has a limit, allows in fact the only visualization of the domains so if you need to restore your complete browsing history this is not the best method.
With a Windows data recovery software
If you want to know how to find deleted history using a data recovery software for windows, read our article.
Restore Chrome history to the previous version
Find your information on Google Chrome cu C: Users Username AppData Local Google Chrome.
Right-click on the User Data folder and select the "Restore Previous Versions" option from the menu.
Then choose the version you want and click on the button Restore. By doing so, you recover Chrome data (such as browsing history, bookmarks, passwords, and other settings).
Note: This option, however, may not be available because it is not enabled by your system.
Retrieve the history deleted via "My activities"
The activity performed helps Google make services more useful to you, such as helping you to rediscover the pages where you have surfed online. You can see and delete your activity on the Google browser here, on the de "My activities"
Through system restore
A very simple way to recover Chrome browsing history is to resort to System Restore:
To recover the Google Chrome history files you need to click on the icon Cortana and then type system restore in the search box.
Click on Submit or select Create a restore point from the correspondence you want to open it.
Click on the button Restoration system configuration on the System Protection tab.
Click on NEXT in the System Restore pop-up window.
Choose a correct restore point from this list.
Click again on NEXT and confirm the restore point you want to activate, then click on end and wait for the operation to complete, after which "Restart your computer".
After rebooting you will need to go to Google Chrome to check if your internet history is now available.
Your macOS
Here too there are several useful methods to recover Chrome history on Apple computers. On the Mac it is indeed possible restore deleted history in several ways, through cookies for example, or by using applications and software such as time Machine and others.
Using Time Machine
time Machine is a very useful integrated application for backing up and recovering lost or deleted files, such as browsing history. All you need to do is:
Make sure the Time Machine feature is turned on. If it's not already activated, go to Menu> Systems, here you find the Time Machine menu. If it's on "off", Press"On"To enable it.
Then go to the Insert Time Machine option in the relevant drop-down menu. At this point your Mac will open in the backup location.
Go up Applications and Time Machine to see a list of all backups taken. Find the deleted history, then click the button Restore under it.
With a Mac data recovery software
If you want to know how to recover deleted Chrome history on Mac using special recovery software, all you have to do is follow the link and read our article on Mac data recovery.
Retrieve the history deleted via "My activities"
Here on Mac this procedure is the same as what we have already shown you previously in the same paragraph dedicated to Windows, so you can use the same instructions for "My activities".
Recover deleted Google Chrome history on Mac using cookies
You need to know that even if you accidentally remove or delete your Google Chrome browsing history, the cookie they are not removed and therefore you can access them to view the history.
Open Google Chrome and Settings in the upper right corner.
Search for cookies, select Content settings> Cookies> View all cookies e site data.
This method is obviously not applicable if you have just cleared Google Chrome cookies.
On Ubuntu / Linux
If you are using Ubuntu / Linux via Debian or its Distro, you can check the ~/.config/chromium/o~/.config/google-chrome/ in the system or even in a backup file.
Here you have to search for the profile you want to recover.
When you've managed to find a valid save file, you can move on to restore it.
Follow the same path on the PC where you lost the data then go to ~/.config/chromium/Local State, find the profile you want to restore, copy and paste its string instead of that of the active profile which, at the moment, appears to you as empty.
The last step is to delete the active profile folder.
In this way, restarting Chrome, you will be asked to restore the session in progress, by accepting this request you will recover all the data.
Your Android
There is no specific app for access to Chrome, but all Android devices, tablets and smartphones, are linked to your Google account, via Gmail. It is therefore possible to recover through My activities, as already seen on Windows and Mac.
Your iPhone
If you have already linked your Google account on your iOS device, to recover deleted history iPhone you can proceed in the same way that we have just illustrated for Android devices, otherwise you will need to perform a backup of your iOS device.
What to do to always find the Chrome history
To avoid having to resort to these deleted history recovery operations and to always have your Chrome history available, just a click away, you can perform two operations very simple.
The first is that of constantly back up your operating system and device.
The second is the one that provides the Google account synchronization on different devices, making sure you always have the browsing history option enabled.