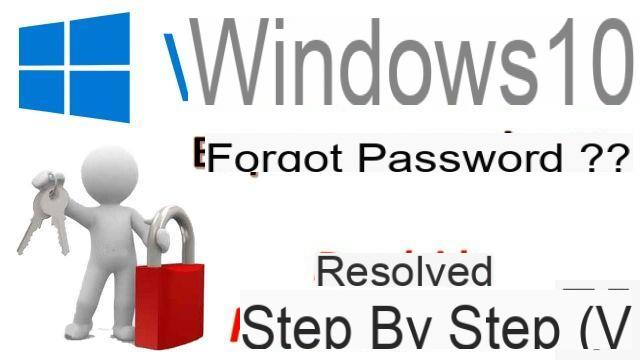 What to do to recover Windows 10 passwords: methods without using programs
If you have ever thought I forgot your PC password, know that you are in good company. Driven by the need to change access keys and to choose some that are too long and difficult, it is not surprising that many of us forget them after not even a few days. Fortunately there are gods simple and effective methods with which to recover the password Forgotten Windows 10 administrator. Here are which ones:
Try to recover your Microsoft account
To recover Windows 10 passwords, the fastest and most immediate method is using the fastest and most immediate means proposed by the official Microsoft page. In fact, this is the account that you have almost certainly connected to your PC and to be able to access it again, just follow these steps carefully:
Click on the official link we provided and enter yours emails, telephone number or the name you use on Skype.
Press on NEXT and set the destination where you want to receive your new security code. Complete the operation by pressing Next again.
Click on Send code after entering your details and then enter the text string in the box below the item Verify your identity.
Press again on NEXT, enter a new password and confirm it by entering it again in the box below.
By doing this you will be able to reset your PC password and log in without too much difficulty. Be careful though! We recommend that you write down your new password on a piece of paper and keep it in a safe place. To avoid hacker attacks, never save it inside your device and don't share it with people you know.
Change your local account password: for Windows with version 1803 or later
If the above method didn't work, you can try to log in to your local account. The latter will allow you to log into the PC, without allowing you to connect to other programs like Skype or OneDrive. To recover Windows 10 administrator password on a version 1803, you must have already set up a security question. Here's how to do it:
If you have already mistaken the forgotten PC password, click on Reset password, on the other hand, if you are using the PIN, press on the access problems connected to it.
Type the correct answer to the questions that appear to you.
Choose one new password and save it.
Log in with your new password.
How to reset your password on a version of Windows 10 earlier than 1803
If your computer has a version older than the now known 1803, it becomes more difficult to reset the password especially since in this case there are no security questions. One of the most immediate methods is to format PC without password, but only if you have already made a backup not to lose all data. If you find yourself in this situation, you will need to:
Simultaneously press the Power key and Shift key
Options will appear at the bottom right of the screen, so select Troubleshoot and then choose to reset your device.
Select the item Erase everything, aware that your PC will go back to factory settings.
How to recover PC password with PIN
The PIN is nothing more than a combination of numbers or letters, which you have set up for quick access to your PC. For forgotten Windows 10 PC password, you need to know that this method is effective only if you are already connected to your device. You will also need to:
Make sure your device is connected to Internet.
Press the Windows icon on the bottom left, click on Account settings and finally select the Access options.
Scroll to locate the Windows Hello Pin option and then press on the item: I forgot the pin.
We remind you that the PIN is always different from the password you have set and that to change the latter you will have to follow the settings above!
All the best programs to recover Windows 10 passwords
Although the methods listed above are much easier and faster, there are also some equally effective software on the market. If you have already tried to recover Windows passwords with the above methods and it did not work, here are the alternatives you have available:
Lazesoft Recover My Password
One of the most effective tools with which to recover a forgotten computer password is definitely Lazesoft Recover My Password! Compatible with Windows 7, 8 and 10 and with both systems a 34 o 64 bit, once started, on the main screen it will provide you with various options including "Reset Local Password".
You will then have to select the operating system of your PC and then click on Next, awaiting the end of the procedure. Despite having a simple, intuitive interface and customer support always available, it is still a very method slower than other tools for password recovery. Visit the Lazesoft official page and try it for yourself:
Ophcrack
Ophcrack is one of the most efficient and easiest to use forgotten PC password tools. Free is suitable for any type of operating system, from 7 to XP and Vista, to see it in action you will need to download it to your PC and save it to a CD or USB stick.
In this way, at the first connection, the program will be able to automatically identify the user account, helping you to recover the forgotten PC password. His advantage the greater the execution speed, definitely superior to many other alternatives on the market. Click on the link of the official page and download the ISO image immediately.
Offline NT Password & Registry Editor
Better known also as NTpassed, it is one of the few software with which to reset forgotten Windows 10 passwords, without needing to be connected to the Internet. Plus, it's completely free and doesn't require you to remember previously set passwords.
We believe that this method made open source for developers is particularly suitable for those with a minimum of experience, even if beginners can give it a try. Built on the mode of key-command management, this software can be freely downloaded from the official Offline NT Password & Registry Editor page.
John the Ripper
When comparing the different software to recover the forgotten computer password, we were also particularly impressed by John the Ripper. This program searches for your password using and shuffling long lists of words made available.
Even though it is included in the free options, you should know that some of the lists mentioned are paid and prove to be indispensable for carrying out an effective search. This option is also based on command management, which is why we recommend its use only for expert users.
How to create a Windows password reset disk: the best solution for those who often forget the passkey
Even if the software just examined are really reliable, know that there is an even easier method to prepare in advance: a password reset disk. This is a manual method of inserting through a simple CD or USB stick, which continuously changes the text string without you having to remember it.
To log into your account, all you have to do is enter it into your computer. Simple right? Here's how to create one:
Open the Control Panel of your PC (Win + X or click on the Start menu) with Windows 10, 8, 7, Vista or XP and press the option User Account (For Win 10 just type password reset disk in the search bar).
Equip yourself with a CD or a blank memory stick, press on the local account and select the item: create a password reset disk.
Click on Next in the new window that just appeared and then on: Create a password reset disk.
Select the external drive of your choice and press on NEXT e end to conclude the procedure.
Remove the CD or key and keep them in a safe place, so you can use them when needed!
Forgotten Windows 10 password: the most common problems
Have you tried to recover computer passwords using the above methods and encountered any difficulties? Let's try to clarify any doubts by examining the solutions of our experts.
What to do when you don't receive your verification code
The reasons why you were unable to receive the system access code they can be multiple. Here are the ones most encountered by other users and their solutions:
You typed your email address or phone number wrong: check that you have entered your username correctly and, if so, that you have not made a mistake with a digit or the prefix of your number.
You don't remember what the number or email used for Basic Information is: As a protection of personal data, Microsoft only shows certain digits of the telephone number or registered email. To make sure you enter the correct data. Select the item Update the info In the Basic Information, choose a method that you think is correct or select the I don't have this information option.
Your mobile phone blocks SMS received from unknown numbers: change your phone settings and press I don't have a code to receive it again.
You are using an Outlook, Hotmail, Live or MSN email to get the code: this means that to request the code, your device keeps logging out of the account in question, without allowing you to receive it. The solution in this case is to use a tab with privacy mode, in order to have access to both emails at the same time and to be able to write down the code in question.
Error: "we need to make sure you can get a security code"
This is a fairly common error and often encountered by those who change a forgotten Windows 10 password. The solution in this case is re-enter your details, or ignore the message for a full day before it disappears. Be careful though! Windows will periodically ask you to update your data, either after 7 days or when too much time has passed since your last login.
Windows 10 PC password recovery: everything you need to know
If this is the first time you think I forgot my PC password, you will surely have some questions or doubts to clarify. During the process for how to recover deleted files from your PC, such as passwords, here are the most frequently asked questions:
Is the verification code I receive like a password?
No, the code will not replace your password but will allow you to confirm your identity. It's the best way to change a forgotten password or block one in case someone has stolen your data.
Are paid password recovery software better than free ones?
Sure that No.! Paying for a service is not always the same as having a sure success. There are so many open source programs that will allow you to access your data without too much effort and quickly!
Are Windows recovery methods the only way to get my forgotten password back?
No, there are tons of other ways to access your forgotten password. For example, you could create a password reset disk Windows or software you previously downloaded to a CD or on a stick.
How can I prevent someone from using these methods to access my computer?
The only solution in this case is to carefully guard the password you just created. Even more, it can be useful change it periodically, updating at the same time also yours personal data.
final Thoughts
We hope that our advice has been of help to you to be able to recover your forgotten Windows 10 password.