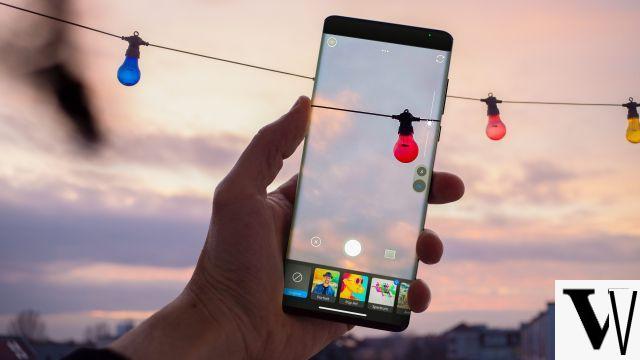 The best free and paid apps for photo or video recovery on Android
Let's see now one by one, the best applications of 2021, along with their features, pros, cons and how to use them to get your precious files back.
Google Photos
Despite being the must-have application included in the package of every Android device, Google Photos is also extremely effective to recover deleted photos or videos. The most important plus point is that even if you delete a photo or video, it keeps it in the trash even without making a backup, for i 60 days to come.
In fact, to recover them, just open the free app, press the three menu lines at the top right and choose the item Trash can. You will immediately notice the presence of the deleted photos or videos, and it will be enough for you keep pressed on the ones you want to get back and select the item Restore.
By doing so, you'll have your file back in Google's photo library, relocated to the album it was deleted from. However, if you can't find your video, the reasons may be:
The maximum 60 days elapsed for recovery
The deletion and simultaneous emptying of the recycle bin
Permanent deletion without the existence of a backup
DiskDigger Pro
You have already tried the above recovery but with poor results and you want to rely on a professional app? Here it is! The DiskDigger Pro, for the modest sum of just over 3 of euros, it will allow you to recover the files PG e PNG with a few simple steps.
This software works best on devices with root already performed, allowing you in its paid version the recovery of videos, snaps and FTP files. Extremely simple and easy to use, from the first start you will be asked whether to make one basic or deep scan.
Then choose the one that best suits you, select the type of data to be recovered and wait for the end of the procedure. If the resulting files are too many, you can apply a filter to speed up the search, based on size, location or folder to save.
At the end of the procedure, you can choose whether to save the files on the device, whether to upload them to FTP or save in an application.
Undeleter
Undeleter has as its main feature the ability to scan even deeply your Android device. Available in both version free and paid, you can use it to recover not only videos or photos, but even music, contacts, books or entire archives.
Efficient and simple to use, you can only make the most of it on a rooted device already carried out. Let's see now how to recover accidentally deleted videos and photos:
Choose the option Restore files and grant root permissions
Find and select the memory for scanning (if the SD or the internal one)
Start Scan and wait for the results
Select the data to be recovered and save them by pressing the blue button (floppy disk)
Choose the destination and save everything by clicking on Restore
And voila! Your videos and photos are again at your complete disposal.
Digdeep
Among more powerful recovery tools, there is also DigDeep with its ability to restore deleted images or videos from SD card or internal memory. Completely free, easy to use but unfortunately only in English, as soon as it is accessed, the software immediately performs a first scan.
Upon completion you will be faced with entire folders full of previously deleted files, from which you can select and restore the ones you need. Once pressed on Restore locate the folder of destination and everything will be as before.
It is good to know that, since it is not the classic
basket
, it is able to recover even files removed before its installation, thus becoming a very reliable tool.
dumpster
Here it is the recycle bin specially designed for recovering deleted data or files from Android. Available in double version, free and with payment, it will allow you to undo the deletion of photos or videos. In its premium version, you will have one available more storage space, perfect for keeping backups of your data.
Disponibile so in the language of your countryOnce opened, Dumpster will show you a list of files that can be recovered. Just select your deleted photos and videos by pressing on them, and press on the right arrow to start the recovery.
Now that you know how to remedy your deletions, you just have to make the most of these apps for recovering deleted videos and photos!
How to recover deleted photos and videos from Android without root: the best software
In addition to the methods listed above, there are also programs with which you can attempt to recover photos and videos directly from a computer. However, we have already covered these topics, deepening the discussion in the article on how to recover files from a Windows PC and in the article on how to restore Mac files.
There are many methods and programs to recover files that have been accidentally deleted from your Android phone.
Unfortunately, however, not all these tools are effective, and this depends on different factors such as, for example, whether or not you have backed up your mobile device and the location of the data once deleted.
How to recover deleted photos and videos from your Android's internal memory via EaseUS
Sometimes, when we want to lighten the memory of our Android a little, we proceed to delete various data, mostly photographs and videos, which are then transferred to a space dedicated to them on the SD card. In this case, data recovery software could help us to save everything that is recoverable.
In other cases, however, deleted files end up in the phone's internal memory, and in this case it is necessary to rely on specific programs to restore what is lost.
There are various apps available on the market that could do a good job, but we believe that EaseUS MobiSaver for Android is the best software to recover deleted photos and videos from the phone's internal memory.
This is a paid service but it can also be downloaded in its free trial version. To use it just follow a few simple steps:
Connect the Android phone to the computer with a USB cable
Install and Open EaseUS MobiSaver for Android
The software will start a scan all data existing on the phone
The program will then offer a preview of all the data that can be recovered
Select the files you want to restore
Confirm by clicking the button "Reset"
FAQ
Coping with the various aspects of our Android phone could sometimes get us confused. These ingenious little mobile devices are packed with a large number of operations that make them so distinctive. Managing multimedia files, such as photos and videos, for example, may not be within everyone's reach. Then, we invite you to consult the following questions, which are the most frequent among Android mobile users:
Is it possible to recover photos after a factory reset?
Unfortunately, sometimes the only option we have available to deal with sudden problems that could compromise our Android phone is to perform a factory reset. If, on the one hand, this operation could solve almost any technical unforeseen event, on the other, however, this it could mean losing all saved data, including photos and videos.
However, you should never despair, because, even if you have not done a back up, they are available on the market many programs that allow not only to recover photos and videos after a factory reset, but also to restore data that was deleted.
Can the police recover deleted photos from a smartphone?
Just like any other type of file, even the photos and videos that have been deleted from a smartphone can be recovered, if they have not been overwritten. This, of course, depends on many factors but, in general, with the help of special programs everyone can be able to recover deleted data, even the police.
However, just as there are tricks to restore deleted photos, there are also methods, such as encryption, to ensure that private data that has been deleted remains so.
Where do the photos and videos deleted from Android go?
All multimedia files that have been deleted from the folder called "Gallery" or from the "Google Photos" App are moved to a practical recycle bin that the Android operating system has installed in all phones, just like it happens in PCs.
To access it, just open the appropriate folder and look for the item "Trash", which is located in the bar that appears at the top right.
Why do deleted photos keep appearing in their original folder?
Sometimes, it can happen that you have the problem of not being able to delete photos or videos from your Android. When these are removed from their folder, they poi reappear after the device is turned on again. What is the cause of this bizarre behavior? The causes can be various, including:
Connection to some Cloud synchronized with the gallery. The problem could be solved by removing the synchronization with the Cloud, so that the photos deleted from the gallery will normally be removed.
Operating system broken down. You could try doing an operating system restore.
Defective SD. In this case, you could try to change the card or, alternatively, you could proceed to format it.
Would you be interested in it…
How to recover deleted calls on Android
How to recover data from a broken phone
The tutorial for restoring deleted files on iPhone
How to recover a damaged or broken SD
Guide to recovering contacts in Android
How to recover deleted photos or videos from an iPhone
How to recover deleted Play Store
Android deleted app recovery