You accidentally deleted photos from your android smartphone and now you don't know how to retrieve them? Don't panic. There are apps that allow you to recover deleted files from Android using your phone directly or by connecting your device to your PC. Be careful though, don't expect them to work miracles: like all such solutions, the software I'm about to tell you about is only effective if the portion of memory that previously housed the data has not yet been overwritten, i.e. if it hasn't yet been used to store new files.

Another important thing to do is that most data recovery apps require the presence of an unlocked Android system, then undergo the root procedure.
So, are you ready to start? You can find all the applications, and especially the directions, you need below. Take five minutes of free time, try to put into practice the suggestions I'm about to give you and some results you should be able to take home. Good luck recovering your data!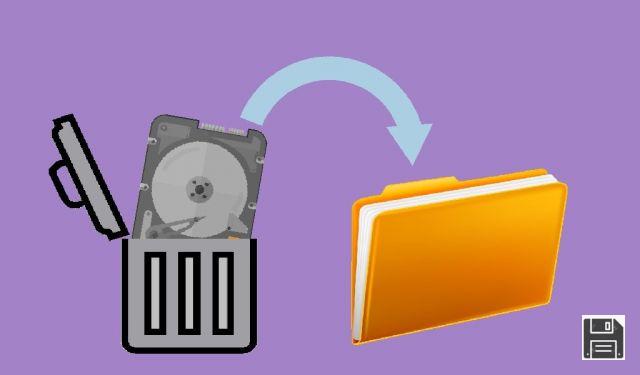 DiskDigger (Android)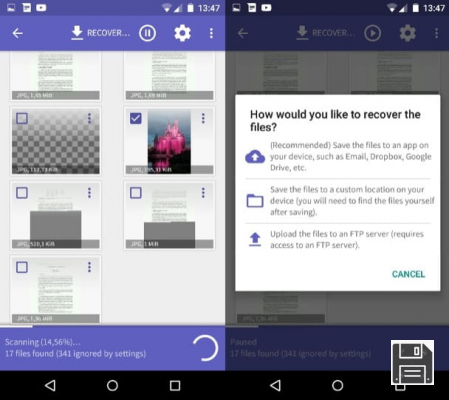 After all the necessary premises, I'd say you're ready to find out how to recover deleted files from Android, so let me introduce you to DiskDigger. It is an application that allows you to recover photos, videos, audio files and other types of files deleted from the memory and/or memory cards inserted in Android phones. It comes in a free basic version that allows you to restore only JPG and PNG photos and videos in MP4, M4V, M4A, 3GP and MOV formats and a paid version that costs €3.37 and also allows you to recover music files, RAW images, Office documents, PDF, ZIP packages and APK format applications.
To recover deleted files from your smartphone/tablet with DiskDigger, launch the application and allow it to run with root permissions by responding affirmatively to the warning that appears on the screen (e.g., "I'm not allowed to delete files").Superuser request), then press No, thanks to continue using the free version of the application and select the memory drive from which you want to recover files (it should be the largest one).
Now, select the partition to be scanned (it should be the one in bold), put a check mark next to the file types to be found (in the free version of DiskDigger you can only select photos in JPG and PNG format) and start searching all available data for recovery by pressing the OK button.
When the scan is complete (the duration of which depends on the size of the selected drive), locate the files to be recovered and press on their names to preview them. Then place a check mark next to their thumbnails, press the Recover button at the top left and select the destination to which you want to export the data: pressing on the cloud icon you can save the files on a cloud storage service or you can send them to yourself via email (recommended), selecting the folder icon you can export the data to a folder on your phone, while selecting the arrow you can upload the data to an FTP server.
Note: Preview is only shown for certain file types (e.g. photos), also items such as ZIP archives and APK packages are shown without their original names (they are all called sector xx). Unfortunately when the preview function doesn't work you have to make several attempts to find the right ones.
PhotoRec (Windows/Mac/Linux)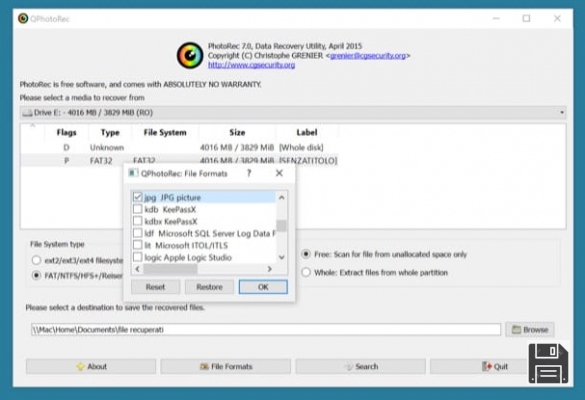 If your Android smartphone allows you to expand the memory using microSD cards and the files you deleted by mistake were on the memory card, you can also use PhotoRec. It is a free application for Windows, Mac OS X and Linux (i.e. computer) that allows you to recover files from SD cards and other removable memories.It comes paired with TestDisk, another free software that allows you to recover lost partitions and make damaged disks bootable again, but for now we are only interested in PhotoRec.
To download PhotoRec to your PC, connect to its official website and click the Windows item below TestDisk & PhotoRec 7.0. When the download is complete, insert the microSD of your smartphone/tablet into your PC, open the zip archive containing PhotoRec, extract the contents to any folder and start the qphotorec_win.exe executable.
In the window that opens, expand the drop-down menu at the top, select the microSD drive of your smartphone/tablet and click on its primary partition (it should be the one named FAT32, FAT16 or exFAT).Then place a checkmark next to the FAT/NTFS/HFS+/ReiferFS and Free entries, click the Browse button and select the folder to export the files you are going to recover from the tab.
Now you have to choose the types of files to recover from the microSD. Then click on the File formats button, reset the default selection by pressing the Reset button and check only next to the file types you want to recover from the microSD, for example mov (mov/mp4/3gp/3g2/jp2) for videos and JPG or PNG for photos.
To finish, click the OK and Search buttons, wait for the deleted files to be recovered and open the folder you selected before (using the "Browse" button) to discover all the documents recovered from PhotoRec.
Note: Theoretically, you could also recover files from memory of a device without SD card support. To do this, you need to create an image of the smartphone/tablet internal memory, convert it to VHD format and feed it to PhotoRec. It's not an easy task for everyone, but if you have a "geek" friend and recommend him/her to read this tutorial in English, you might be able to do it too.
WonderShare Dr. Fone (Windows/Mac)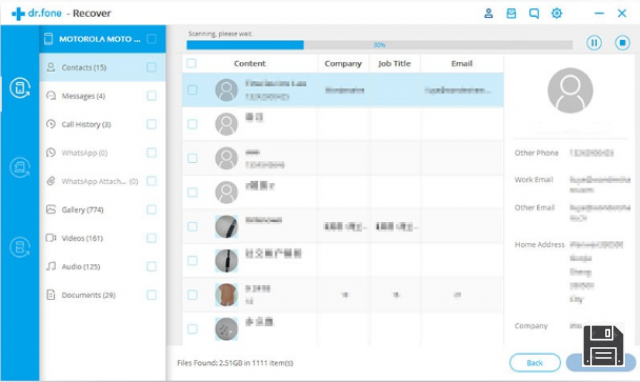 If your smartphone does not allow the use of microSD cards, you can try to recover deleted files from Android with Wondershare Dr.Fone: it is a commercial software for Windows and OS X that allows you to recover files, contacts and SMS from all major Android smartphones in an extremely simple and fast way. It costs about 60 euros but is available in a free trial version that allows you to test its effectiveness (but without recovering found files).
To download it to your PC, connect to the program's website and click the Download Trial button. When the download is complete, open the DrFoneForAndroid.exe file and click on the Yes button, then select your language in  language selection menu and finish the setup by clicking on OK and then on Install and Finish.
Now you need to connect your Android phone to your PC, but before you do this make sure that the USB debug function is active (in Settings > Development Options) and that there is at least 20% battery charge. If you can't find the Development Options item in the Android Settings menu, make it appear by selecting Info on your phone and pressing the Build Number button seven times in a row.
Once you connect your phone to your computer, authorize Dr. Fone on Android by pressing the OK and Grant buttons, then select the file types you want to recover (e.g. Video, Messages, Gallery, Documents, etc.).), go Next, accept Dr. Fone with root permissions (by pressing the Grant button that appears on the phone screen) and wait for the device scan to complete.
When the scan is complete, browse the contents available for recovery from the left side bar (e.g. Contacts, Messages, Videos, etc.), put the check mark next to the items to be recovered and click on the Recover button to start their recovery (this operation is available only in the paid version of the software).
When you are done with the restore operation, I suggest you to delete Dr. Fone's app from your smartphone (at least until you need it again and you can install it through the PC application). To do this, go to the Settings > Android App menu, select Dr Fone for Android and press the Uninstall button in the window that opens.
Other useful tips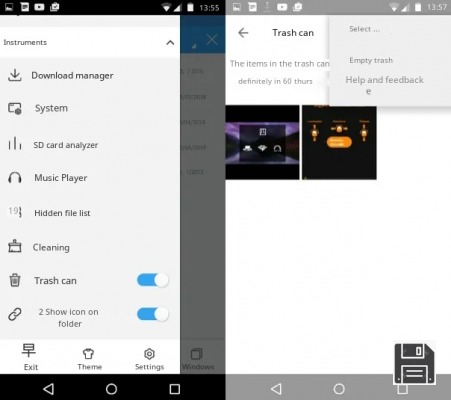 To conclude, I would like to give you a few small tips of common sense. They will certainly seem trivial to some people, but I guarantee you that in the daily use of an Android terminal they can make the difference and prevent situations like the one you're in now (with deleted and hard to recover files).

Make a regular backup of all data on your device, both offline and online. I explained how to do this in my tutorial on how to make Android backups.
Use a file manager like ES File Manager to manage your files. In this way, even if you delete files, you will have the possibility to recover them from the recycle bin included in the application (more precisely from the side menu that appears by pressing on the hamburger icon located in the upper left corner).
Use Google Photo to manage and store photos and videos. Thanks to Google Photo you can have a free and unlimited backup of all your photos (up to a resolution of 16MP) and videos (up to a resolution of 1080p) on Google Drive and, in case of wrong deletions, you can recover your files by going to the recycle bin of the application (accessible from the side menu that appears by pressing on the hamburger icon located in the upper left corner).
Frequently asked questions and answers
On your Android phone or tablet, open the Google Photos app .
At the bottom, tap Trash Library .
Tap and hold the factor (photo or video) you want to restore.
At the bottom, tap Restore.

Dumpster - Recover my photos & Video files.
DiskDigger - Recover photos.
GT Trash - Recover, restore.
Recycle Bin - Recover Trash.
Undeleter - Recover Files and Data.

On a computer, go to drive.
google.
com/drive/trash.
Right-click the file you want to recover.
Click Restore.

It is recommended to use EaseUS Data Recovery Wizard Pro with bootable disk.
EaseUS WinPE data recovery with bootable disk is an ideal alternative to recover data from hard drive without booting into Windows, recover files from a PC without operating system and computer that won't start.
12 Mar two thousand twenty one
Compilation of frequently asked questions that our users have sent us and that our experts have answered.