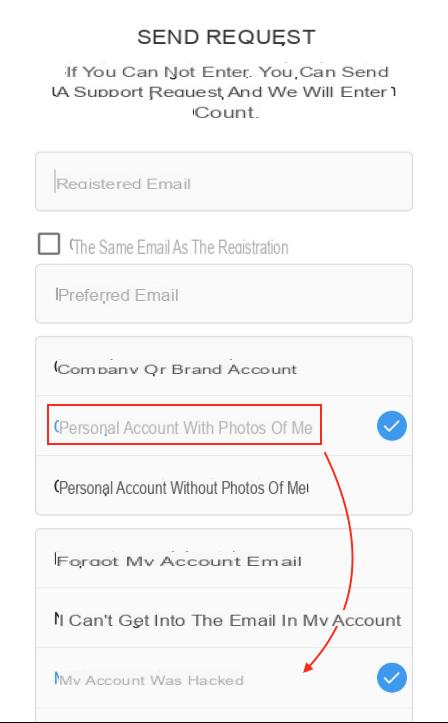 Recover a hacked Instagram account step by step
If one day you suddenly notice that you no longer have access to yours account, one possibility is that you have been a victim of hacker.
Here then is that following these steps you will be able to get access again, let's see them together one at a time:
Enter the platform Instagram with the profile of a amico or relative (your profile will be denied access).
At the top right you will find the wheel of Options.
Click on Assistance.
Click on Report a problem.
Whichever option you choose in this case will lead you to get in touch with the Instagram support, but click on "something does not work"Will make the process faster.
Write one mail to Instagram with the greatest number of information possible, even in the language of your country and leave your email address, to receive an answer.
Now it will be enough wait for that Instagram support responds with the solutions available.
As you can see the steps are few and very simple, you will just have to be patient as the service could last even a few days, depending on how much traffic you have at the support. Unfortunately, there is no way to speed up the process, so arm yourself with patience.
How not to get hacked into your Instagram account?
To avoid going through a bad moment and having to wait for a solution it is preferable to prevent this from happening, so there are gods methods and precautions to take and thus avoid having to wait time without having access to your profile.
Here are some tips:
Password
Choose one complicated password: forget your name or date of birth as your Instagram password, choose instead an alternation of numbers letters and symbols difficult to guess, but easy to remember for you.
Choose one different password for your email account associated with the Instragram account: in this way you will make the hacker's attempt more difficult when they try to take possession of the your account.
Change the password on a regular basis and never share it with anyone.
Two-factor authentication
This is a procedure for donating to your account greater security, here are the steps you will need to follow to activate it:
Log in to your profile Instagram.
Go up Settings.
Scroll to the bottom and click on "two-factor authentication".
Make swipe on where it says require security code.
Then click Forward.
You will receive a SMS from Instagram.
Enter it in the box.
This way every time you want to log into your profile from a device or browser unknown.
Remember to log out
If you happen to connect to Instagram from a computer that isn't yours, or from another phone with various Instagram profiles, don't forget to log out alla fine. This little trick may seem trivial, but it could cost you dearly.
Remove access to other applications
Very often, even if you don't notice it, some applications you have on your mobile also have access to your Instagram profile. If you are concerned about your profile being stolen, consider remove access them.
Here's how:
Log in to your account with the version Web, not with the App in order to understand each other.
Click onicon in the shape of a person.
Click on Edit profile.
Poi cheap Authorized Applications.
Select the ones you want to remove access to.
Click on Revoke access.
Then click on Yup.
Now that these applications no longer have access, you can be a little more comfortable and feel protected against attacks.
Why is an Instagram profile being hacked?
You are probably wondering what are the intentions behind a hacker? Why should he steal your profile? We cannot know the motivation with certainty, but it is possible to do some hypothesis. Let's see them:
Request a ransom: Hackers can earn money by stealing accounts with the required ransoms. If the victims give in by sending the money, the hacker gets rich easily. For many, their profile has an emotional value and if certain photos are only found online, it will be tempting to pay. The solution in this case is to always have a back up with all the photos published on social networks
Resell the profile: If your Instagram account is a very successful content page, this is also valuable because it reaches a large number of people. A hacker can steal your account and then sell it to highest bidder. They can also change the name of the profile by keeping the same number as followers, making recovery even more difficult.
Having access to your stored information and photos, this is more than a personal attack and not due to the money. Pay special attention in these cases and see if it is necessary to contact the authorities of the order!
We hope that the guide was useful to you and that you have decided to take precautions right away to prevent bad guys from stealing your profile!