Free programs to edit video clips
Windows Movie Maker (Windows)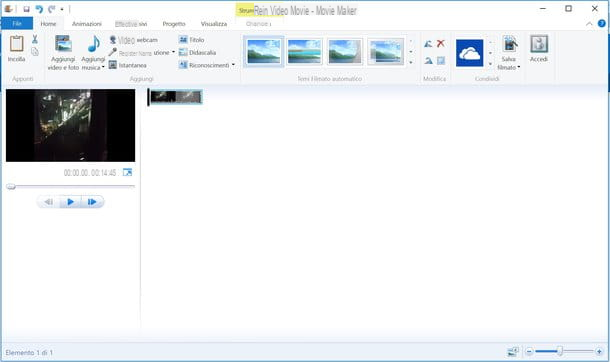 In a guide dedicated to programs for editing video clips, Windows Movie Maker certainly could not be missing from the list. Microsoft's historic video editing program has officially retired, but thanks to the endless resources offered by the web, it is still possible to download and use this video editing software.
Although it is a program with an old-fashioned user interface, Windows Movie Maker is in all respects still an excellent program for video editing: its ease of use and its numerous video editing tools make it worthwhile. still worth using.
Among the noteworthy features of Windows Movie Maker is the ability to import video for editing in just a few simple clicks. Once the videos have been added to the software timeline (via the Add photos and videos button) it will be possible to cut the videos into sequences and then be rearranged and edited. Windows Movie Maker also supports adding a music track as the soundtrack of the edited movie.
Home, animation, visual effects, project, view, edit: Windows Move Maker screens include several intuitive tools for editing and mounting photos. The video clip edited as a final result can then be saved on the PC in various formats and resolutions, but also uploaded directly online to video sharing platforms such as Facebook or YouTube.
Windows Live Movie Maker is software free distributed for Windows only. The software was in fact part of the Windows Essentials suite, which has been removed on new PCs with Windows 10 operating system and is no longer downloadable from the official Microsoft website. However, at the present time it is still possible to use Windows Movie Maker by downloading the software from third-party Internet sites.
In fact, to download Windows Movie Maker, I recommend that you follow this link which refers to the Russian website Cloud Mail. You will then be able to download the city version of the famous software by clicking on written in Russian with arrow pointing down, then ticking the box in the center of the screen and finally by clicking on blue button which appears below.
In the event that the link indicated no longer works, you can download the English version of the software from the MajorGeek website by clicking here. To download the Windows Essential suite you will then have to click on the item Download@Major Geeks.
If you want to know more about how to use Windows Movie Maker to edit a video, you can refer to my guide completely dedicated to using the software in question.
iMovie (Mac)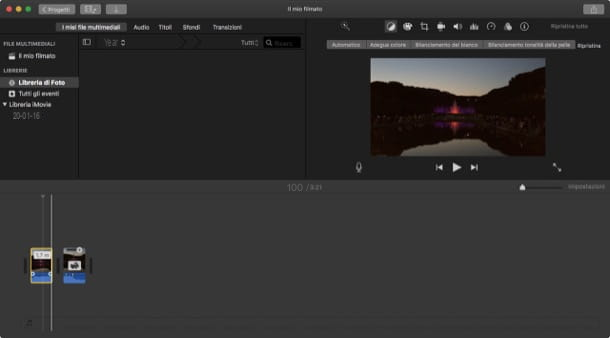 To edit a video clip on Mac in a simple way I don't think there is better software than iMovie. It is in fact a program widely used and appreciated on the computers of the Cupertino company due to its ease of use but also due to the professionalism of the integrated tools.
If you need to edit a video clip and have a Mac computer, using iMovie is therefore highly recommended. On some Mac computers, the software is also already available by default and you will not need to do any installation. If it is not present on your Mac you can download it free via Mac App Store.
The strength of iMovie is certainly given by its user interface which is very intuitive; you will see that editing a video clip with this software will be very easy. At the same time, the editing will still be professional: the advanced tools, the features of iMovie will certainly be talked about.
To start using iMovie go to the MacOS applications folder and locate the software icon (a white star with a camera symbol in the center). In case it is not present, you can download iMovie for free through the Mac App Store (icon with the symbol of a white A on a light blue background).
If you are unable to locate iMovie, you can download the software by clicking on this link: you will be sent back to the software preview tab and on the Mac App Store and you can download and install it.
It should also be noted that iMovie is also available on iPhone and iPad. The well-known video editing software is present on the App Store so that it can be downloaded and used on devices with iOS operating system.
To edit a video with iMovie on iOS, you will need to tap on the item (+) create project and choose from the options Footage (which allows you to create a montage of a video from scratch) e Trailer (which allows you to create a montage of a Hollywood-style video, starting from some predefined templates).
If you want to learn more about how iMovie works on Mac I recommend reading my guide completely dedicated to the subject. If, on the other hand, you want to know how to use the iOS version of iMovie in more detail, I suggest you read my guide dedicated to applications for recording videos. You will find a paragraph in which I explained to you in more detail how this application works.
Paid programs to edit video clips
Do you need to edit a video clip professionally and are you willing to spend some money on software? In this specific case, I recommend that you read the following information carefully. I'll tell you about the main features of some popular and highly regarded paid video editing software.
Adobe Premiere Pro (Windows e Mac)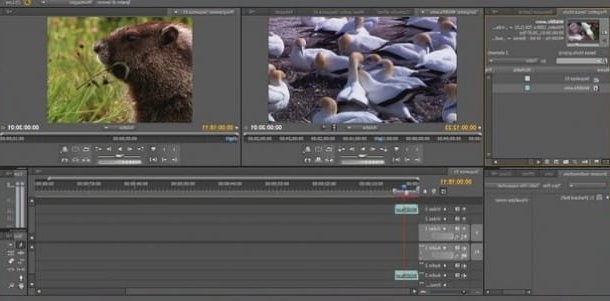 Adobe Premiere Pro is one of the most famous and used editing software on both Windows and MacOS operating systems. It is a paid software that integrates many tools for video editing. You can use it for editing a video clip; you will see that the final result will be noteworthy.
However, keep in mind that the software in question uses hardware acceleration to process high definition video. For this reason, its use (especially on Windows PCs) may only be suitable if you have a technically performing computer.
Adobe Premiere Pro video editing software is available for purchase on both Windows and MacOS. The price changes depending on whether you buy the software as a single private user, as a company or as a student or teacher.
If you are not sure you want to spend some money, know that it is still possible to evaluate the purchase of the software in question by downloading a free trial version with a duration of 7 days.
Final Cut Pro X (Mac)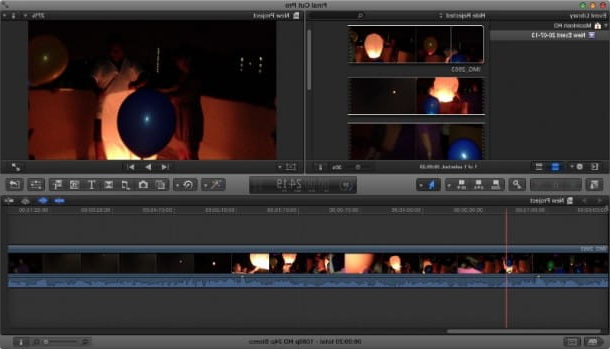 Unlike iMovie, Final Cut Pro X is video editing software paid. It is a software clearly intended for those who need highly advanced tools to create video montages with the ultimate aim of making excellent quality movies.
Furthermore, its use is not exactly as simple as that of iMovie and requires some time to fully understand its operation. Precisely for this reason it is a paid software that is aimed at professionals who carry out the job of fitter or in any case to those who already have advanced technical skills.
As this is an advanced software, even greater requirements from the hardware point of view are clearly required; the software certainly gives its best when used on the latest Mac models.
The price of Final Cut Pro X on Mac is 329,99 euros. If you want to use it in its 30-day trial version click here: you will be redirected to the official website of the software and you will have to click on the entry Trial to download the trial version on MacOS.
Applications to edit video clips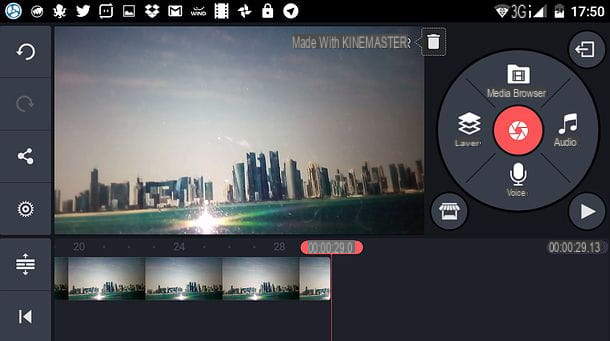 Would you like to edit a video clip that you recorded with your latest generation smartphone or tablet? Not a problem at all. Technological evolution has allowed the creation of equally noteworthy editing applications that will allow you to edit a video clip directly on your mobile device. I indicate below the most famous and used ones.
KineMaster (Android / iOS): Available on both mobile operating systems, KineMaster is a great application for editing videos on a smartphone or tablet. IS free but some secondary features are for a fee.
Adobe Premiere Clip (Android / iOS is): This is the version for Android and iOS mobile devices of the aforementioned Adobe Premiere Pro software and is therefore an excellent app for editing video clips. Downloadable for free on Android and iOS.
How to edit a video clip