"How can I retrieve my Facebook profile?" If you've been searching the Internet for information about retrieving your account for Mark Zuckerberg's popular social network, it probably means you've stumbled across a big problem with your profile.
Of course I can help you but you must first go to the source of the problem in order to be able to provide you with a solution tailored to your needs. For example, if you would like to know how to recover your Facebook profile because you have access problems, I can explain how to recover it by changing your password. Are you having problems accessing the social network because you temporarily disabled your account in the past, but now you've reconsidered? Don't worry, it's not a big problem; I can explain how to proceed.
If you are having problems accessing your account because your profile has been arbitrarily disabled by Facebook, but you think this is an error, please note that I can still help you, indicating the appropriate procedure. All you need, in order to follow the instructions in this guide, is a browser to surf the Internet, such as Chrome or Safari. Take a few minutes off and read my instructions carefully. Hello? Yes? All right, then, have a good read.
How to Retrieve your Facebook Profile (lost password)
From desktop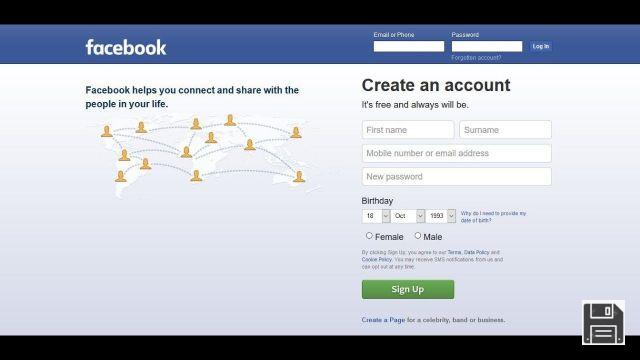 You can no longer access your Facebook account because you lost your password or can't remember your email? Don't despair, all is not lost! I'll explain in the following lines how to recover your account.
I recommend that you do this on your desktop: then go to www.facebook.com and, at the login details (email or phone and password), click on the "Don't remember how to access your account anymore?
This will allow you to perform the recovery process via the Find Your Account screen. To do this, you will need to provide at least one piece of useful information, such as the email address or phone number that you have linked to your account. Then type this information into the text field on the screen and press the Search button.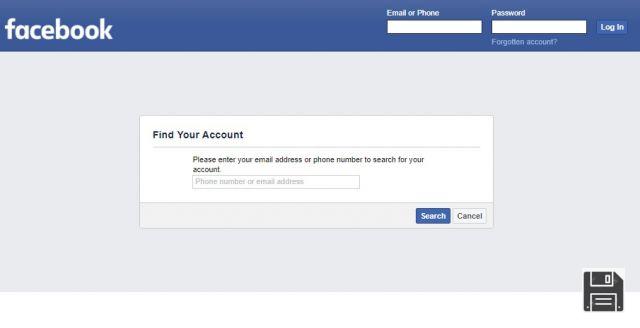 A security code will be sent to the email you have indicated. You will also find a link in the email that you have provided to change the password for your account. Alternatively, you can enter the code provided on the previous Facebook screen to activate the password reset by pressing the Continue button.
On the following screen you can choose the new password yourself, type it in the text field and then press the Continue button. Once you have created a new password for your account, you will be able to access your Facebook account again.
How to recover your Facebook profile (voluntary deactivation)
From desktop
In the past you had deactivated your Facebook profile but now you have reconsidered and would like to get access again? Don't worry, it's not that impossible. A profile that has been voluntarily deactivated is temporarily put on stand-by. Deactivation, unlike deleting an account, is temporary.
In case you have deactivated your Facebook account, you can have a chance to reconsider and change your mind at any time. To recover your deactivated Facebook profile, simply login to it with your credentials. Your profile will be active and it will be as if nothing happened.
To do this, first open the browser you use to browse the Internet (e.g. Chrome or Safari) and then type www.facebook.com in the address bar. Then press the Enter key on your keyboard to access the main Facebook page.
Once you see the social network login screen, simply fill in the Email or Phone and Password text fields at the top right. Once you have entered your login details, press the Login button in the top right corner.
This way you will have fully recovered your Facebook account. All your content, your friends and all the activities on your Facebook profile will be perfectly in place.
Via Facebook application
In this specific case, retrieving a Facebook profile from mobile can also be done very easily from a mobile device such as Android and iOS smartphones or tablets.
The procedure can be carried out via the Facebook application, so take your smartphone and start the social network app (it has the unmistakable logo with a white F and a blue background).
At this point, as soon as you see the app's home screen, you will need to log in to retrieve your previously disabled account.
In the text fields you see on the screen, then type your email or phone number and password in the appropriate boxes on the screen. Then press the Login button to start using your account again, as if nothing had happened.
As I've explained, a disabled account can be retrieved at any time: just log in with your registered login details and everything will be active again in the blink of an eye.
Would you like to recover your disabled account but you are experiencing problems with the wrong password? The solution to this problem is at hand. To change the password for your Facebook account, simply follow the instructions I gave you above. They will help you in case you have lost your password.
From website mobile version
You haven't installed the Facebook app on your mobile device yet, as you'd like to see if you can actually recover your account first? All right, don't worry. In the following lines I'll explain in detail how to retrieve your Facebook profile via the social networking website, which you can also access from your Android and iOS mobile device.
To do this, simply use the browser you use to browse the Internet with your smartphone. Open it and type in the address bar www.facebook.com. Then press the search button on your device's keyboard.
To get access to your Facebook profile again, you will need to enter your login details (email and password) and press the Login button. As you can easily understand, the procedure is the same from both desktop and mobile devices.
This way, even without installing the Facebook application for Android and iOS, you will have access to your account.
How to recover a profile disabled from Facebook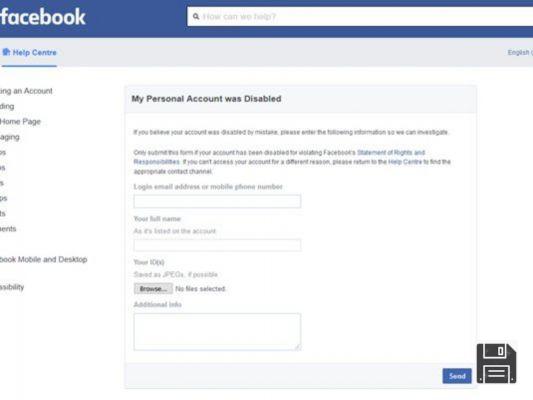 Is your problem different from the above, because you have accidentally had your Facebook profile disabled by the company responsible for the social network? In this case the problem may be due to a violation of the terms of service of the social network.
Such disabling occurs in rare cases of violation of these terms, including, for example, the use of a false name to the detriment of another person's identity, due to harassment or, more generally, misconduct within the social network.
If you believe that you have correctly complied with Facebook rules and have not violated the terms of service, your account may have been deactivated by mistake.
To remedy this unfortunate situation, you can try to recover your Facebook account by logging into this web page. On the screen that appears, you will need to fill in some text fields to provide Facebook with the information needed to recover your account.
Then type your email address or phone number, both linked to your account, into the respective text fields. Then enter your full name, as it was indicated on your deactivated account and then upload the file related to the photocopy of your ID card by pressing the Choose File button.
Finally, using the More Information text field, you will need to indicate some information that might be useful in order to recover your Facebook account. For example, you could explain what you think happened and why you think there was an error in deactivating your Facebook account.
To confirm the sending of the request, click on the Send button located at the bottom right. You will now need to follow up with a reply from Facebook which will provide you with more information.
In case everything goes well, your account will be restored and you can use it as if nothing had happened.
What to do in case of problems
You've tried it. You have followed all the steps I indicated but still can't retrieve your Facebook profile.
If there are any additional issues that prevent you from getting access to your Facebook profile again, I suggest you visit the Facebook Support Center.
This is a FAQ (frequently asked question) page that will help you find more specific help for your Facebook account problem.
The page on the website in question is nothing more than a help page that indicates solutions to frequently asked questions and problems related to the social network. On it you will find some detailed procedures for troubleshooting.
Among the many questions and answers there are also several tips on how to proceed when deactivating your Facebook account. I am sure that, given the many solutions that are indicated to you, you will be able to find what is right for you.
If your problem is not even present in the Facebook Help Center, I recommend that you contact the Facebook Help Forum. You can ask a question and wait for an answer from an employee.