In ForDataRecovery we will teach you all the necessary aspects to manage your own account on the social network Facebook. In the event that you lose your email and login password, we will advise you on how to proceed if this is the case.
"How can I recover my Facebook profile" If you have been searching the Internet for information on how to recover your account on Mark Zuckerberg's popular social network, it probably means that you have run into a big problem with your profile.
Of course I can help you, but first you have to go to the source of the problem, in order to provide you with a solution tailored to your needs. If, for example, you want to know how to recover your Facebook profile because you have access problems, I can explain you how to recover it by changing your password. Are you having trouble accessing the social network because you temporarily disabled your account in the past, but now you have reconsidered? Don't worry, it's not a big problem, I can explain you how to proceed.
If you have trouble accessing your account because your profile has been arbitrarily disabled from Facebook, but you think it's a mistake, be aware that I can still help you, indicating the proper procedure. All you need, to follow the instructions in this guide, is a browser to browse the Internet, such as Chrome or Safari. Take a few minutes off and read my instructions carefully. Hello? Yes? All right then, have a good read.
How to Recover Facebook Profile (lost password)
From Desktop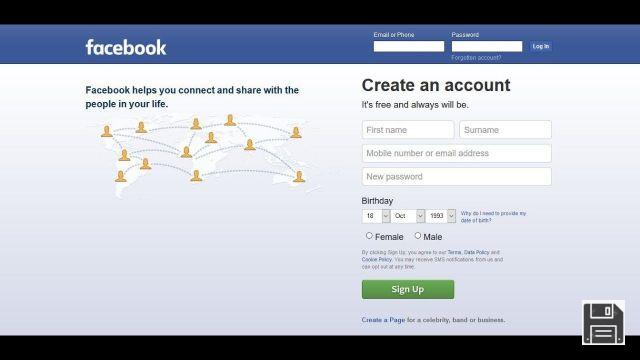 Can't access your Facebook account anymore because you lost your password or can't remember your email? Don't despair, all is not lost! I will explain how to recover your account in the following lines.
I advise you to perform this procedure through the desktop: then connect to www.facebook.com and, in correspondence with the login data ( email or phone and password), click on the item You nolonger remember how to access your account?
In this way, you can perform the recovery procedure, through the "Find your account" screen. To do this, you will need to provide at least one useful piece of information, such as the email address or phone number you have linked to your account. Then type this information into the text field on the screen and press the search button.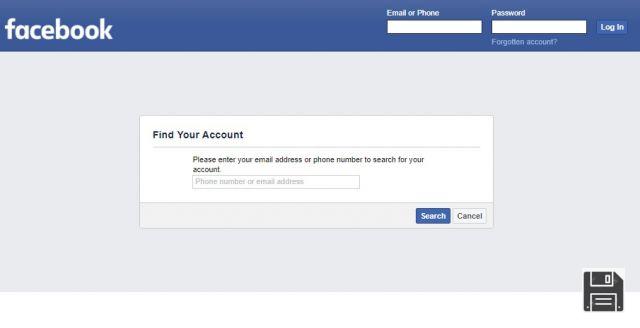 A security code will be sent to the email you indicated. You will also find a link in the email you received that will allow you to change your account password. Alternatively, you can enter the code provided on the previous Facebook screen to activate the password reset by pressing the Continue button.
On the next screen you can choose the new password yourself, type it in the text field and then press the Continue button. Once you have created a new password for your account, you will be able to access your Facebook account again.
How to recover your Facebook profile (voluntary deactivation)
From your desktop
In the past you had deactivated your Facebook profile, but now you have reconsidered and would like to have access again? Don't worry, it's not that impossible. A profile that has been voluntarily deactivated is temporarily put on hold. Deactivation, unlike deleting an account, is temporary.
In case you have deactivated your Facebook account, you may have the opportunity to reconsider and change your mind at any time. To recover your deactivated Facebook profile, simply log in with your credentials. Your profile will be active and it will be as if nothing happened.
To do this, first open the browser you use to browse the Internet (e.g. Chrome or Safari) and then type www.facebook.com in the address bar. Then press the Enter key on your keyboard to access the Facebook home page.
Once you see the social network login screen, simply fill in the Email or Phone and Password text fields at the top right. Once you have entered your login details, click the Login button in the top right corner.
This will completely recover your Facebook account. All your content, friends and all your Facebook profile activities will be perfectly in place.
Through the Facebook application
In this specific case, recovering a Facebook profile from mobile can also be done very easily from mobile devices such as Android and iOS smartphones or tablets.
The procedure can be done through the Facebook application; therefore, take your smartphone and start the social network application (it has the unmistakable logo with a white F and a blue background).
At this point, as soon as you see the home screen of the application, you must log in to recover your previously deactivated account.
In the text fields you see on the screen, type your email or phone number and your password in the corresponding boxes you see on the screen. Then press the login button to start using your account again, as if nothing happened.
As I explained, a deactivated account can be recovered at any time: just log in with your registered access data and everything will be activated in the blink of an eye.
Do you want to recover your deactivated account but have problems with the wrong password? The solution to this problem is at hand. To change your Facebook account password just follow the instructions I gave you above. They will help you in case you have lost your password.
From the mobile version of the website
You haven't installed the Facebook app on your mobile device yet, as you would like to see if you can actually recover your account first? That's okay, don't worry. In the following lines I will explain in detail how to recover your Facebook profile through the social network website, which you can also access from your Android and iOS mobile device.
To do this, just use the browser you use to surf the Internet with your smartphone. Open it and type in the address bar www.facebook.com. Then press the search button on your device's keyboard.
To access your Facebook profile again, you will need to enter your login details ( email and password) and press the Log in button. As you can easily understand, the procedure is the same for both desktop and mobile devices.
In this way, even without installing the Facebook app for Android and iOS, you will have access to your account.
How to recover a deactivated Facebook profile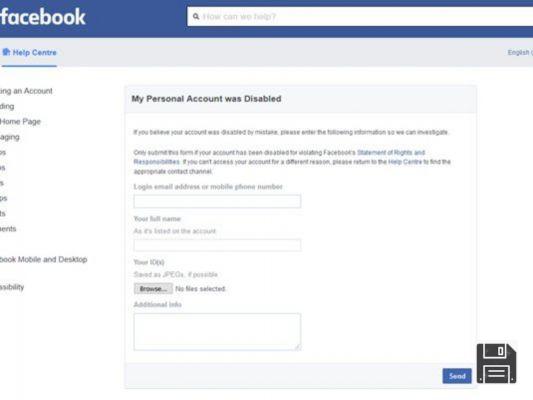 Is your problem different from the previous ones, because you have been mistakenly disabled from your Facebook profile by the company responsible for the social network? In this case the problem may be due to a violation of the terms of service of the social network.
This type of deactivation occurs in case of rare violations of these terms, such as the use of a false name to the detriment of another person's identity, due to harassment or, more generally, bad behavior within the social network.
If you believe that you have correctly complied with Facebook's rules and have not violated the terms of service, it is possible that your account has been deactivated by mistake.
To remedy this unfortunate situation, you can try to recover your Facebook account by logging into this web page. In the screenshot you will have to fill in some text fields to provide Facebook with the necessary information to recover your account.
Then enter your email address or phone number in the respective text fields, both of which are linked to your account. Next, enter your full name as indicated in your deactivated account and then upload the file related to the photocopy of your ID card by pressing the Choose File button.
Finally, using the More information text field, you will need to indicate some information that may be useful in recovering your Facebook account. For example, you could explain what you think happened and why you think there was a mistake in deactivating your Facebook account.
To confirm the submission of the request, click the Submit button at the bottom right of the page. You will now need to follow up with a response from Facebook, which will provide you with more information.
In case everything goes well, your account will be restored and you will be able to use it as if nothing happened.
Accessing Facebook without an account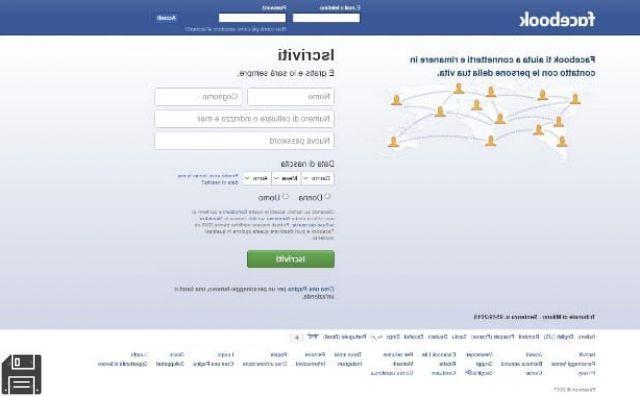 The first method that will allow you to access Facebook without having to register is to go directly to the official website of the social network.

But before you start, note that, for convenience, I recommend that you perform all the procedures I have indicated in this tutorial from your computer. So, the first step is for you to go to the Facebook website through your desktop browser. However, note that you can also access Facebook without logging in through your Android and iOS mobile browser. To log in through your browser, you will need to use the desktop view feature. To activate this view, you will need to proceed according to your browser settings. To give an example, in Chrome you have to tap the button (...) on the top right and check the option Request desktop site.
The first thing you have to do is open the browser you use to go to the official Facebook page (you can do this by typing facebook.com in the address bar and pressing enter on your keyboard). From the main screen of the social network, click first on the People section, which is located at the bottom of the page in small print.
On the next screen, you will have to pass Facebook's security check: type the captcha code you see on the screen in the text field provided and press the Enter key on your keyboard.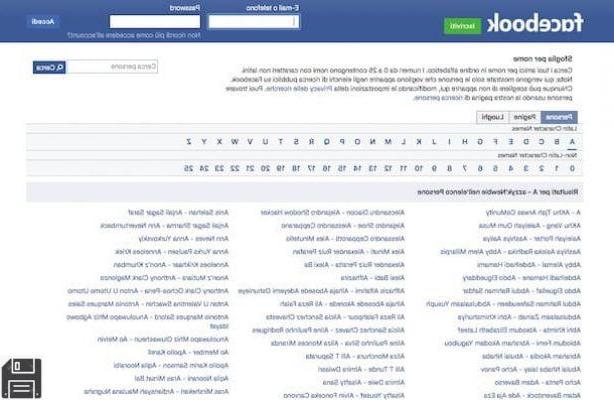 With this Facebook tool, you will be able to browse the entire Facebook database and you will find the complete list of people registered on Facebook in alphabetical order. If you want to search for someone on Facebook, I suggest you type their first and last name in the search engine located in the magnifying glass symbol on the top right.
Once you have searched for a person on Facebook, you will be shown a list of possible names that match the person you are looking for. You can click on the name that matches the person to view some of their public profile information. You will only have access to brief personal information. You will not be able to see the person's public profile posts, published photos and videos, or their friends list.
To view other public information about a person, you will need to register with the social network and possibly also send a friend request to the person in question.
You can do something similar by going to the public section of Facebook, which does not require registration, to see updates posted by Facebook pages, as well as to see what's going on with celebrities and places.
To do this, go back to the Facebook home page as I explained at the beginning of this tutorial and, if you only want to see Facebook pages, click on Pages (located at the bottom of the page with a small print).
Again, you will be presented with the complete list of Facebook pages in alphabetical order. To find your way around this extensive list, I recommend that you use the search engine text field located at the top right. Type in the name of the Facebook page you want to see and find the one you were thinking of among the search results that appear. In this particular case, as Facebook pages are completely public, you can view all their contents even without registering on the social network.
From the Facebook home page, there are other small entries (always located at the bottom of the screen) that refer to other public content that you can view. For example, if you click on Places, Groups, Recipes, Sports or Games, you can respectively see some places that have been registered on Facebook, the names of the groups on Facebook (although the groups are public to see the publications you must be registered), recipes, sports and games on Facebook, being able in the latter case to consult only public information such as the votes made by users. I would also like to note the presence of the Look entry, which will allow you to view certain public posts related to a keyword or a topic of discussion.
As far as possible, to search for content of interest to you, I recommend that you use the search engine, if it is present on the screen.
What to do in case of problems
You tried. You have followed all the steps I indicated but you still can't recover your Facebook profile.
In the specific case that there are additional problems preventing you from accessing your Facebook profile again, I suggest you visit the Facebook Help Center.
This is a Frequently Asked Questions (FAQ) page that will help you find more specific help for your Facebook account problem.
The website page in question is nothing more than a help page that offers solutions to frequently asked questions and problems related to social networking. There you will find some detailed troubleshooting procedures.
Among the many questions and answers there are also several tips on how to proceed when deactivating your Facebook account. I am sure that, given the many solutions you will be able to find what is right for you.
If your problem doesn't even appear in the Facebook Help Center, I recommend you contact the Facebook Help Forum. You can ask a question and wait for an answer from an employee.
Frequently asked questions and answers
Step 1: Open the browser you normally use.
Step 2: Type in the browser bar the address www.
facebook.
com and press the Enter key.
Step 3: The Fb.
page will open.
Step 4: To finish, click on the Start Session button.

Go to m.
facebook.
com in your mobile browser.
Enter one of the following options: Email: you can log in with any e mail that is included in your Fb account.

Tap at the top right of Fb.
Scroll down and tap Settings.
Scroll down to Your Fb information and tap the information you want to review.

Compilation of frequently asked questions that our users have sent us and that our experts have answered.