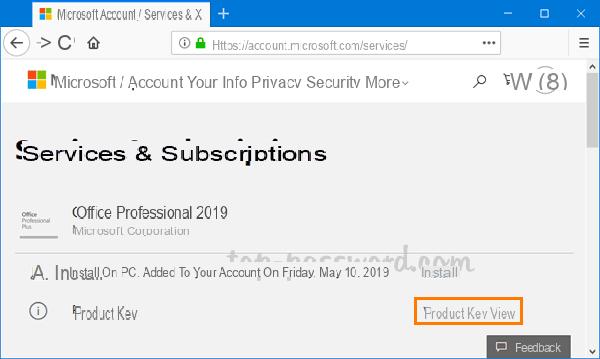 What is the Office Product Key?
The Product Key, literally translated as "activation code"Is nothing more than a string of numbers and letters used to verify the authenticity of your product. Even before carefully examining the different methods that will help you recover your Product Key Office, you should know that Microsoft has now changed the methods of storing keys on PCs sold with Office pre-installed.
From Office 2013 onwards, you will be able to find it on your computer only the last 5 characters of the Office licenses, which means that the first 20 characters are nothing more than a generic sequence. This new system has also inevitably changed the way we can recover the Office Key, making a distinction between the software of 2009, 2010, 2011 and the Product Key Office recovery of the programs of 2013, 2016, 2019 and 2020.
Where do i find the Office product key?
We are now a long way from the days when you could only buy software on CDs and it was enough to keep the latter to have the Microsoft Office license at your fingertips. Today you can buy the program in digital format, which means that you will receive your Office 365 license in various forms:
Some online stores even deliver one for purchase card or postcard che include l'Office 2019 Key.
You can recover Office 2019 Product Key directly on the receipt or in the Fattura that you receive by email.
The Office 365 Product Key can also be sent after the transaction is concluded, by mail or post.
You could still decide to buy a physical copy of Office (with the Office license present in the case), but we would like to remind you that many laptops now no longer include the CD player.
How to recover Office 2016, 2019 and 2013 product key from CMD
As we have already mentioned, for Office versions later than 2013, it is only possible to trace the last 5 characters of your Microsoft license. If you are wondering "where do I find the Office Product Key", well the answer is: in Command Prompt or CMD.
To view Product Key Office you will need to have the PC on which you installed it in front of you in order to open the CMD. Here's how to access the Command Prompt based on the type of Windows you have:
Windows 10 and 8.1: right click on the Windows button at the bottom left and then select the corresponding item.
Windows 7: click on the Start button at the bottom left and select Command Prompt directly from the list that will appear.
In order to recover Product Key Office you will need to enter the correct text string, otherwise you will receive a message warning you that the file could not be found. Just do it copy and paste codes that we have entered below and you will get the last 5 characters of the license of the software installed on your PC.
Product Key Office 2016
If you want to recover Office 2016 Product Key, the code you will need to enter is the following:
Windows a 32 bit: cscript "C:Program FilesMicrosoft OfficeOffice16OSPP.VBS" /dstatus
Windows 64 bit: cscript "C:Program Files (x86)Microsoft OfficeOffice16OSPP.VBS" /dstatus
Product Key Office 2013
If you want to recover Office 2013 Product Key, just do it copy and paste the following code:
Windows a 32 bit: cscript "C:Program FilesMicrosoft OfficeOffice15OSPP.VBS" /dstatus
Windows 64 bit: "C:Program Files (x86)Microsoft OfficeOffice15OSPP.VBS" /dstatus
Retrieve Office license via a VBS document
One of the easiest methods to recover Office 2019 Product Key is by using a VBS file. To create one, here are the steps to follow:
Right click directly on the Desktop and select the option New and then Text Document.
Copy and paste the code we have included below and then hit Fillet top left.
Choose the option Save with name, enter the desired name and then add .vbs at the end.
To see your Office 2019 license, all you have to do is click on it twice. You can then copy it and save it to another file. Here is the code to insert into your VBS file:
Set WshShell = CreateObject ("WScript.Shell")
MsgBox ConvertToKey(WshShell.RegRead("HKLMSOFTWAREMicrosoftWindows NTCurrentVersionDigitalProductId"))
Function ConvertToKey (Key)
Const KeyOffset = 52
i = 28
Chars = "BCDFGHJKMPQRTVWXY2346789"
Do
Ass = 0
x = 14
Do
Cur = Cur * 256
Cur = Key(x + KeyOffset) + Cur
Key(x + KeyOffset) = (Cur 24) And 255
Cur = Cur Mod 24
x = x -1
Loop While x> = 0
i = i-1
KeyOutput = Mid (Chars, Cur + 1, 1) & KeyOutput
If (((29 – i) Mod 6) = 0) And (i <> -1) Then
i = i-1
KeyOutput = "-" & KeyOutput
End If
Loop While i> = 0
ConvertToKey = KeyOutput
End Function
How to find the Office license from your Microsoft account
To make it easier to access and recover your Office 2020 license, Microsoft allows you to synchronize your Microsoft account with your Office one. You can then install your program on any device and you can activate it simply by logging into your profile.
If you've purchased a digital version of the program, just use your Microsoft account during the installation phase to activate Office. Remember to use the same Microsoft account what do you have used to buy your Office!
Few people know that you can save and add the Product Key to your Microsoft account, even when you've purchased a CD or digital copy anonymously. To do this, during the first installation you will need to log into your Office account and enter your Product Key.
To save and recover Key Office with a few simple clicks, it will be enough create and then add your Microsoft account as well.
How to recover the Product Key Office using a software
To recover Office license quickly, just like we saw in the guide for recuperare Product Key windows 10, there are different types of software on the market that you can use. We have chosen Lazesoft because it is simple to use and free, therefore accessible to all. If you've lost your product key, this program is perfect for view Office license su all versions of Windows.
To use it, you will have to press the Free Download Now button from the main page and wait a few moments for it to be installed on your PC. The first time you log in, you will already see the name given to your computer and serial code used for your package Office.
All you have to do now is copy it and then use it!
Other equally effective programs with which to recover the Product Key Office
If Lazesoft is not for you, know that there are many equally effective alternatives. Here are just a few of the software you might use:
ProduKey: It is the ideal software to use to recover Office 2007 or 2003 Product Key on any Windows version.
ShowKeyPlus: is a constantly evolving program available not only in English.
Magical Jelly Bean Keyfinder: available in both free and paid versions and has a version specially designed for Apple devices.
Contact Microsoft Technical Support
Have you already read and followed our instructions, but still weren't able to recover your Office 365 Key? If you have proof of purchase, you just have to contact customer service directly from Microsoft. To do this, just go to the official page and click on Contact technical support!
When might you need the Office product key?
Office is one of the most used programs for creating and editing documents. If you have a full and regularly purchased version, you may need to view the Product Key in some situations such as:
Se you lost the CD original or the receipt on which it was marked.
The label on which it was marked is faded and you can't see the code anymore.
When you make a Windows update, switching from one version to another (for example from Windows 7 or 8 to Windows 10).
You have performed installations or upgrades that have cleared the license key.
Shark reinstalled your operating system.
Do you want to repair or just reinstall your Office.
We remind you that for digital licenses you no longer need to enter the product key and just enter the data dell'account Microsoft you bought your Office 2016 or 2019 with.
Also read other tutorials on how to recover:
Recover deleted files from Google Drive
Retrieve previous version of Excel file
How to recover an unsaved Word file
Restore emptied recycle bin