Avidemux (Windows, macOS and Linux)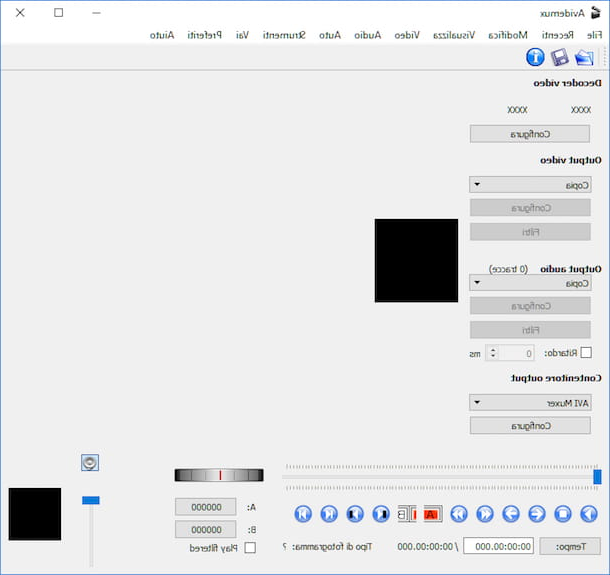 The first of the free video editing programs I want to suggest you to consider is Avidemux: it is a cross-platform solution considered by most as one of the best resources in the category at no cost. Thanks to this program it is possible to edit, convert and edit videos in all major formats (AVI, MPEG, WMV, etc.) through a very simple and easy to use interface.
To edit videos with this software, you must configure the first movie to have the same resolution as the ones that will be added later. Otherwise, the commands to select, cut and paste the scenes are at a glance and easily identifiable by anyone.
To download Avidemux to your computer now, click here.
Wondershare Filmora (Windows and macOS)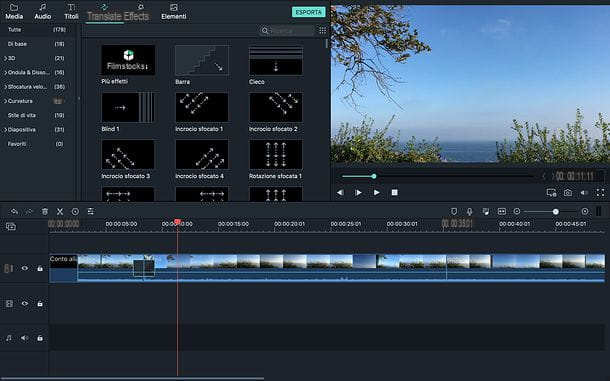 Among the editing programs that I invite you to consider there is certainly Wondershare Filmora, which is compatible with Windows and macOS and offers a wide range of features for video editing; all combined with an extremely intuitive user interface and the ability to edit videos that have different formats and features (it supports, in fact, all major media file formats). In addition, I would like to point out that it includes many royalty-free audio clips to use for free in your projects and a one-stop shop for royalty-free video, audio and media effects.
To edit a video with Wondershare Filmora, launch the program, select a format (i.e. Widescreen, Standard or Cinema) from the drop-down menu at the top and click the button to create a new project. In the next window (i.e. the Wondershare Filmora editor), import the videos to be edited into the program by dragging them into the Import Media Files box here or using the File> Import Media> Import Media Files menu (top left).
Next, sort the movies you want to edit by dragging their thumbnails into the calendar by Filmora (below); if prompted, choose to merge the features of the first video into the current project, then use the software's editing features in any way you prefer.
For example, if you want to cut a scene, mark the point in the video where you want to make the cut (by clicking in the field at the top of the timeline where the time indicators are), then press the scissors icon located in the toolbar above the timeline and that's it.
Subsequently, if you wish, by clicking on the thumbnails present on the Filmora timeline, you can reorder the scenes (dragging them to the desired points); delete them by pressing the Cancel / Backspace key on the keyboard (or by clicking on the basket) and apply changes of various kinds, using the buttons on the toolbar located at the top of the timeline.
For example, by clicking on the cutter you can cut them; by clicking on thever you can change the playback speed; by clicking on the palette icon you can adjust the colors; by clicking on the screen you can apply various effects related to the use of the green screen, while clicking on the icon with the adjustment sticks you can apply various types of changes, such as rotate or zoom in the movie. In addition, on the right you will find the icons to add gods. markers, record a voice-over, openthe audio mixer and adjust it Zoom.
Later, you can also use tabs Headphones & Speakers, Values, Transitions, effetti ed elements placed at the top to customize your video by adding audio tracks, titles, transition effects, color filters and various elements (such as badges, emojis and other graphic objects). To use these tools, all you have to do is select them from the corresponding panel of Wondershare Filmora and drag them to the point on the timeline of your choice.
When you are satisfied with the result, you can save the video you edited with Wondershare Filmora by clicking on the Export button placed at the top and then on the Create account (to export the movie for free, with watermark) or on one of the Buy it now! (to subscribe to one of the paid plans of the program).
In the window that opens, then fill out the form that is proposed to create your Wondershare ID, click again on the Export button of Filmora, click Continue using it and choose the format in which you want to export the movie. You can choose to export the file to a generic format (such as MOV, MP4, MKV, AVI etc.), using a dedicated device profile such as DVD or as a movie optimized for online services such as YouTube and vimeo.
Once you have made your choice, use the Save drop-down menu to choose the folder in which to export the video, the Settings button to choose the resolution and bitrate and click the Export button, to start exporting the file.
To download Wondershare Filmora to your computer, click here and press the download button. The version of the program most suitable for your computer will be downloaded automatically.
The program is free to download and use, but it prints a logo on the generated videos. To remove the logo and get free technical support, you must subscribe to a paid plan starting at 39.99 euros / year or purchase a lifetime license for the software, at a one-time cost of 59.99 euros.
Lightworks (Windows, macOS and Linux)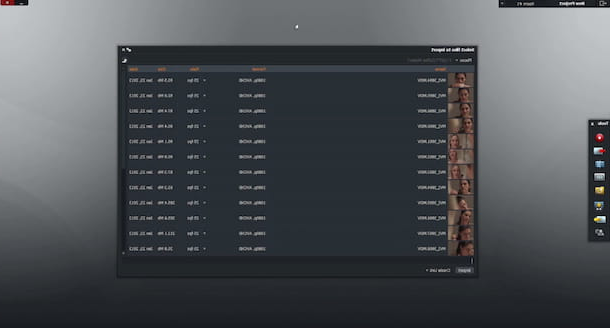 Lightworks is another excellent resource compatible with Windows, macOS and Linux that deserves to be fully included in this article dedicated to the best free video editing software: it is certainly a very interesting solution for those looking for software to create and edit professional-grade movies without affecting their personal finances.
Lightworks, however, it should be noted, is not exactly synonymous with lightness and is not even very easy to handle, but it ensures full use of the computer's potential. In fact, the software includes all the main functions for video editing, including some special features reserved for "professionals".
To download Lightworks to your computer now, click here. Note that the program may also be available in a paid edition that provides additional features such as exporting to YouTube's 1080p format and creating stereoscopic content.
OpenShot (Windows, macOS and Linux)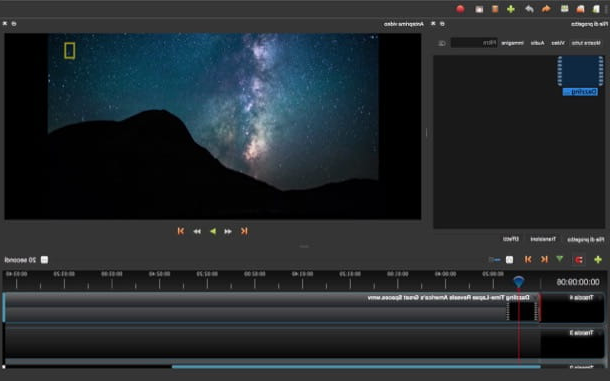 OpenShot is one of the most comprehensive video editing and editing programs available for free. It is open source, cross-platform and extremely powerful. It supports all major video and audio file formats (thanks to FFmpeg integration), allows you to manage unlimited tracks and layers, creates high-precision transition effects and animations with real-time preview, supports the creation of titles, vector graphic elements and includes many effects for movie editing.
The OpenShot interface is extremely intuitive, supporting drag and drop, scrolling and zooming on the timeline. In short, in the free sector it is not easy to find a software that manages to combine advanced potential and ease of use in such an impeccable way. Try it now and you won't be disappointed.
To download OpenShot immediately to your computer, click here.
Shotcut (Windows, macOS and Linux)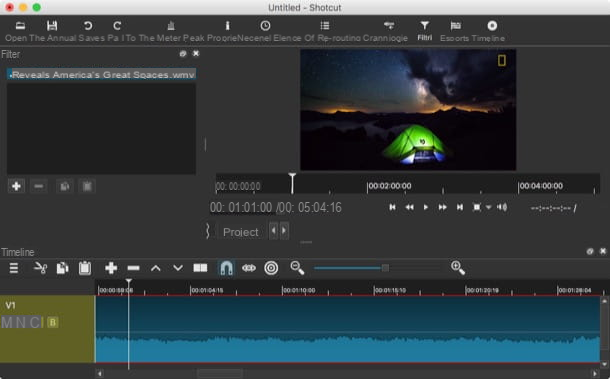 Another free video editing program that I invite you to try now is Shotcut. More precisely, it is a free and open source video editor compatible with macOS, Windows and Linux. It supports a wide range of video and audio formats through integration with FFmpeg and provides the ability to edit video frame by frame with absolute precision.
Among the numerous features attached to the software are the ability to process 4K video and capture movies from various sources, as well as numerous effects to enhance movie audio, the ability to adjust colors, speed and other movie parameters, and a wide range of video filters. Everything is packed into a very intuitive interface with a multi-track timeline. True, some features found in purely professional solutions are missing, but this software still manages to cover most users' video editing needs without any problems.
To download Shotcut to your computer now, click here.
Movie Creator (Windows)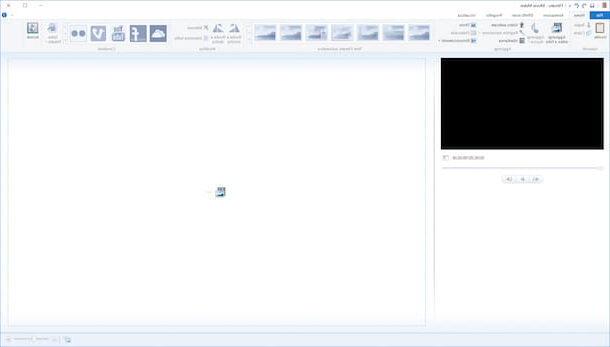 Who has never heard of the famous at least once?Movie Maker home Microsoft raises your hand. In fact, it is the ideal solution for all those who have to edit home videos in a Windows environment. Produced by the same Redmond company, it is the most versatile and powerful free video editing program available for PC.
It allows you to edit, edit and apply special effects to videos. It also supports some of the main video file formats (AVI, MPG, WMV, etc.) and includes options to publish the videos made directly to social networks (Facebook, YouTube, etc.). In short ... is a real must-have tool for non-professionals. You can find more information on how this program works in my guide on how to download Movie Maker.
To download Movie Maker immediately on your computer, check out the well-known site MajorGeeks, which however offers the program only in English. Note that the software is part of the Live Essentials package but in order to use it is not absolutely necessary to install all the other applications that are proposed.
Free Video Joiner (Windows)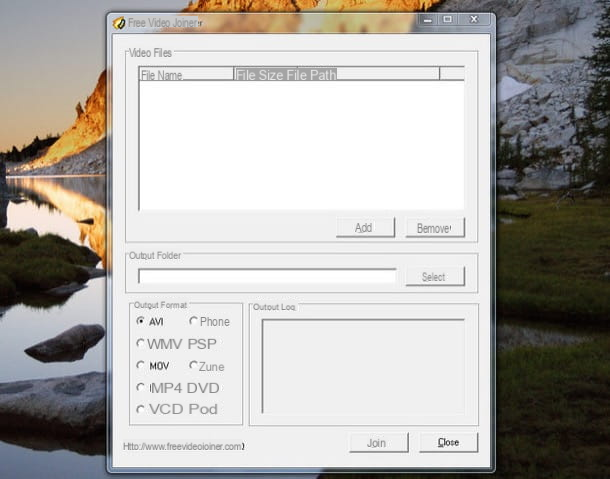 Although it does not really belong to the category of free video editing programs, Video Joiner free however, is a resource to consider not only because, as is clear from the name itself, it is free, but also because it allows you to join two or more movies without particular pretensions.
Yes, in fact, it is a software that allows you to choose an unlimited number of videos in various formats and resolutions and then merge them into a single video in a format of your choice among all the most popular ones (including those designed for mobile devices).
To immediately download Free Video Joiner to your computer, click here.
iMovie (macOS)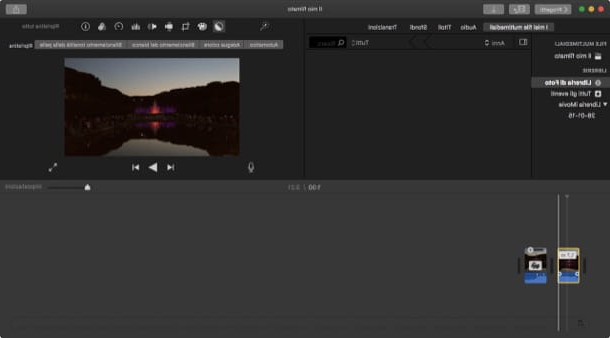 When it comes to free video editing programs, it's practically impossible not to mention iMovie, at least not as far as the Mac universe is concerned. Yes, it is precisely a resource produced directly by Apple and designed for the execution of all the main basic video editing operations, however, it provides great satisfaction.
In fact, this program combines an extremely intuitive user interface with a set of advanced-level features and special effects: in short, it is the ideal solution for editing videos rich in transition effects, soundtracks and animated captions. It also includes a variety of preset styles for making trailers and themed montages.
For anyone who bought a Mac in not exactly recent times, iMovie comes free "out of the box" (it's the purple star icon with a camera printed in the middle) and is located in the macOS Applications folder. In all other cases, however, it must be downloaded for free as a separate application from the Mac App Store.
Photos (macOS)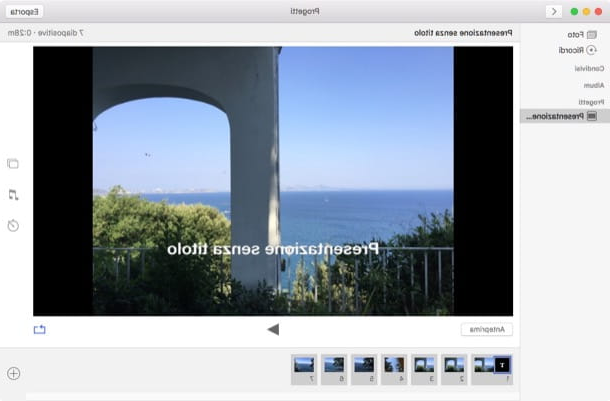 On your Mac, iMovie isn't available for free, and are you looking for an alternative to the aforementioned free video editing programs? Then move on to Photo and you'll see that you won't be disappointed. I'm talking about the default macOS app for managing your photo library. What does that have to do with this guide? Simple: besides fulfilling its basic purpose, it allows you to create beautiful slideshows with videos but also photos in a very simple way. You can even add transition effects and background music with just a few clicks.
Once you have obtained the desired final result, you can export the movie by choosing between three different output formats(Standard Definition (480p), High Definition (720p) andHigh Definition (1080p)) and indicate the destination folder in the window that opens. There is also an option that allows you to add the created video montage directly to iTunes.
To start using Photos, simply start the application by clicking on its icon (the one with the colored flower) located in the Dock bar, In Launchpad or in the macOS applications folder, click on thePhoto entry present in the left sidebar and choose the itemCreate slideshow ... from theFile menu located at the top left.
Article made in collaboration with Wondershare.
Free video editing software