Anyone can accidentally delete a file by mistake, and I know, it's a real hassle, but don't despair when this kind of situation occurs. As long as they are not overwritten by other information, in fact, the deleted data remains hidden on the hard disk and can be recovered using ad hoc programs.
One of these is called Glary Undelete and is extremely easy to use (as well as completely free). If you want to learn more, take five minutes off and let me show you how to perform hard drive data recovery with this software.
If you are looking for a good hard drive data recovery program, connect to Glary Undelete website and click on Download now to download the application to your PC. When the download is complete, open the file you just downloaded (gunsetup.exe) by double-clicking on it and, in the window that opens, click Run first and then click Yes and Next.
Then accept the terms of use of the program, putting the checkmark next to the I accept the terms of the license agreement, and click Next four times in a row and then on Install and Finish to complete the installation process and start Glary Undelete.
To perform data recovery from hard drive with Glary Undelete and restore accidentally deleted files, select the drive to be scanned from the drop down menu at the top (e.g. C:) and click on Search button to start searching for all the recoverable files. The operation may take a few minutes.
When the check is complete, place a check mark next to the name of the files you want to restore and click the Restore button. Then select the folder to copy them to and you're done. If you want to recover all the files found by the program, click the Check all item at the bottom of the window.
All the documents "fished" from Glary Undelete have an indication of their state of health next to them: if it says Very good, the files are in good condition and can be recovered without problems. If their status is defined as Overwritten, it means that they have already been overwritten and therefore cannot be recovered in their entirety (they will be damaged). Good status indicates files in good state but not perfect, while those marked Poor are virtually unrecoverable.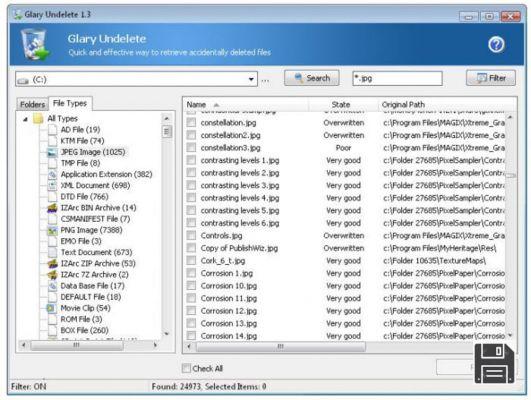 You can also "browse" the recoverable files according to their type by going to the File types tab of Glary Undelete (located at the top left) and selecting an extension from the menu below (e.g. JPG for photos, MP3 for music, and so on).
In addition, you can search "on the fly" in the scan results using the bar at the top right and navigate to folders containing deleted files using the left sidebar.