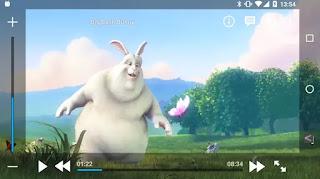 In this new list of
Android applications
, let's see i
best video and media player
to watch all kinds of multimedia content from your mobile phone, including movies.
There is an app on every Android smartphone
Android's default video player, which changes depending on the brand of the phone, is usually not a standard app, which does not support all types of videos, with a basic and sparse interface, very not very functional.
That of the video player for Android is therefore a type of app to always be installed on a smartphone Huawei, Samsung and all the others, in order to
play any kind of video format
, including HD movies taken from the internet or DVD.
If to watch videos and movies on iPhone and iPad, the best applications are almost all paid, with Android the speech is very different and, looking in the Google Play Store, you can find several apps that can be downloaded and used for free and without limitations. .
Hereinafter, therefore, the
best 20 apps to watch videos and movies from an android mobile or tablet
, which read everything, including AVI and Divx, without having to convert between formats.
The applications listed should work with all models and brands of Android phones and tablets, but some may be more powerful and better than others depending on the phone you use and its processor.
Of some applications in the list, there is also the paid version without advertising so, if these free apps do not fully satisfy, maybe you can buy the full version.
1)
VLC for Android
is the famous open source media player available for Windows, Linux and Mac computers, now also an application to watch any type of video or film on Android, for free. VLC is a video player that allows you to watch HD videos in high quality from Android devices. Other features of VLC for Android include network streaming, equalizer, video filters.
2)
Video Player All Format
for Android can play virtually all major video formats using its internal codecs. This means that there is no need to convert a video file to another format. The app also supports MKV and MOV format, supports SRT subtitles and can also be used for watching streaming videos from websites that use HTTPS or RTSP protocols.
3)
MX Player
is the third great free application to watch videos and movies on Android without worrying about the format. You can play 3gp, avi, divx, f4v, flv, mkv, mp4, mpeg, mov, vob, wmv, webm and xvid movies as well as subtitles. The interface is very convenient to use, there is a subtitle scrolling function and the ability to browse folders to find the videos saved in the phone and tag them. You can adjust the movie display and volume with quick touches on the screen.
4)
BSPlayer
is a phenomenal program for Android capable of playing any video and movie on your mobile. The player uses hardware acceleration for video playback in order to reduce battery consumption. It supports almost all multimedia files (video and audio), including: avi, divx, flv, mkv, mov, mpg, MTS, mp4, m4v, avi, wmv, 3gp, mp3 and also streaming http and RTSP online video . It can find original language movie subtitles automatically and it also works to watch computer videos on Android, using Wifi connection.
5)
KMPlayer
is the Android version of the popular media player for PC. In the settings you can change the orientation of the videos and the earpiece detection. The player interface is hidden by default when playing a video. Tapping the screen brings up the controls at the bottom of the screen. The application can play all videos on the mobile phone, even in high quality HD and 4K and also streaming videos from the internet, including those from Youtube.
6)
XPlayer
is one of the best applications to watch videos on any Android smartphone and tablet, with a very clear interface and support for all the most common video formats. The app includes support for all video formats including 4K / Ultra HD video files. There is also a feature to hide the videos so that you can only view them by entering the password. There are several themes, including dark mode and night mode, movie posters and titles are downloaded automatically, and it also supports networking to import files from SMB servers and UnPnP servers.
7)
Archos Video Player
is one of the best video players on Samsung, Huawei and all Android smartphones. The great thing about this video player is its interface, which is not only beautiful, but also very easy to use.The app shows all the videos that are stored in the device memory, and also works to play Internet videos, videos from servers. , NAS and PC.
8)
Video Player HD
is an excellent player with very comfortable touch controls for volume and playback. The player controls are easy to use and include a 10 band equalizer.
9)
UPlayer
is a program to watch videos with all the codecs included for the various popular formats, updated regularly and among the most used.
10 )
PlayerXtreme Media Player
is one of the popular and most downloaded media players on Android, which works well for listening to music, watching videos, streaming videos online, with support for almost all major video file formats.
11 )
FX Player
it can play flash files in addition to regular videos with support for almost all file formats.
12 )
GOM Player
is another of the best video player apps on the list, android version of the popular PC video player. GOM Player is fast and free, with all the basic features and the ability to play 360 videos.
13 )
AllPlayer
is an application for Android compatible with all the most common video file formats, with a slightly old interface but full of options and also with support for subtitles and hardware acceleration to improve performance.
14 )
Kodi for Android
is the app for those who want to see videos even those stored on a PC, in addition to IPTV, streaming videos and online TV.
15 )
Wuffi Media Player
is an app that supports virtually any video format as well as http and rtsp streaming via the internet.
This app is also perfect for watching Acestream on Android.
16 )
Leopard video player
is a top rated video player for Android, with support for all audio and video files. Other features of this Video Player include playback speed control, widgets and gestures.
17 )
Plex
it is not only a video player but can play music, photos, movies and streaming. Plex is useful on your phone especially if you use Plex on a PC, to watch streaming computer movies on the smartphone screen.
18 )
Video player per Android
is a very powerful application, free, which allows you to finally see movies on Android and videos of any format. It supports AVI, MKV, MP4, MOV, WMV, ASF, WMA, WAV, MPG, VOB, OGG, FLAC, SWF and others formats and is simple without unnecessary functions.
19 )
Super Video
is a streaming video player for android good for playing video files as well. Its peculiarity is that multiple local and YouTube videos can be played simultaneously, through various resizable and floating windows. With a very clear and simple appearance and with clearly visible controls, the application allows you to play almost all video files saved in the external memory of the mobile phone (3GP, RMVB, MKV, AVI, VOB, WMV, MP4) and those of Youtube . In addition, the application supports auto-detection and subtitle synchronization (SRT and ASS files) for multi-language videos.
20 )
Wondershare Player
is a complete and free video player for Android that, in addition to borrowing most of its features from MX Video Player (the number 3), supports the additional ability to watch high-quality streaming videos from video-services such as YouTube, Dailymotion and many more. For movie playback, Wondershare Player supports the most common video formats, such as MKV, AVI, VOB, RMVB, FLV, WMV, MOV and others, without the need for additional codecs. In addition, it boasts several very useful features, including:
- Support for DVD menus;
- Ability to select the quality of online video streams on-the-fly (also supports 1080p videos);
- Web browser for streaming video content;
- video controls for screen brightness, volume levels and aspect ratio;
- Streaming from the pc;
- Ability to download multimedia files from custom lists.
Best Android apps to watch videos and movies on mobile and tablet