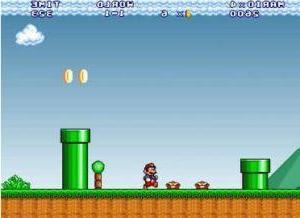 After so many games it seems right to dedicate a page to the symbol of Nintendo,
Super Mario Bros.
.
This game has existed since the 80s and has been played by entire generations of gamers, not only on Nintendo, Super Nintendo, Gameboy, DS and Wii, but also, in unofficial versions, on PCs and other computers or consoles. In fact, Super Mario Bros is the most classic
platform game
where you have to make the little man jump between a thousand platforms, in a path that offers many bonuses to collect and also full of pitfalls, animals, evil monsters and enemies to avoid or kill. Typically to kill enemies you jump on their head but in some versions Mario Bros can also shoot.
Today it is possible
still play Super Mario online and on your pc in several ways
, by downloading one of the versions available for free or by playing from the browser.
1) Who loves to play
Super Mario Bros.
, will be happy to hear that a new and complete version of the original game is now
available online
. Josh Goldberg worked hard to recreate the classic game in its entirety
in HTML5
. There are three game modes available: classic original levels, randomly generated levels, or custom levels created with the editor.
You can then play Super Mario Bros online
full screen
2)
NesBox.com
has all the old versions of Super Mario for Super Nintendo, playable for free in the browser
3)
The official versions of Super Mario Bros
of the old Nintendo are playable from the site
VirtualNes
, with the whole trilogy plus the old Donkey kong, Pacman, Paperboy and many other games of that historic 80's console. Super Mario are perfect replicas of what they were, both graphically and as sound effects and music. You can play them directly from the internet browser, without downloading anything even if you need Java support.
VirtualNes is one of those sites where you can find the old games, 80s and 90s that we had seen in another article.
4)
Super Mario Bros X
is probably the Mario game ever made, with platforming gameplay, exciting power-ups and fun levels. SMBX has five playable characters in Mario, Luigi, Peach, Toad, and Link. The upgrades are classic (like Yoshi) and new (like the hammer costume). There is also the local multiplayer mode, to play the same game together with a friend, on a split screen. With the super advanced level editor you can practically create any type of level and even edit levels in real time as you play.
5)
Mari0
is an exact replica of the original Super Mario Bros, with the addition of portals. It can be downloaded for free on Windows, Mac and Linux PCs. The game is also multiplayer and can be played by two or by 4 together. Here the presentation video:
6)
Super Mario Bros Dimensions
is another remake game that takes the original Super Mario Bros and expands it with new gameplay mechanics, in this case the size change. With the push of a button, you can switch between "real" and "alternative" worlds. There are also new power-ups to try (like Laser Flower), secret levels to explore, and collectibles.
7) Another very nice Super Mario Bros game is
Super Mario Bros. 3: Mario Forever
da
play on the pc
and must be downloaded and installed. This is a great platform game with all the elements of Nintendo's original Mario. In this evolved version you can also become big by eating the red mushroom and you can become invulnerable by taking the star however it is, as you are touched, you lose your life. No energy bar in this case: if you are touched you lose a life, and you have to start over from the last checkpoint. Everything remains the same as the original game, including the sound and music which is slightly more modern but not too modern.
8)
Super Mario World
you can always play
dal browser
in HTML5. The game is always classic, the scrolling is always horizontal, to kill the animals you jump on them, to get the bonuses you can use your head and you must always be careful not to fall below.
9)
Super Mario World 3
is the same game that can be played online on the Nintendo emulator.
10 )
Super Mario Rampage
is a horizontally moving flash game where you have to shoot enemies.
11 )
SuperTux
is a remake of the classic super Mario Bros only, instead of Mario, there is the Linux penguin. Obviously this is an opensource game, a platformer that is a clone of the original.
12 )
Secret Maryo Chronicles
is a beautiful platform game, an open source clone of Super Mario, to download for free with clean and high-level graphics.
In another article, others
2D platform games with horizontal scrolling, to be played on the computer
.
10 free online Super Mario Bros games on PC