You are being careless and have accidentally deleted some important messages that you have in WhatsApp. You thought you could remedy the situation by restoring a backup of the app, but to your dismay, you discovered that there are no backups of your messages on Google Drive or on your smartphone's storage. What's next? Is it time to curl up in a corner and give in to despair? Of course not!
If you have an Android smartphone, there are a few solutions that will scan your phone's memory and deleted whatsapp messages" href="/en/how-to-retrieve-deleted-whatsapp-messages">restore deleted whatsapp messages if they are still there. Don't believe it? Then try to take five minutes out of your day to put the following tips into practice, and I promise you will be pleasantly surprised by the results.
Of course, don't expect miracles: if the messages you deleted from WhatsApp have been overwritten by other information on your smartphone's memory, there is not much you can do to recover them. If not, however, you can restore them in a few taps. If you want to learn more, read on: below is everything you need to know about how to recover deleted whatsapp messages without an Android backup.
Apps to recover deleted messages from WhatsApp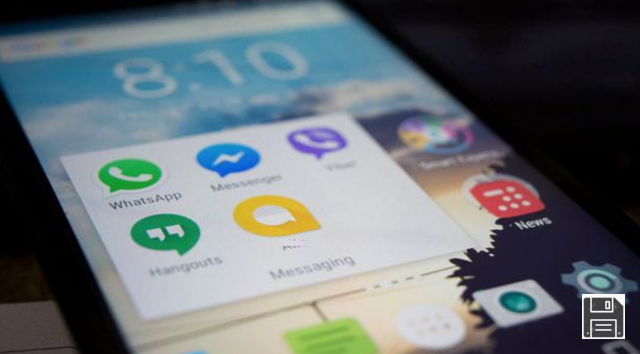 If you want to recover deleted messages from WhatsApp and do not have a backup at your disposal, you can rely on apps for Android that examine the memory of your smartphone (or the SD card installed inside it) and try to recover chats that have not yet been overwritten by other data.
The apps in question are all very easy to use, but unfortunately they have one "flaw": they only work if the device has been rooted. In case you didn't know, rooting is a procedure that unlocks administrator permissions on Android and then you get the ability to perform operations that normally would not be allowed (such as, precisely, the recovery of deleted data). I told you in more detail in my tutorial on how to root Android.
Another important thing to point out is that the installation of new apps on the smartphone could lead to the overwriting of the portions of memory on which the messages you now want to recover were hosted, paradoxically leading to their permanent deletion. In theory it would be preferable not to perform any operation on the phone until you can recover the messages of your interest, but you don't have much choice in that sense. In order not to "touch" the memory of the phone you could try the solutions for PC, which I'll talk about in the next chapter of the tutorial, but, I warn you, they are more cumbersome and expensive to use than Android apps: the choice is yours.
So, everything clear so far? Well, then, let's stop the chitchat and get down to business and see which apps you can use to recover deleted WhatsApp messages without Android backup.
EaseUS MobiSaver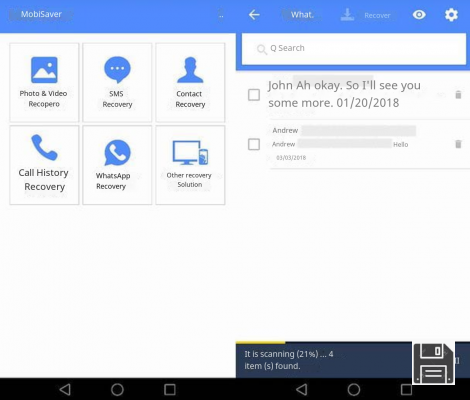 Among the various data recovery apps I've tried, EaseUS MobiSaver is the one that gave me the best results: it managed to recover the conversations I had deleted from WhatsApp and show them to me in their entirety. You can download and use the app for free, but to restore your chats and have them appear in WhatsApp again you need to make an in-app purchase of $6.49. If you don't make the purchase, you can view the content of the chats but not restore them within WhatsApp.
Having made this necessary clarification, let's move on to the action. First, open the EaseUS MobiSaver page on the Play Store and click on the Install button and then the Agree button to proceed with the installation of the app. Once the installation is complete, launch MobiSaver, click on the WhatsApp Recovery button on the main screen, and grant root permissions to the app by responding with Grant to the warning that appears on the screen.
At this point, wait for the smartphone memory scan to complete (it should not take long) and you will be shown the list of WhatsApp messages that can be recovered. To view the contents of a chat, all you have to do is tap on it. To restore a chat, all you have to do is select it using the checkbox on the left, click on the Recover button at the top, and unlock the full version of EaseUS MobiSaver by making an in-app purchase.
Undeleter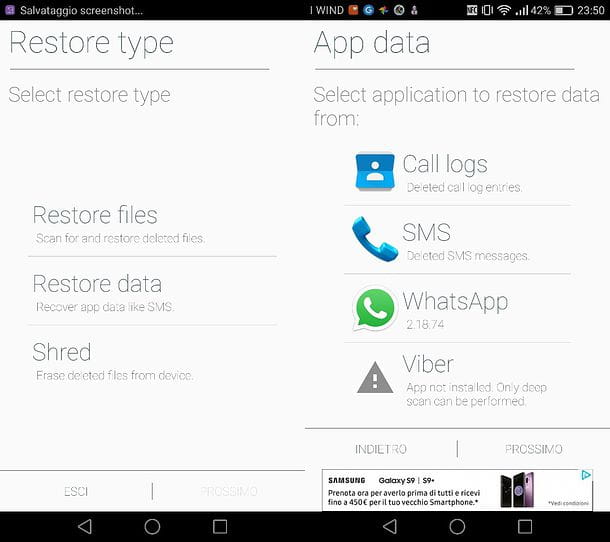 If EaseUS MobiSaver can't find the messages you deleted from WhatsApp, you can try Undeleter: a data recovery app that allows you to restore various types of deleted files (photos, videos, etc.) and recover app data, including WhatsApp. In my tests it didn't behave very well: it couldn't "see" the chats that EaseUS MobiSaver managed to recover, but, as they say, it's worth a shot. On the other hand, the application is free: you can download and use it at no cost, its only limitation is the display of a commercial of about 15 seconds before data recovery (limitation that, however, can be removed by purchasing the full version of the app for 4.99 euros).
To download Undeleter to your smartphone, open the Play Store page dedicated to the app and tap first on the Install button and then on Accept. Once downloaded, launch Undeleter, click on the Next button and grant root permissions to the app by replying to the warning that appears on the screen. If you see a box that says License Agreement, close it.
At this point, tap the Next button again, choose the Restore data option, select the WhatsApp icon from the screen that opens, and wait for a complete check of your smartphone's storage. At the end of the process, if there are any recoverable messages, select them and use the floppy disk icon (top right) to save them.
Recovering deleted WhatsApp messages from your PC
As mentioned earlier, installing new apps on your smartphone may overwrite the memory on which the messages you want to recover are stored. To prevent this from happening, you can connect your phone to your computer and use some data recovery programs available on Windows and macOS.
Dr.Fone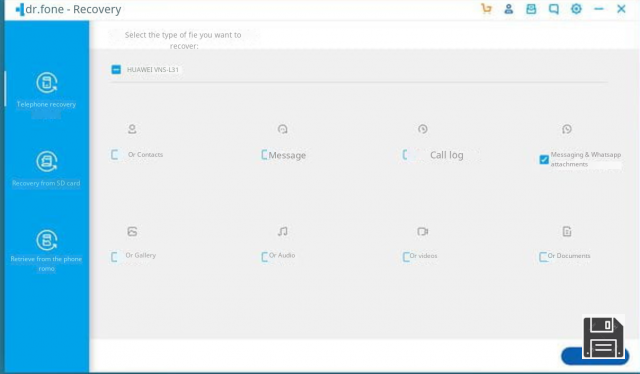 Dr.Fone by Wondershare is one of the most popular - and most comprehensive - mobile data recovery software. It's compatible with both Android and iOS and is available for both Windows and Mac computers. It's priced from £79 + VAT (subject to promotions), but you can download it in a free demo version that shows the user the data that would be restored with its full version.
To download Dr.Fone for Android devices, go to the program's official website, select the Windows Version or Mac Version tab (depending on the operating system installed on your computer) and click on the Android Download button.
After the download is complete, if you're using a Windows PC, launch the DrFoneForAndroid.exe file you just downloaded and in the window that opens, click first on the Yes button and then on OK. Check the box next to I accept the terms of the license agreement and finish the setup by clicking Next three times and then Finish. If you're using a Mac, open the dmg package that contains Dr.Fone, drag the program's icon into the Applications folder of macOS and you're done.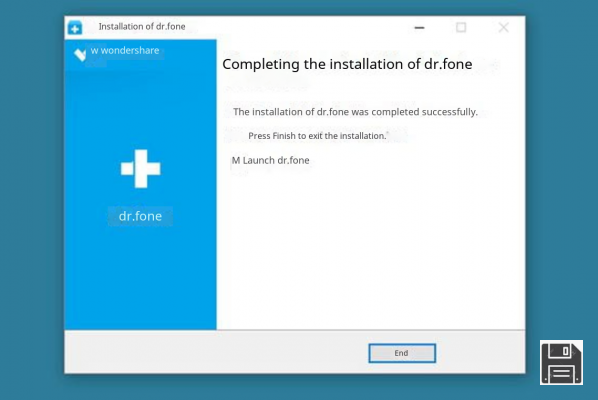 Now, take your smartphone and activate the USB debugging function on it. If you don't know how to do that, go to the Settings > Developer Options menu and tick the appropriate option. If the Developer Options menu is not available in the Android settings, activate it by going to the Settings> Phone info menu and tapping on the Build version or Serial number item 7 times in a row.
After this step, connect your smartphone to the computer, start Dr.Fone, click on the Recovery button on its home screen and wait for the communication between the two devices to be established. At this point, place a check mark next to the WhatsApp Messages & Attachments option, click the Next button, and wait for a preliminary analysis of your device.
If you are asked to grant root permissions to Dr.Fone and your smartphone has been rooted, please root it. Otherwise, first click on Retry and then Start to start scanning the phone's memory in non-root mode (which will provide less accurate results than with root enabled).
When the scan is complete, select WhatsApp from the Dr.Fone sidebar and you will be shown the list of recoverable messages.
Other programs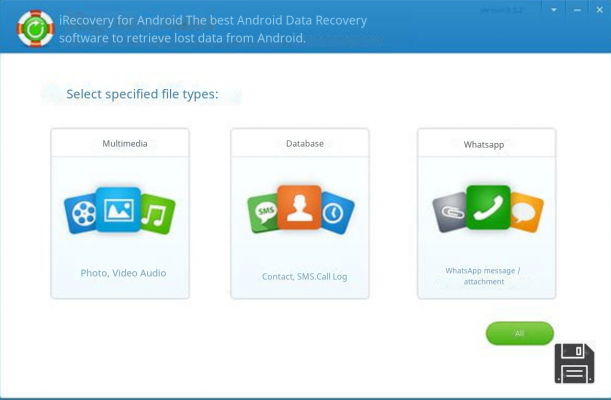 If Dr.Fone does not meet your expectations and / or seems too expensive, you can turn to alternative solutions: now I propose a couple of the most interesting.
iReparo for Android - this is a program for recovering deleted data from Android devices. It is compatible with Windows and macOS and allows you to restore not only WhatsApp messages, but also photos, videos, SMS and much more. It's pay-as-you-go, costing $49.95, but there's a free demo available that lets you find out what data you can recover with its full version. I told you about it in more detail in my tutorial on how to recover deleted messages: the procedure for recovering WhatsApp messages is almost identical to that for recovering SMS, only the option to choose at the beginning(WhatsApp instead of Database) changes.
EaseUS MobiSaver for Android - is the desktop version of the app I mentioned at the beginning of the post. It's compatible with both Windows and macOS, and while it's paid (its full version costs $39.95), you can use it for free to retrieve one conversation at a time. I've talked about it in more detail in numerous tutorials, such as the one where I explain how to recover your address book on Android.
How to avoid message deletion in WhatsApp
At this point in the tutorial, I hope you have managed to solve your problem and recover deleted messages from WhatsApp even without a backup. Before I leave you, however, I want to give you a couple of tips to prevent a situation like the one you found yourself in just a few minutes ago from happening again.
Enable WhatsApp backups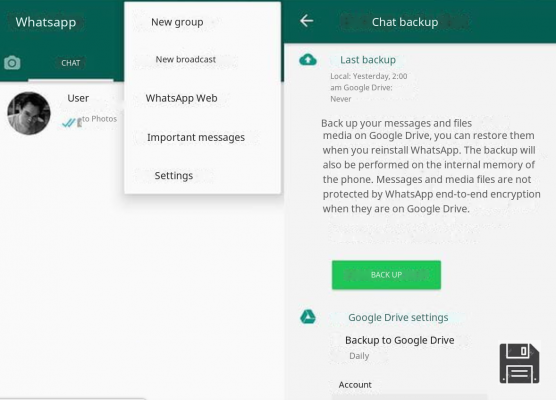 As trivial as it sounds, the most effective way to avoid losing important messages in WhatsApp is to take advantage of the app's backup feature, which saves a backup of your messages and files both locally and in the cloud on Google Drive.
To turn on WhatsApp's backup feature, launch the app, select the Chat tab, click on the ⋮ button in the upper right corner, and select Settings from the menu that opens. In the next tab, go to Chats, then Backup Chats and set the Backup to Google Drive option to Daily. Then select your Gmail account from the box that opens, respond to the warning that appears on the screen, and you are done.
From now on, WhatsApp will automatically save a backup of chats and attachments to Google Drive and your smartphone's storage. To include videos in the backup, place a checkmark next to Include Videos at the bottom of the screen. To manually start creating a backup, tap the Run backup button.
If you are unclear about any of these steps and/or would like more information on how to back up WhatsApp, please see my tutorial on this topic.
Using apps that save WhatsApp history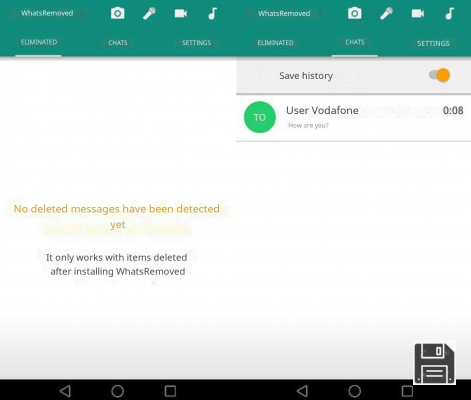 If you want, you can also rely on apps that record your WhatsApp conversation history and "capture" all notifications related to the app. I'll tell you right now that they're not the best from a privacy standpoint: apps like these might intercept all notifications and capture the information in them, but for careless types like you, they might be useful.
Among the apps that allow you to monitor WhatsApp notifications and history, I'd like to point out WhatsRemoved, which is completely free and available directly from the Play Store. To use it, after downloading it on your smartphone, launch it, follow its initial tutorial and click on the Detect deleted messages and their files option (recommended).
After that, allow the app to access the data on your smartphone's memory and / or SD card, say Yes to the warning that appears on the screen, move the switch to ON on the option Read notification data and give confirmation to allow WhatsRemoved to "capture" the notifications that arrive on your smartphone.
Once this step is completed, you can open the application and find the history of WhatsApp conversations in the Chats and Deleted tabs (where messages deleted from WhatsApp will be stored). As you can easily guess, WhatsRemoved will only be able to pick up, and then recover, chats made after its installation on your phone.
Frequently asked questions and answers
To recover these chats we must go to the application that our mobile offers as a file explorer.
Once in exactly the same we must look for a certain file that is in the path "sdcard/WhatsApp/Databases".
30 Aug two thousand and nineteen
Go to WhatsApp.
Scroll down your list of chats to the bottom.
You will see the option "Archived conversations" Check if the chat you want to recover is there.
13 May two thousand twenty-one
As soon as you have found the right person, right-click on the chat option and choose Expand All from the menu.
Each and every element of the conversation will be opened.
Scroll down and you will be able to review the first message.

You have to click on the icon with the shape of a paper airplane to enter the direct messages, which will be on the top right.
Inside, when you have found the chat you want to delete, scroll to the left so that some options will appear.
You'll see the Delete option appear.
18 Feb two thousand and twenty-one
Compilation of frequently asked questions that our users have sent us and that our experts have answered.