iOS allows users to restore some settings directly from the iPhone. In this article, you will find out what these functions are for and when to use them.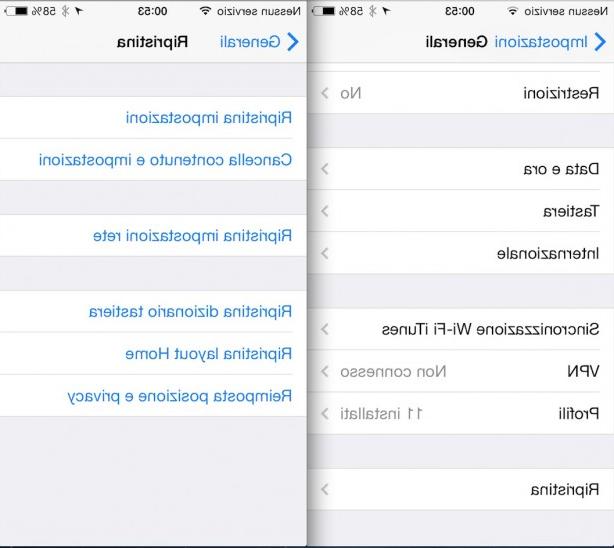 Going to Settings> General> Reset we will find all the items that interest us, each of which concerns a certain type of reset.
Reset settings
By tapping this key, the iOS device returns to the factory settings, without however touching the data saved on the iPhone or iPad.
When is it useful to use this reset?
This is useful when the device has a number of problems related to user-changed settings: keyboard settings, general system settings, home screen layout, and so on. If you notice slowdowns in using the keyboard, rather than scrolling between pages of the Home, then it may be useful to reset the device settings. We repeat: this reset DOES NOT DELETE the data.
Erase content and settings
Unlike the previous option, with this function not only will the settings be deleted, but all data saved on the iOS device will also be deleted. This means that the photos, applications, e-mail accounts, and everything else you have saved over time on your iPhone or iPad will be deleted.
When is it useful to use this reset?
Erasing all data can be useful when your device crashes frequently and you want to restore everything like the first day.
Unlike the restore from iTunes, this does not update the iOS version, which will therefore remain the one already installed on the phone. From iTunes, however, the restore also updates the operating system.
Reset Network Settings
Over time, many Wi-Fi passwords are stored on iPhones and iPads, so iOS remembers them for future use. This reset option deletes all data relating to Wi-Fi networks (including passwords) and operator configurations if entered manually (APN, MMS).
When is it useful to use this reset?
It is useful when the iPhone or iPad can no longer connect to new Wi-Fi networks or if you have problems connecting them in 3G with your operator. We remind you that it is also possible to restore only the operator configurations, without losing all the Wi-Fi passwords, by going to Settings> Cellular> Cellular data network and clicking on "Reset settings".
Reset keyboard dictionary
iOS learns a lot of words, but not being very "smart" it can happen that typos or words you don't use are also memorized. In short, with this function you can delete all the dictionary stored by iOS thanks to your keystrokes.
When is it useful to use this reset?
As mentioned before, the moment the dictionary has memorized incorrect or useless words. Remember that this reset also deletes any stored keyboard shortcuts.
Reset Home Layout
This feature will bring the Home screen back to its initial and original state, identical to when you just bought your iPhone or iPad. In practice, the arrangement of the icons will be reset and all will be moved to their default position.
When is it useful to use this reset?
When your Home screen starts to look like a mess and you want to put it back from the beginning.
Reset location and privacy
This feature is about resetting the device location and privacy settings.
When is it useful to use this reset?
It is unlikely that this restore will actually be of use to you. But if you are feeling spied on or want to configure your location and privacy options from scratch, then you can opt for this type of reset.