This time in Fordatarecovery.com we show you how to recover deleted photos from your Android or Iphone gallery, there are different ways and in this post we show you all of them from taking them from a backup to entering google photos and google drive. You can rest assured that you can get these files back on your phone.

You are trying to install an application, but you are unsuccessful because you get a warning that there is no free space left in the memory of your device. You try to take a photo or record a video with your smartphone camera, but again a memory full warning message forbids you to do so. So you decide to clean up and discover that your gallery is full of photos. Unfortunately, however, you've accidentally deleted some of your favorite photos.
Now you're in a bit of a panic because you don't know if you have a backup service or if there's any way to make amends for your mistake. In this case I have to tell you that you can rest easy and there is probably a good chance that you will find a happy ending to this story. In fact, if the part of the memory where the images were allocated has not yet been overwritten, you might have a good chance of restoring your photos.
You might be even luckier and find that you have a backup service on your device, through which you can restore your media. So if you want to know how to recover deletedphotos from gallery, just give me a few minutes of your time and follow the tips I will show you step by step. So detach yourself from your anxieties and concentrate on what you are going to read in the next paragraphs. I wish you a good reading!
How to recover deleted photos from the recycle garbage can on your phone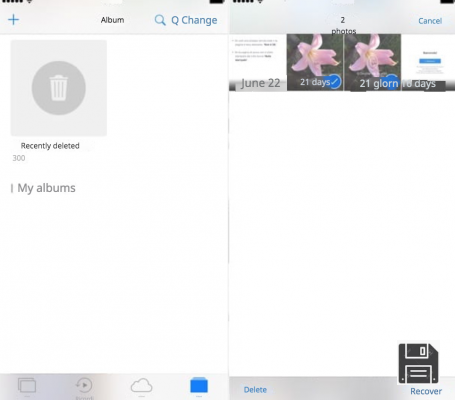 When it seems that all is lost, the solution is often simpler than you can imagine. When a photo is deleted on a device with iOS operating system, it is not deleted immediately, but is moved to the recycle garbage can, which is a folder where the images remain stored for a predefined period of time, before being permanently deleted from memory.
To check if the photo is still in memory, start the Photos application, whose icon is located on the home screen of your device. Then tap the Albums icon in the bottom bar and scroll through the albums you see on the screen, making sure to select the one labeledRecently Deleted .
Any photos you have accidentally deleted on your iOS device will then be in this album and can be restored at any time, as long as no more than 40 days have passed since you deleted them by mistake.
Tap on the thumbnail of the photo you want to recover, and then tap the Recover button in the lower right corner to restore the media file. You can also tap the Select item in the upper right corner to select multiple photos and then tap the Recover button in the lower right corner.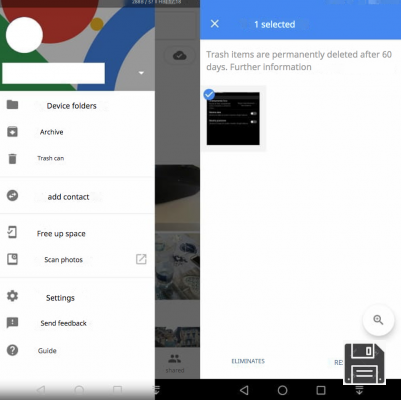 On Android devices it's a little different because it depends on the app you use to manage your photo gallery. If you use the Google Photos app, which I recommend using because of its free unlimited cloud backup of your media files, you can also check if the photos are in the virtual trash.
To do this, tap on the Photos app icon that you should find on your device's home screen. After launching the app, tap on the☰ icon in the upper left corner. Then select the Trash option and tap for a few seconds with your finger on the preview of the photo you want to restore. Select other photos to restore, if necessary, and then tap the Restore button at the bottom right.
Photos in the Recycle Bin are available to be restored for 60 days after deletion. After this period, they are permanently deleted from the device's memory.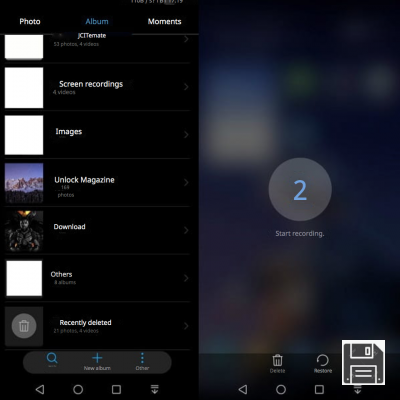 There are also other apps, especially those preinstalled on various Android devices, that manage the media gallery. Some of them, but not all, have the same functionality as the one I mentioned in the previous lines. To give you an example, on a Huawei device I have, the media files remain in the recycle garbage can for 30 days, and then they are permanently deleted.

How to recover deleted adroid or iphone photos from gallery using online backups.
Another solution you can try is to check if your device has automatic backup of the media files stored on it active.
Some services, such as OneDrive, Dropbox, Google Photos and many others, when you download their app also give you the possibility to activate the automatic backup service for the media files in your gallery. In the next lines I will tell you about some cloud services to backup photos that you can have active on your device to be able to recover your photos easily.

How to search for and Recover lost photos in Google Photos and Google Drive.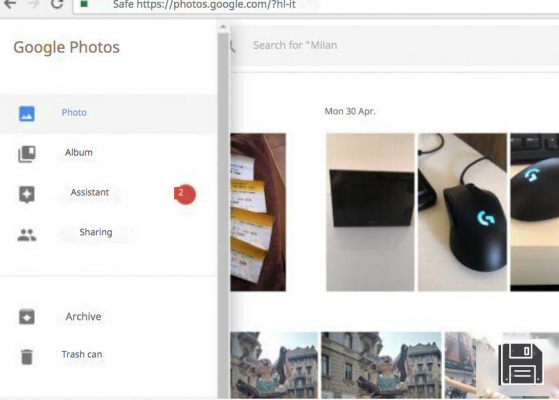 These two apps are often found on Android devices. While Google Drive is a limited cloud space where you can store any file, Google Photos is an app that allows you to store unlimited photos.
However, these are not stored at the same resolution with which they were taken, but are reduced a bit, trying to maintain high quality.
Precisely for this reason I recommend that you download the Google Photos app on your iOS device, so that you do not have the online storage space limitations imposed by iCloud.
To check that the backup on Google Photos is active, start the app and tap the☰ icon at the top left. Next, tap on Settings and then on Backup and sync. Activate backup and sync by moving the toggle from left to right, then choose the Google account where you want to store your media files and select Upload Size. Then select High Quality to take advantage of the free backup, or select Original to use your account space.
You can view all photos in the cloud from both the app and the web dashboard at this link.
By using it simultaneously with Google Drive, you can make sure to move a copy of all photos from Google Photos into a folder in your virtual space in Google Drive. This folder, called Google Photos, will be present inside the main My Drive folder. You can view its contents through the app or from the web panel accessible at this link.

Recover iCloud photos

Devices with the iOS operating system have, as a backup service, the one offered by Apple, iCloud. This service is very similar to Google Drive, in fact you have a limited space to store your files. When it runs out, you can empty it or purchase a subscription to expand it.
Go to the official iCloud website and sign in with your credentials. Once logged in, click on the Photos icon and wait for your media library to load. Then click on the recently deleted item in the left sidebar.
In this folder you will find all the photos you have deleted by mistake, but you will not be able to recover those that have exceeded the 40-day retention period. When this time limit is exceeded, the photos are deleted.
Select the thumbnail of the photo you want to recover and click the Recover button at the top right.

Other online backup services to recover deleted photos from your cell phone's gallery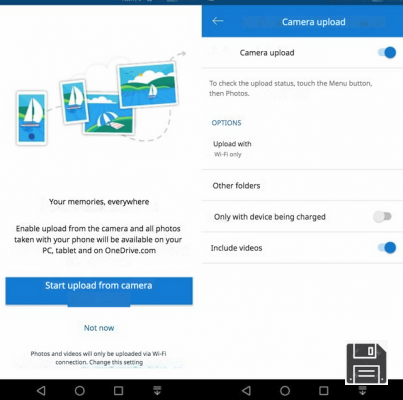 There are also other online backup services that can help you keep a copy of your media files so that you won't incur accidental deletion of them. Here are some online services, with an accompanying app, that you may already have active on your device so you can easily recover your files.
Dropbox (Android/iOS) - It is a service that offers a virtual space to store your files. Through the mobile app, you can also backup your media files with the ability to restore them at any time. You can view and retrieve photos through the app or the official website.
OneDrive (Android/iOS)- The virtual space service created by Microsoft allows you to back up the photos on your device through the dedicated app. It generates a folder with all the photos in the phone's memory, which can be accessed both from the app itself and from the official website.
Mega (Android/iOS) - It may be a little-known service, but it offers a virtual space to back up your files online. Through its app, you can automatically upload media files to your device's gallery. You can then see if the deleted photos are in the backup, either through the app or through the official website.
Apps to recover deleted photos from android gallery.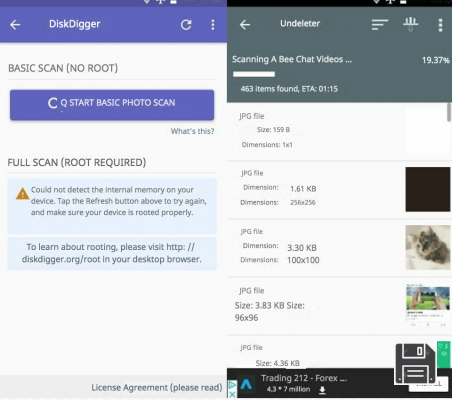 If the deleted photos are not in the virtual trash or online backup, then you can try using the following apps that will help you scan the memory partitions of your device and check if there are still any traces for recovery.
However, if the memory partition has already been overwritten, the chances of recovery are minimal. I'll also point you to an app that you can use to create a virtual trash can, in case you don't use any of the apps I mentioned in the previous paragraphs.
DiskDigger (Android) - This is a free app that, thanks to root permissions, allows you to recover accidentally deleted photos. If your Android device doesn't have root permissions, you can still use this app by performing a surface scan, which could help you find your lost photos.
Undeleter Recover Files & Data ( Android) - This free app is similar to the one I mentioned in the previous lines and allows you to recover deleted photos. This app also requires root permissions, but it is not mandatory.
Dumpster (Android) - This is a free app that allows you to avoid the problems caused by improper deletion of photos from your device. If you don't use an app that already has a virtual trash can feature, such as Google Photos, Dumpster can help. Dumpster creates a copy of your photos that you can restore if you accidentally delete them.
Frequently asked questions and answers
Recover deleted photos from Samsung with Google Drive Open the Google Drive app on your Android device.
Sign in with the account that you use to backup photos.
Now you are going to see each and every photo that you have backed up or uploaded photos.

Log in to your My account on your phone.
go to settings.
tap My account> My cloud> Recover from backup.
select the backup file you want to recover and tap Recover using this backup.
More items-30 Apr two thousand and twenty-one
Go to photos.
google.
com from your computer's browser or download the Google Photos application on an Android phone or iPhone.
sign in with the Google account registered on the lost terminal.
More items-23 Apr two thousand twenty
Open Recuva.
Select the type of file you want to search.
Click on "In a specific situation" and choose here our Android.
Enable the perfect deep scan mode or not.
Wait for the search to finish.
Select the files to save.
More items-22 May two thousand sixteen
Compilation of frequently asked questions that our users have sent us and that our experts have answered.