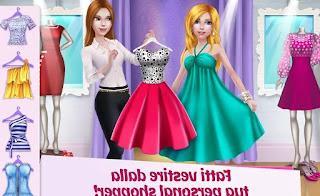 Among the games most downloaded on modern smartphones by girls are fashion simulations, games that allow you to choose clothes for avatars and virtual characters and to create new fashionable outfits. These apps are a blast for female audiences of any age, allowing them to give free rein to their imagination and their taste for fashion and shiopping, for pretense.
If we have given a new Android smartphone to a dear friend or relative or you belong to the fairer sex, in this guide we will show you
the best free dress up and fashion games for Android and iPhone
, ready to be downloaded. Most of the apps shown are free, but some clothes or app features can only be unlocked by paying for a subscription or by activating an in-app purchase.
1)
The Sims
One of the best dress up and fashion games that we can download on Android smartphones and tablets is
The Sims Mobile per Android e iPhone
.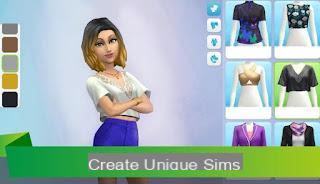 The app offers a truly complete character creation system (which faithfully follows the version of the game on PC), so that we can choose the right style and color for each item of clothing that we decide to wear to our personal avatar. After choosing our outfit we can show it off in the game, a real life simulator in which to make friends, go to work and create the house of your dreams. The game is free to play but many game modes and components require in-app purchases.
2)
Avakin life
A game very similar to The Sims in game mechanics and the ability to choose clothes and clothing is
Avakin life
, available free for Android and iPhone.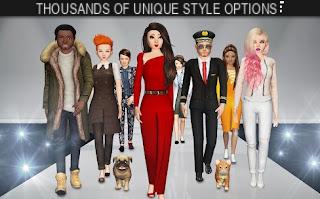 Within the game we will have a complete editor for our avatar in which, in addition to the physical characteristics, we will also be able to choose from hundreds of different clothes and styles, so as to faithfully reflect our tastes and preferences. Just like in The Sims, as soon as the avater is ready we can live a virtual life among friends, discos, shops and shopping, also creating our new home from scratch (choosing colors, furniture, rooms etc.). Again, the basic mode of the game is free for everyone, but you may need to make in-app purchases to purchase new clothes and items.
3)
Cindy's Dressup Friends
, free for Android, is a simple and casual fashion game with some options to choose clothes and change the colors, the poses of the character and also to put together several characters in a scene.
4)
Covet Fashion
, free for Android and iPhone, is one of the most popular shopping games where you can dress a model in all kinds of clothes. You can buy clothes from various famous and real brands and then participate in fashion contests and other social competitions. The only downside is that you have to either spend real money or do a lot of work to buy clothes in the game.
5)
Fabulous - Fashion Fever
, free for Android and iPhone, is a series of simulation games starring Angela who must win stylist challenges to earn money and get rich.
6)
Woozworld
If we are looking for a game focused more on the world of fashion and fashion shows, we cannot let it slip away
Woozworld
, an online multiplayer game available for free for Android and iPhone.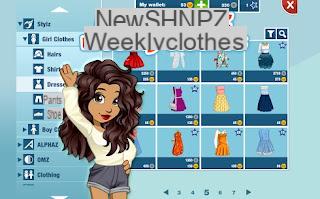 In this game we will have to organize "virtual" events and fashion shows in which other online players participate: whoever accumulates the most consensus will get useful coins to buy new clothes and update our outfits for subsequent events. The interesting feature of this game is that the clothes are updated every week, so that new styles can be created with a truly remarkable frequency, to the delight of all women who appreciate this type of pastime. The game is free to play but to be able to go ahead and quickly accumulate coins for clothes you need to make some in-app purchases.
7)
Kim Kardashian: HOLLYWOOD
, free for Android and iPhone, is perhaps the most famous of fashion games, starring the well-known American influencer. You can then create a girl to dress up, to carry around and make famous.
8)
Shopping Mall Girl
If, on the other hand, we love to buy new clothes at the mall, we can unleash our passion by playing
Shopping Mall Girl
, available free for Android and iPhone.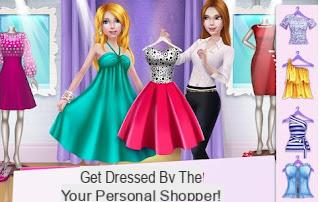 Within the game we will be able to turn in various shops of a virtual mall and choose new clothes, new shoes and accessories to be exhibited in public or in fashion shows, so as to accumulate consensus and coins for new clothes and new more expensive outfits. Among the game modes we also find multiplayer (for virtual shopping with friends), a personal shopper who can advise us what to wear and also a judge mode, so that you can be judged by virtual stylists and receive rewards. Also in this case the game is free but to quickly expand our collection of clothes it is necessary to make in-app purchases.
9)
Momo's Dressup
, free for Android, is a very simple and very cute dress up and fashion game, with pixelated Japanese manga graphics. With no in app purchases, with little advertising, this game has a fair number of unrestricted coloring dresses, with considerable overall freedom.
10 )
Love Nikki-Dress UP Queen
, free for Android and iPhone, is an interactive adventure game with game elements of fashion and manga graphics. Players explore Nikki's world as they dress her in the latest fashions, following a story. In this game you can play for free without spending any money, thanks to the many opportunities to earn premium currency that you can use to buy new clothes and accessories.
11 )
Mystic Prince Dress Up
, free for Android and iPhone, is a simple but fun dress up game where you create a male avatar with manga graphics and dress him up by choosing clothes.
10 )
DressUpGames
Another game app that we can try to try on clothes and accessories is
DressUpGames
, available free for Android.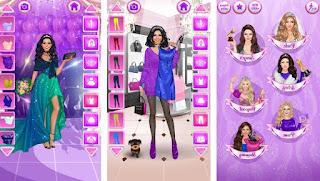 By opening this app, just choose one of the virtual models available and, once inside the store, scroll on the sides of the screen to choose the category of clothes and the right clothing, so as to create new spectacular outfits. In addition to the style, we can also choose the color of each garment chosen, so that we can always change the style with a few targeted changes.
This app is currently one of the few totally free and without in-app purchases, therefore safe to use even on locked smartphones or on which it is not possible to buy anything.
Conclusions
The Android store is chock full of apps for clothes and fashion, but we have chosen to report those that, in our opinion, are the safest apps to use and able to satisfy female audiences of any age, allowing them to pass pleasant and fun moments by choosing and creating new clothes and unique new styles.
If we want to move our passion for clothes and fashion from virtual to real, we advise you to continue reading on our articles on how
Try on clothes online in virtual clothing stores
and on the best
Sites to buy clothes and shoes with free shipping and returns
.
Best dress up and fashion games for Android and iPhone