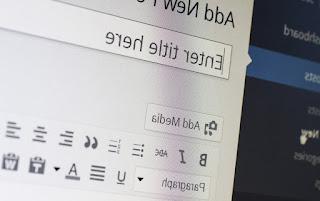 When we write on a blog, we are used to thinking that everything is ready to use, without having to fiddle too much: in reality, most of the work is done by the CMS, that is the tool installed on practically any Web server to be able to manage the contents. entered or to be able to offer a certain type of service to users who visit the web page.
Given its importance when we create a new site, in this guide we will show you
the best CMS and free platforms to develop a website
, so you can really know what is hidden "behind the scenes" and how a blog like bestresourcesnow.com or sites that make content their strong point (for example Wikipedia) works. In the guide we will find both the technical definition of CMS and a chapter where we will show you in detail the best CMS that we can install on our personal Web server.
CMS Guide
In order to really understand what a CMS is for, below we will try to explain in simple terms what this abbreviation means and why it is a very important component. At the end we will find the classic roundup of free CMS or with free components that we can install on any server. If we don't have an active personal web server yet, we recommend that you read our guide
Best Free Web Hosting Where to Upload a Site
.
What is a CMS
The CMS are components of a website to be placed "behind the scenes", that is, accessible only to those who manage the site or those who work on it to add content or update the material offered on the website real.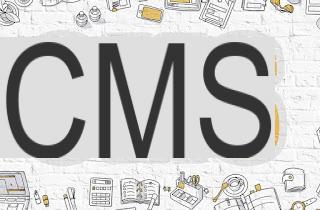 CMS are developed to meet specific purposes: some can be customized whatever the website template, others aimed at creating blogs, forums, online sales sites, corporate sites, online newspapers, web applications, gaming sites, presentations with animations and so on.
The problem therefore is that to find the ideal CMS for your Web project, you have to do a hard research to understand how advanced a system is, in which language it is available, if there is a support forum and so on.
Once installed on our server we will be able to use the CMS to quickly manage all the contents to be shown to the public; many of these CMS can also be enhanced with extensions or plug-ins, so as to add valuable aids when writing or publishing. Of course, there are easy-to-use CMSs and quite complex CMSs, but if we have the experience to manage and create a website ourselves, then the CMS will definitely be the easiest part of the job!
If, on the other hand, we do not know anything about Web programming, it is better to choose services that offer sites that are easy to configure and use, as seen in the guide
5 simple tools to create a website with domain, management and e-commerce
.
Best CMS
For those who want to deepen the subject and to facilitate this research, I can list
the best and most popular CMS to create websites
, so, whoever wants, can also try them locally, on their own computer. By best, this time, I mean above all
the most usable
also for testing, but ideal for a
create a personal or professional website
, even for advanced projects.
WordPress
WordPress is the number one CMS with which 40% of professional and non-professional blogs are developed and, by chance, 10% of the world's internet sites.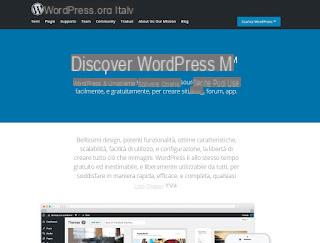 It is a platform
to create a blog
in PHP also ideal for beginners, thanks to an excellent documentation available on the internet.
You can also try Wordpress on your computer with a super fast and very simple installation and configuration wizard. In 5 minutes, the blog with Wordpress can become operational and can already be put online. It also has an automatic software and plugin update procedure, an intuitive graphic editor that does not require any knowledge of HTML and integrated support made up of images and multimedia features. Wordpress probably has the widest amount of plugins and graphic themes to choose from and, for any type of need, just do a Google search to find the solution.
Joomla!
Joomla! is a very advanced CMS in terms of functionality with which
you can do almost anything
.
Joomla can be installed and tested on your computer and started with Joomla, it must be said, it is quite easy.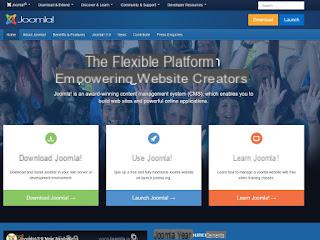 The only problem is that Joomla! it is a global CMS with which you can do almost anything so I would recommend it if you intend to design an ambitious and varied website. If it comes to creating a blog or a presentation site, I would avoid banging my head among the thousands of Joomla! Options. The administration interface, while it requires some practice and study, is still intuitive and beautiful to look at, complete with drop-down menus and mouse selections.
The CMS also has support for access control protocols like LDAP, OpenID and even Gmail. The plugins for Joomla! there are over 3000, the support of users who use it and talk about it on the forums is wide, in English and on the internet you can find guides for all needs. Create a custom website with Joomla! however, despite being the free program, it requires plugins and graphic themes that it is not convenient to recreate from scratch (it would not be easy) and therefore you have to pay. The plugins are used to integrate functions to the website and their price is certainly lower than that of a webmaster consultant.
Drupal
Drupal and
a very full-bodied CMS
with a large community of users who talk about it and discuss it on the forums.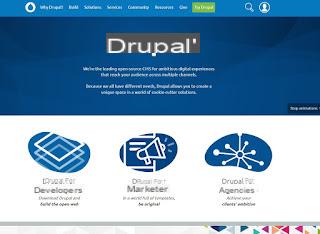 Like Joomla, Drupal is a general CMS that can be used
for any type of website
. The basic setup is simple as well and comes with lots of optional modules that can add different features to the website. The installation of Drupal is easy and on the internet there are tutorials and step-by-step explanations that should eliminate any difficulties.
Other CMS to try for free
The ones we've reported so far are the best CMSs to try for your website, but there are plenty of content managers available for you to try; in fact, below we will find the list of other CMS that we can download and install on our Web server:
ExpressionEngine is an elegant and flexible CMS solution suitable for any type of online project, which is also extensible with additional plugins and easy to edit.
EE is not even difficult to learn and in a few minutes I think you can already start creating the website in the contents.
With ExpressionEngine you can also create multiple sites with a single software installation.
In the face of so much goodness there is the defect that, unlike the three previous CMSs, Expression Engine must be paid for by purchasing a personal license for use of $ 9,95 or a commercial license for $ 249,99.
TextPattern is an ideal CMS for creating static pages and blogs, a little more difficult to use because it does not have a graphical creation editor. It seems to be a program aimed at the purest designers who want web pages that are light and fast to load and absolutely optimized from a technical point of view. Anyone wishing to try it, however, should not suffer much to understand and intuit the administration panel and to install it. Perhaps it is a somewhat minimal tool but also for this CMS there are many plugins to add functions and customizations.

Cushy CMS, on the other hand, is very different from the previous ones because it does not have to be installed, and it is closer to the assisted solutions I mentioned above, where you only have to design the site with wizards, without writing a single line of programming code. The good thing is that Cushy CMS is free for anyone, even for professional use although of course you can pay for a pro account that has more features.
SilverStripe is another CMS in PHP similar to Wordpress, with many more configurable options especially regarding content management and less ideal for blogs. The specialty of SilverStype is that you can also customize the administration interface to your liking. This means that if you work as a website designer, you could offer a platform that the client can manage himself, with the options he is able to use.
Unfortunately there are few resources already made to customize the themes and functions so you have to work a little on it.
Contao is a bit difficult to use and requires technical programming skills, they say it is as powerful as Drupal and Expression Engine so the more experienced could take a few minutes to explore its potential.
Conclusions
All free CMS available above
we can try them without limits or at most as demo versions
, so as to be able to decide independently which CMS to place on the new site we are creating.
If we intend to turn our website into a source of income, we recommend that you read our guides
How to make money on the Internet and make money online in 10 ways
e
How to make money with a blog or website
.
If, on the other hand, we want to upload many videos or footage online, let's continue reading our articles
6 Free Unlimited Video Hosting Sites
e
How to make money with YouTube, video channels and videoblogs
.
Best CMS and free platforms to develop a website