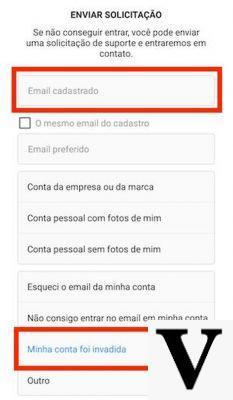 How to recover permanently deleted instagram account
If your Instagram account was accidentally deleted don't despair, we know this can represent a major loss if it was a profilo likechannel through which you sold your products or advertised your store, but there is one solution.
In this paragraph we will explain step by step how to proceed to recover your account:
Go to the page of Instagram.
Click on "Help to do Login".
On the Login page to access he writes the name of yours account Instagram.
There will be the option to get Help.
You will be prompted for more information like the email address, complete with your details.
Select if your account is personal or corporate.
Select the option that tells you who you are victim of a hacker.
If they ask you for more details, salta the passage.
You will receive one email after clicking on Request Support.
You will need to submit all your profile information and a description of what happens to you when you log into Instagram.
The support it is very effective and efficient and they will be able to help you to recover your account.
How to recover an Instagram account if you don't remember the credentials
This is the most frequent option because if a social network is not used often, you can forget about credentials, especially if they are not automatically saved on the device you are using.
There are three possibilities: 1. We forget just the password, 2. One just forgets e-mail address, and 3. The credentials are forgotten completely. We will analyze all the cases in question.
Recover an Instagram account without a password
If you just can't remember yours Password, but do you remember the associated email address here are the steps to follow:
Go to the page of Home of Instagram.
Press on Forgot Password?
The screen with the wording will open Login problems.
Here you can select: Username to receive an email or Telephone to receive an SMS.
With the first option you will receive one everle with a code of 6 digits.
Click on Login without Password.
On the next screen enter the code.
Click Forward.
The game is done!
If you prefer to enter with the number of paired phone to your account these are the steps to follow:
Go to the page of Start of Instagram.
Press on Forgot Password?
The screen will open Login problems.
Here you can select: Username to receive an email / Telephone to receive an SMS.
With the second option you will receive an SMS with a link e verification code.
Doing click sul link you will log into your account directly.
If you want to use the code, just enter it in the confirmation field and click next.
Here is that access has been given again!
Recover an Instagram account without email
This option of all is the most easy to fix, in fact, if you don't remember the email address associated with your Instagram account, just write your username and password to be able to have access again.
Email is not a fundamental data, you can also use the telephone number as long as you have entered it.
Child's play!
Recover an Instagram account without email and without password
This of the three possibilities listed is the more complex, but not impossible. These are the requirements to recover your account:
Enter from a Browser and not from an application, even from a mobile phone.
Have entered yours valid phone number associated with your account
Once these data have been ascertained, here are the steps to follow:
Go to the site Instagram.
Click on the option Forgot password?
Just write the telephone number.
Click on send on access link.
You will receive a message from Instagram.
Press on link received.
On the page write the Password new and reconfirm it.
Click on Reset password.
Instagram account recovery disabled
If yours Instagram was disabled by mistake, you don't have to worry, because you will be able to recover it.
If, on the other hand, the reason it was disabled is because of the violation of the terms of the platform, unfortunately, appeal will be in vain.
Here's how to go about bring the action:
Go up Instagram.
Search for Log in with your credentials.
A screen will appear, click on More information.
Click on Contact us.
Follow the steps responding adequately to questions and providing the information requests.
Enter yours name and surname.
Enter your name on Instagram.
Click on Send to send the report.
Instagram will respond within a few hours with the final decision whether or not to re-establish your account.
What is the difference between deactivated account and deleted account?
If you want to delete yourself from Instagram because you believe that the platform is no longer for you, you will have two options, that of deactivate the profile and that of delete it.
Although these two actions may seem similar, the reality is that these are two decisions completely different. The biggest difference is which stock is reversible and the other does not, so if you change your mind and want to go back to your profile you won't be able to do it. If the profile was eliminated for your personal decision it will be impossible to recover it later.
The action of deleting the account is final. There can be no second thoughts. We recommend that you recover the data you want before proceeding, perhaps by making a backup.
If, on the other hand, you decide to deactivate yours account, this decision can be revoked whenever you want to take back the reins of your profile and continue to use it as if nothing had happened.
How to recover stolen Instagram account?
You will be pleased to know that even the accounts that have been hacked o stolen can be readily recovered thanks to the Support of the platform. Find out here how to recover your hacked instagram account!
Unfortunately, everyone can be victims of these attacks, even those who do not have many followers or who do not have a commercial profile. With certain precautions you can protect yourself from malicious people, and in case your profile is deleted it is necessary keep in touch with technical support.
We wish you the best of luck recovering your Instagram profile!