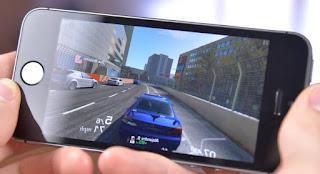 While speaking of the Android platform it is easier to know which are the most successful games, as for the iPhone it is more difficult to find the most downloaded, most loved and appreciated games. This is because the Apple store does not have a well-structured ranking section like that of the Google Play store, where it was quite easy to understand, if to resort to particular statistics, which are the most played and most beautiful Android games ever.
However, trying to respect the same criterion, that is of games released this year or even less new that are celebrated in all the merit rankings as the best to play and the most fun.
Without ranking, let's see (based on data from the AppAnnie website) what they are
the best and most played games ever for iPhone
, which everyone should download and try, at least once, to play.
1)
Candy crush saga
King's game has dominated the list of most downloaded apps for a long time in the past few years and is still today the number one most downloaded iPhone game of all time. Candy crush, the game of colored candies, really never seems to get bored and has a surprising longevity that still leads it to be highly recommended even to the few who have never played it yet.
3)
Subway Surfer
As in the ranking of Android games, the number one of runner games for iOS is this of the surfer in the subway, one of the funniest and most popular, for several years now stable at the top of every ranking.
3)
Fruit Ninja
A great classic of mobile games, still among the most played today.
4)
Clash of Clans
This strategy and war game is a real drug that forces those who begin to never stop and to cure the fate of their village constantly, trying to attack others to conquer them.
5)
Call Of Duty Mobile
is a real must for all iPhone owners, the best of 3D multiplayer shooter games.
6)
Among US, the investigation game
where to find the killer, is the most played iPhone game of 2020.
7)
Angry Birds
(il link porta a Angry Birds 2)
Perhaps the first worldwide hit among smartphone games, Angry Birds is still heavily played today in version 2 and several other variations.
8)
Temple Run 2
Great little game to play fast games and have fun jumping and running in the most classic of the Runner Games.
9)
Asphalt 8 Airborne
The best car game ever, with version 8 which thanks to the multiplayer mode is still very downloaded today.
10 )
Pokémon Go
This game, in 2016, broke all download records of the first week. Perhaps it will be due to its original setting and playability with augmented reality or also because the cute Pokemon animals are the protagonists that this game has had a considerable impact on the media as well as on the public.
11 )
CSR Racing 2
CSR Racing 2 is the number one car racing games for iPhone and iPad, very beautiful graphically, realistic, fast, in 3D, free.
Inspired by the Fast And Furious movies, CSR allows you to race with more than 140 sports cars including Ferrari, Mercedes, McLaren, Audi, Ford, BMW, Renault and other brands.
12 )
8 Ball Pool
Billiards is always a very popular game, when played so well on an iPhone screen, it becomes mandatory for everyone to play, especially to challenge other players around the world and friends.
13 )
Pou
Pou is a bit like the old Tamagotchi, a funny little animal with big eyes that requires constant care and also offers many fun mini games. This is a game especially loved by children and young people.
14 )
Caso criminal
Game of the graphic adventure genre that recalls the detective series of the American TV series, where you have to find out who is the culprit in a complicated murder case to be studied and investigated.
15 )
Zombie Tsunami
Game now at the top of the charts of the most played for at least 3 years, Zombie Tsunami is still among the most fun for iPhone.
The goal is to create a horde of zombies large enough to become lethal and bite the inhabitants of the city to turn them into more undead. With its cartoonish graphics, Zombies are more laugh than scary and this is a game for everyone, even children.
16 )
Piano Tiles
In this game you have to play songs by tapping the right buttons on the screen that appear in quick succession. It is played with music and earphones, listening to and playing many famous songs as well.
17 )
Farm Heroes Saga
King game, similar to Candy Crush Saga, with vegetables instead of candies and some variations on the theme.
18 )
Rayman Adventures
This is a game that has been overwhelmingly successful on the iPhone since its first release. It is a horizontal scrolling platformer with very colorful and well-finished graphics.
19 )
Real Racing 3
For racing lovers, this is another must-see game, with recreated real circuits in which to race (in 3D) using one of the many cars that you can choose from.
20 )
Score Hero
For football lovers, on the other hand, this is an exciting game where you have to create game actions by choosing the right steps and pulling correctly using your finger.
21 )
The Sims
The Sims is a game that needs no introduction, the real life simulator where people move, build and furnish apartments and take care of the social life of a neighborhood.
22 )
Geometry Dash
This game, so simple and with 8 bit graphics, is among the most original ever on the apps store. It is played with only one finger, touching the rhythm of the music on the screen to make a square jump, avoiding to make it touch obstacles of various kinds.
23 )
Candy Crush Soda Saga
, as a variant for Candy Crush Saga, this game is ideal for lovers of the genre and those who get tired of the original Candy crush.
24 )
Traffic Rider
This is one of the most successful motorcycling games, racing in first person on busy streets in the city, in the mountains or along the sea, to feel like a real biker.
25 )
jetpack Joyride
Another historic runner game with an endless and very fast run through a science lab drawn like in a cartoon. The protagonist jumps thanks to the jetpack backpack and must avoid the various obstacles that are in front of him trying to go as far as possible.
26 )
FIFA Calcium
As a soccer game, iPhone users seem to prefer FIFA over Dream League Soccer which is more successful in the Google store for Android phones. The game works well, in 3D, with real players and good controls.
27 )
MORTAL KOMBAT X
The iPhone version of the fighting game Mortal Kombat X has really done well in all its brutality and is really worth downloading since it is also free.
28 )
My Talking Tom
In this game you have to manage a virtual cat as you would in real life, making it eat, cleaning it, letting it play and have fun.
Compared to Pou, in addition to being different the protagonist of the game, there is also the characteristic of being able to speak through Tom, making him repeat, with his nice voice, the words we say to him.
29 )
Head Soccer
The cutest of soccer games, a one-on-one challenge (even online against a real player) between two players who shoot and have to score each other in every possible way, throwing a bomb, using a special shot or even in a dirty way with random deviations. This game is a great store classic much appreciated by iPhone owners.
30 )
Clash Royale
Clash Royale, the same as Clash of Clans, is a different game, where war is fought by deploying the cards of warriors and heroes collected on the field.
31 )
Honour Of Kings
(Arena of Valour)
To many this title may not say much, but it is a game of the MOBA genre that has been the most played in China for several years.
32 )
Minion Rush
Minion Rush is always the first game for kids to play on the iPhone.
Top 30 Most Played iPhone Games Ever