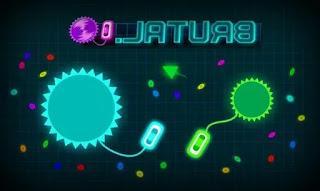 .Io games have several common characteristics that set them apart from others. First of all, you always play online, connected to the internet, in
total multiplayer mode
. Each game, in fact, sees dozens of players face off
players all together
who try to eliminate each other and excel each other, without any alliance and each with their own game strategy.
The other common feature is that they are ultra minimal games, with essential graphics, where players are represented by balls or stylized men or vermicelli just to name a few. Usually, in IO games each player enters into games that are already in progress and that never end, trying to survive and eat the other players to get bigger and bigger. In other .io games, on the other hand, these are games of a few minutes against other players and can also be a competition.
The ".io" extension
indicates the top level domain of the internet sites (such as .en or .com) of the British Indian Ocean Territory. Starting with Agar.io, one of the first games of this genre to have had extraordinary success, the .io extension has become used for all similar games giving the genre virtually a name. The .IO games have had an extraordinary success in the two-year period between 2015 and 2016 and are back in great shape this year, with new titles and new challenges. Since there are so many now, it's worth doing one
list with the 10 best IO games to play via browser on PC or download on Android and iPhone smartphones
, that they are free, that they have lots of players to compete with and that they are super fun.
1)
Agar.io
was the first game of this genre to be extraordinarily successful in 2015, a survival game where players eat each other. It starts with a small circle that by eating the food found around it gets bigger and bigger until it grows enough to be able to eat other players as well, while trying to escape from the bigger players. With extremely simple gameplay and graphics, it went viral after it was also featured in an episode of House of Cards. Agario can be played on Android and iPhone smartphones and also from a browser on a PC.
2)
Slither.io
was one of the most played games in 2016, inspired by Nokia's classic snake game, which gets longer and longer by eating food. In Slitherio, in addition to food, it is also possible to eat other players and get bigger and bigger. Compared to Agario, Slitherio is a bit more complex and less fast, with players being eliminated when their snake's head collides with another snake's body. Strategies can then be used to envelop and trap other players in order to absorb and eliminate them from the game. Slither.io can also be played via the website or on Android and iPhone.
3)
Paper.io 2 for Android, iPhone and website
, the sequel to Paper.io 1, can be considered the most successful .io game ever, still firmly in the charts of the most played games on Android and iPhone today. In Paper.io, players move around leaving a colored trail on the screen, with the aim of coloring as much space as possible. The space colored and filled by a player becomes an area that others cannot touch. The space is colored by closing an area, while the players are eliminated if their trail is touched when they are outside their colored area, therefore when they are trying to acquire new living space.
4)
Hole.io
, playable on website, Android and for iPhone, is the most popular io game of 2019, with players having to move black holes capable of absorbing any object they find in their way, if it is smaller than the hole, becoming more and more large. When two players collide, whoever has the biggest hole absorbs and eliminates the other, with a dynamic and gameplay that is quite similar to that of Agario. Hole.io is also quite funny because the holes move over a city scenario, with the possibility of swallowing people, cars and even entire buildings in the hole.
5)
Diep.io
, available on PC via website, for Android and iPhone, is another very popular io game, with players controlling tanks to move around the screen and shoot by smashing obstacles and enemy tanks to collect points and level up own machines. The upgrade system allows you to equip the tank to make it more powerful, more agile or more precise. There are different game modes such as all-out battles or group battles that increase the desire to replay Diep.io, which remains simple, but certainly more exciting and competitive.
6)
Snowball.io
, playable on PC via website, Android Smartphone and iPhone, is the snowball fight game. By moving a snow blower on the board, you touch the screen to create the snowball making it bigger and bigger, with the possibility of throwing it at the other players. The winner is whoever is not pushed off the island and whoever eliminates the other players.
7)
Aquapark.io
, playable on PC via web, Android and iPhone, is a speed race on a water slide, where the winner is whoever arrives first at the end of the slide, but where you have to be careful both of the traps you encounter and not to fall. under. The race is really fast and with all the players running together.
8)
CrowdCity.io
, available as a browser game on PC and as a game on Android and iPhone is a classic io game, which is a lot of laughs for its idea: you have to create the biggest crowd of all. You then walk through the streets of a city with a colorful little man who, when he meets other people, convinces them to follow him, creating an ever larger crowd. If two players collide, whoever has the largest crowd absorbs the other and eliminates him.
9)
Brutal.io
, available as a browser game on PC and as a game on Android and iPhone, it has very appreciable spatial graphics and is played by moving a machine that has a weapon on its tail to grow and use against others to eliminate them.
10 )
Zombsroyale.io
, game on PC, for Android and iPhone smartphones is the most complex game on this list, a Fortnite-style battle royale with a top view, weapons to collect and many players to challenge to eliminate them, being careful not to get caught.
Best .io Games where you play all together on PC and Smartphone