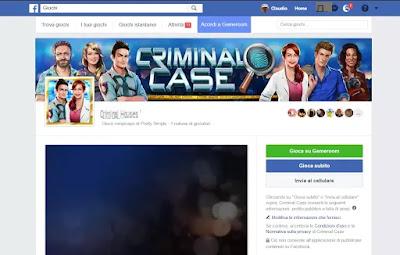 Let's go back to our beloved and hated Facebook to discover one of its aspects most used by registered users and, in my opinion, one of the reasons why this social network platform has had a gigantic success:
multiplayer online games
.
Initially Facebook games were terribly annoying for everyone, because they continually sent invitations to play for everyone and automatically published status updates on the results obtained.
Today the games are more "reserved" and it is possible to play with friends without bothering those who are not interested, to have fun online as it happens in the most famous gaming sites.
Some games are very beautiful and fun, at a very good level
, often with decent graphics but above all with an extremely competitive and fun online playability due to the ease of dissemination and word of mouth that Facebook offers among its users.
Below we discover some of the
best Facebook games
, the most popular ones in the world, most played, multiplayer and social games.
1)
A
is the UNO card game that can be played in multiplayer mode on Facebook by challenging friends.
2)
Words with Friends
is one of the most popular word finder games like Ruzzle or Scarabeo, where friends and other people compete online.
3)
scarab
it is the classic game where you can guess words, to be played in social multiplayer mode.
4)
Caso criminal
is the game that turns everyone into investigators, with more than a million people trying to solve complicated police cases at the CIS.
5)
SongPop
, the game where you guess songs as fast as possible.
6)
Draw Something
is the drawing game, where you have to guess what you are drawing in the shortest possible time.
7)
FarmVille
is the game where you have to develop and raise a farm. The work consists of plowing a field, sowing it and then harvesting the fruits and plants.
There is fake money to spend very carefully and intelligently in order not to go bankrupt and to grow as a farmer entrepreneur.
8)
Train Station
where to manage a train station.
9)
Candy Crash Saga
, the famous candy lining game, is online on Facebook.
10 )
Bubble Witch Saga 3
, variant of Candy Crush, similar to Puzzle Bubble, very funny to which we have dedicated an article.
11 )
Bejeweled Blitz
, game similar to CAndy Crush, without candy but with jewels.
12 )
Mahjong Trails
, a very colorful re-edition of the famous Chinese brick game.
13 )
Monster buster
, another puzzle game similar to Candy Crash, where you combine colorful monstrous animals.
14 )
Card games
to play with other people on Facebook are Scopa, Briscola and Burraco, as well as Uno already mentioned above.
15) The Solitaire
Solitaire Blitz
, for those who want to play alone.
16 )
Brain it online
, a very special puzzle game, very addictive.
17 )
Biotronic
is an addicting game where you have to line up some gems to make a line of the same ones in order to make them disappear as quickly as possible.
18 )
Sports Heads Football
it's that one-on-one game where you have to hit the ball with your head to send it into the opponent's goal and score goals.
19 )
Extreme Road Trip
is a game where you have to make a car run in a 2D path by making it jump without tipping it over.
20 )
Trial Xtreme 3
is a 3D game where you have to make evolutions on a motorcycle.
21 )
Castle Clash
is a very popular game in which to build an army and conquer enemy territories.
22 )
Jurassic Park Builder
where to build a dinosaur park.
23 )
Dead Trigger 2
is a 3D shooter on Facebook, which is not believed to be free and online.
24 )
Dragon City
is one of the most played strategy games ever on Facebook, with dragons to breed and train.
25 )
Tetris multiplayer su Facebook
: is the Tetris to challenge friends and see who is better.
26 )
Pokerist
is one of the best Texas Poker games against users from all over the world.
27 )
Top Eleven
the social game where you can challenge other aspiring soccer coaches.
28 )
8 Ball Pool
is the best pool game you can find on Facebook.
29 )
guitar flash
, where to play songs by pressing the right notes like in Guitar Hero.
30) Others
10 of the funniest Facebook games
are listed in another post.
In other articles are presented:
- board and board games to play on facebook against your friends.
- The best virtual games similar to Second Life
- The best Browser games, strategic online games
Best games on Facebook: multiplayer and social games