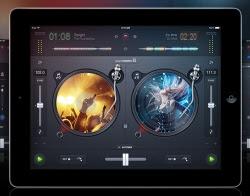 Today DJs no longer work with cymbals and records but with a laptop or, if they want to stay light, even with just a
tablet or smartphone
, on which you just need to install the right application to have a professional console and mix records and songs like any David Guetta would do.
So if you want to have something more than a simple sequential playlist of songs and want to have a DJ console to enjoy listening to music, for every device there is the right program or app.
In this article we try to find out
the best apps and programs to use
, for all platforms (
Mac, Windows, iOS, Android
) free or cheap,
to mix records, mix music and select songs using knobs and creating fades like DJs do in a club
.
1) The first program to try is
Virtual DJ, free, to mix music on your computer
VirtualDJ has all the standard tools and basic effects for mixing music using virtual knobs and platters. Thanks to the graphic visualization of the sound waves, the ear is supported by the eye to mix and overlap the music tracks without confusing the beats. The program is complete and works wonderfully, can be used at home without limits.
2)
Traktor DJ
it is a more solid program, not free, but also usable on the iOS platform
iPhone and iPad
.
The mobile versions of Traktor are perfect for DJing at parties, with a perfect rendering on the touchscreen of the iPad or the smaller one of the iPhone. These applications may not be easy to use for beginners and for those who want to use them only once, but after a little training you become familiar with the mixer and mixing music becomes very simple. Make sure you have a charger readily available, as these apps will drain your battery. Traktor DJ is a program for Windows and Mace an iOS app that costs 4 Euros for iPhone and 17 Euros for iPad.
3)
Djay
is a complete DJ set application which costs 1,80 Euro per
iPhone
, 9 Euros for
iPad
and 18 Euros for
Mac
.
With a very clean and simplified interface, Djay is a great tool for both beginners and professional DJs who will find all the tools to do author mixes. The interface has the two turntables to play the tracks which are displayed with the album art. The app has the volumes, the mixer and an equalizer complete with sound effects to do all the remixes you want without getting lost in complicated setups. There is also automatic mode, sound wave display, AirPlay and iCloud integration, headphone pre-listening, sound sampler, external hardware support and much more.
4)
Edjing
is a simpler app, again with turntables, which has a limited free version. Those looking for an app to use on the mobile phone without too many complications, simple and basic, can install Edjing which is available, as well as for
iPad and iPhone
, also for smartphones and tablets
Android
and as an app for
Windows 10
.
Since for Android it is perhaps the best app to DJ from a tablet or mobile phone, since the reviews are all super positive, perhaps it is worth buying the premium version which costs 9 Euros.
5)
PCDJ Dex LE
is the free version of one of the most powerful DJ software for PC, including tablet mode, automix and iTunes import.
The user interface of this DJ software is very modern and intuitive, you can drag songs to one of the decks to play them, with mixing options to control bass, speed, BPM, resonance, frequency and many tools to add effects to the playback. current.
You can load a long list of songs and mix them as you like.
6)
CrossDJ
is a cross-platform application that you can download and install in a free version on
Mac
,
iPhone
(for free),
iPad
e
Android smartphones and tablets
. The app changes a lot depending on the size of the screen so the smartphone version costs less and is more simplified than the tablet and Mac version. The free version of the Mac desktop makes room for video sampling at the top, but only works on the paid version. The app works like a complete DJ console, with turntables for mixing, scratching, rewinding, adding effects, activating automatic mixing and much more. While being a product that will ultimately have to be paid for to get its best features, this free version of Cross DJ has no time limitation even though it lacks MIDI support for external instruments, samplers, quantization tool and other professional stuff.
7)
PaceMaker
it's a free app only
for iPad
very innovative compared to the others, with graphics that allow you to mix music in a different way, according to the developers much easier. The app can be installed for free and has a very important peculiarity, it can be connected to Spotify to mix the tracks in streaming via the internet, which is truly unique and useful, to mix any song even if it has not been stored in the memory.
8)
Mixx
It's a big one
free DJ program for Windows PC, Mac and Linux
, really powerful and packed with features, maybe better than Virtaul DJ which is more limited.
Mixx had already been reported in the past in the article on
programs to mix and create professional DJ music on your pc
.
9)
DJ Studio 5
is an Android-only app for real DJs, with two decks spinning on the screen and an interface that makes it easy to change songs and mix songs as you would with a real mixer.
10 )
DJ Mix Remix Music
, Android only, is a simpler app for mixing songs and songs automatically.
Once a mixed music session has been created, it can be recorded and uploaded online to a site such as
Mixcloud
, the premier online meeting place for amateur and professional DJs or on
Soundcloud, the social network where you can upload your own music
.
For completeness, I also point out
the best programs for paid professional DJs
:
- Deckadance 2 per Mac e PC
- Tractor Pro 2
- Serato DJ
- Ableton
- Dj Pro per Mac
Mixing discs on PCs, tablets and smartphones, the best DJ apps