Preliminary operation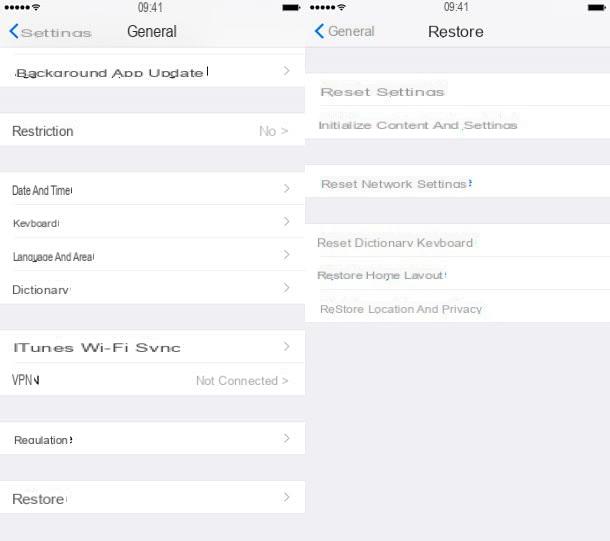 As just mentioned, to use Switch to iOS you have to initialize your iPhone or iPad, returning it to the factory state.
If you don't know how to initialize your iPhone or iPad, go to the menu Settings iOS (the gear icon on the home screen), go to General> Reset, presses on the voice Initialize content and settings, type il Unlock PIN of your iDevice and confirm to start formatting the device.
Formatting iPhone and iPad will erase all data on the device, so be sure to before proceeding create a backup copy of photos, videos and other data stored on the terminal.
But be careful, by restoring your device using Switch to iOS you will not be able to restore local or iCloud backups directly. This means that you will have to copy photos and videos to your PC and / or the cloud via the services offered by Apple (iCloud Photo Library) or Google (Google Photos). And the same goes for contacts, documents and other files on the device. If you need a hand in performing these "manual" backups, take a look at the tutorials listed below.
How to make iPhone backups, to perform the classic backups on iCloud and on your computer (which, however, as mentioned, will not help you much).
How to transfer photos from iPhone to PC, to copy photos and videos from iOS to computer.
How to store photos on iCloud, to find out how to activate online backup of photos and videos.
How to synchronize iPhone contacts with Gmail, to make an online and offline backup of the address book.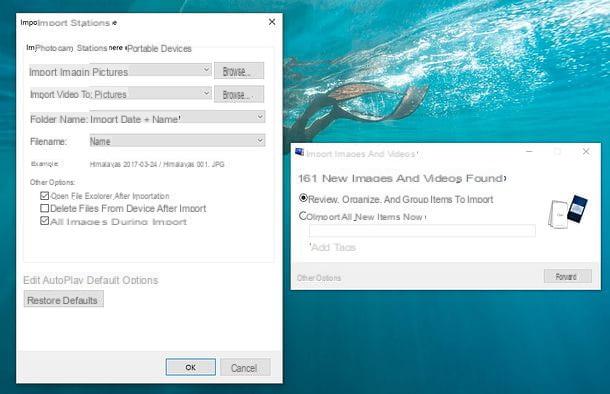 Another thing you need to do before you can take action is to download the app Switch to iOS (o Move to iOS) on your Android device, the one from which the data you want to copy to iPhone or iPad comes from.
Then open the Google Play Store, search for the app in question and install it by pressing the button Install. The app only works on smartphones and tablets equipped with Android 4.0 and higher.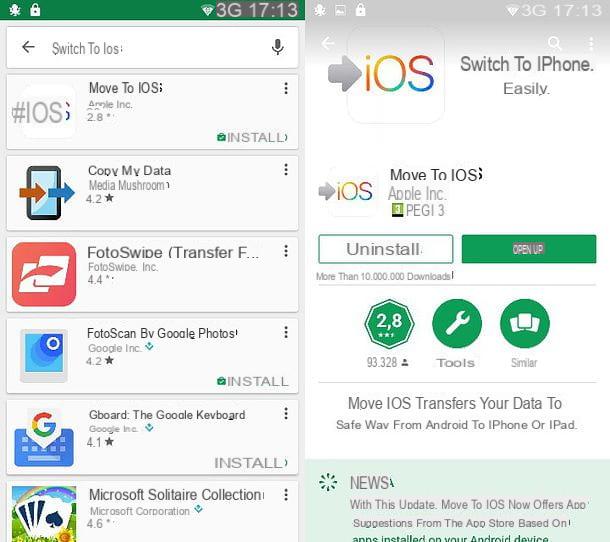 There was one Huawei smartphone without Play Store, you can download the application through one of the many alternative stores to Google: I told you about it in my tutorial on how to install apps on Huawei.
How to use Switch to iOS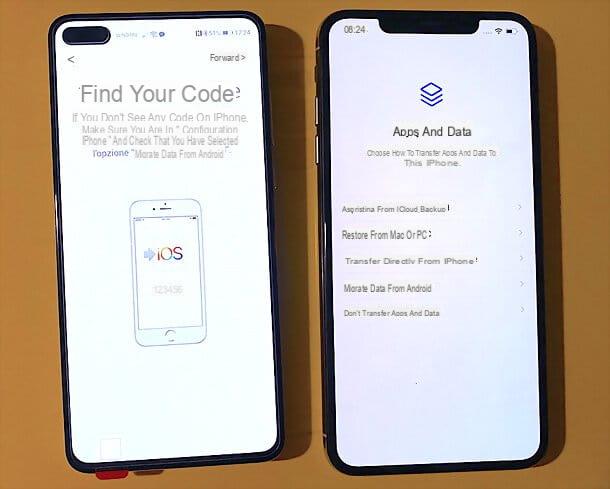 After installing Switch to iOS on your Android device and having initialized your iPhone / iPad, you are ready to take action. Here, then, are all the steps you need to take on both devices.
Your iOS - follow the guided procedure for the initial configuration of the device (you must have a SIM inserted in the device). Choose, therefore, the language in which to use iOS, indicate yours Country of residence and press on Configure manually, in order to continue without importing data automatically from another Apple device. Connect, therefore, to one WIFI network, wait a few moments for communication with Apple's servers to be established, press the button Continue (to accept the conditions relating to data and privacy) and choose whether to configure immediately Face ID / Touch ID or whether to proceed later (Set later in settings). Once this is done, create a unlock code for the device and on the screen Apps and data choose the option Migrate data from Android. Then press the button Continue and mark the Numerical code which appears in the center of the screen.




Your Android - open the app Switch to iOS, pigia sul pulsating Continue and accept the conditions of use of the application by "tapping" on the button Accept. Then go forward, pressing the appropriate button located at the top right, type the Numerical code that previously appeared on the iPhone or iPad screen and wait a few seconds for the connection between the Android and iOS devices to be established via a wireless network generated for the occasion. If you are using Android 6.0 or later, you must allow Switch to iOS to perform all the operations necessary for its operation by pressing the button Allow. If the wireless connection between the two devices fails, try to disconnect the Android terminal from the Wi-Fi network to which it is connected and repeat the operation (leaving the Wi-Fi connectivity active).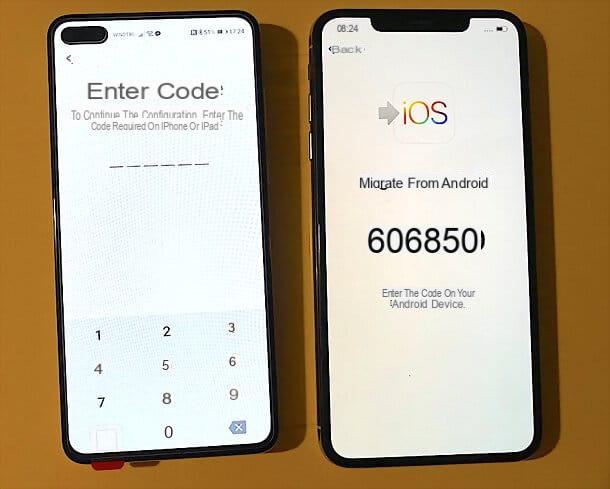 Your Android - select all the data you want to copy to iPhone or iPad by choosing between Google account, Bookmarks, Message, contacts, program , camera roll etc. and presses the button NEXT, to start the data transfer. As mentioned above, the duration of the procedure will vary depending on the amount of information to be transferred (photos and videos are the ones that require the most time, as they are "heavier" in terms of MB). At the end of the data transfer to iOS, press the button end and close the app Switch to iOS.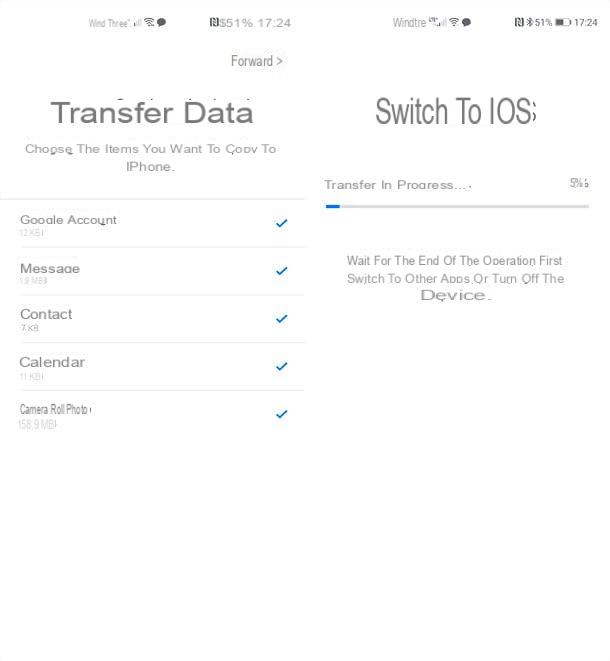 Your iOS - at the end of the data transfer from Android, press the button Continue the iPhone / iPad setup and complete the initial iOS setup process. Then log in to yours Apple ID (or create one), accept the terms of use of iOS by pressing the appropriate button, choose whether to activate automatic iOS updates e iMessage/FaceTime, Crab e Usage timescegli se send diagnostic data to Apple and developers, set the use of technology true Tone (if your iPhone screen has one), choose whether to use the theme clear or that dark for the iOS interface, configure the zoom level you want to use on the home screen and follow the initial gesture tutorial (if you use an iPhone with notch). Once the configuration is complete, you will be asked to enter the password for the Google account imported to iOS and you will be asked if you want download apps that you had on your Android device and that are also available on iOS.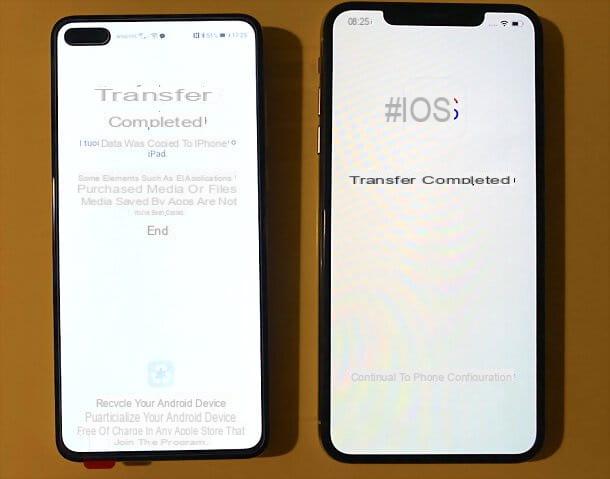 Please note: I made the tutorial using an Android smartphone equipped with Android 10.0 and an iPhone equipped with iOS 13. The steps to be taken are almost identical even on iPadOS and other versions of iOS and Android, but the initial system configuration procedure Apple operating mode may change slightly depending on the version of the latter installed on the device.
How to switch data from Android to iOS
Do you want to transfer files from Android to iOS but don't want to erase your iPhone or iPad? In this case, I recommend that you rely on cloud services to synchronize the data on both devices or, if you prefer, the "manual" transfer of some information from one device to another. You probably have to work a little harder than the procedure provided by Switch to iOS, but if you don't want to format your device you have no other choice.
Photo and video - for photos and videos, I recommend using Google Photos (Android / iOS) which allows you to store photos and videos online at no cost, without space or time limits. The only limitation is that photos are saved at a maximum resolution of 16MP and videos at a maximum resolution of 1080p. Alternatively, you can copy photos from Android to PC and then transfer them to iOS "manually". You can find everything explained in my tutorials on how Google Photos works and how to upload photos to iPhone.
Contacts - as for contacts, I recommend that you synchronize your Gmail address book with Android and iOS. This way you will have a single address book synchronized on both platforms. For more information, check out my tutorial on how to sync Gmail contacts.
Messages - although there are no official functions to transfer messages from one system to another, there are numerous third-party solutions suitable for the purpose. For example, to transfer WhatsApp SMS and chats from Android to iPhone you can use the software Wondershare MobileTrans, which I told you about in this tutorial of mine.
App - the apps you have to download them manually from the App Store, there is little to do. Also note that some apps available on Android are not available on iOS and vice versa. If you want to take advantage of this platform change to find interesting new apps, check out my posts with the best iPhone apps.
To summarize: if you intend to carry out a real "move" of your digital activities from Android to iOS, you should initialize the iPhone (or iPad) and transfer the data via Move to iOS.
If, on the other hand, you want to "jump" from time to time from one platform to another and use the two systems in parallel, proceed with the synchronization of the data on the cloud (possibly using Google services that are accessible on both operating systems) and you should find yourself comfortable enough.
Switch to iOS: what it is and how it works