How to change the program to use every time you want to open an image or photo on Windows to replace the default viewer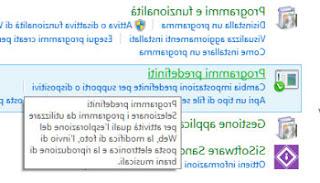 By default, when you double-click on a photo in Windows, the default photo viewer opens, beautiful, basic, but certainly not the best one available.
Let's see then
how to change
this behavior and make sure that
when you click on an image it opens with our favorite program
(and we will see later which is the best to use).
I had already talked about this topic, in general, explaining how
change file associations with default programs in Windows 10 and Windows 7
.
There are basically two simple ways to choose which program to open a photo or any other type of file.
In Windows 7
you can change you can change the program that is used when opening a specific file type from the Control Panel by going to
Predefined programs
in the Programs section. You can then make the choice in two different ways by pressing on
Set default programs
or
associating a file type with a program
.
The first option displays a
list of the various programs installed on your computer
. You can then check, for each program, which type of file it opens and if you want, and change the associations by putting the crosses on the files you want. If you want to use a different program to open the photos on your PC, of ​​whatever format they are, select it from the list and click on Set as default program.
The second option is the reverse, from
file extension list
, you can configure, for each, the program to use. Speaking of images and photos the most popular file formats to consider are
Jpg, Jpeg, bmp, png, tiff e gif
.
Then press on program change, to obtain a list of recommended programs with the possibility of browsing other programs not present in the list. The advantage of this method is that you can choose any program to open a file while in the first method only the programs installed and registered in Windows are listed, missing the portable ones that do not require installation.
You can also access this same window by right clicking on any file in Windows Explorer, from the Open with menu> choose program.
In this regard, we have addressed and solved in another article the problem of a file that does not open, unknown extension or if it uses the wrong program
In Windows 10
you can do as in Windows 7 or, you can open the Settings from the Start menu. In
Settings
, going up
App
and then
Default Apps
. You can easily choose the app or program to use as your default photo viewer from here.
In the list of various programs, in Windows 10, there are also applications from the Microsoft store.
Finally, note that all settings are stored specifically for the user who uses the computer, therefore, for other profiles, there may be different associations.
What is the best program for opening photos on a Windows PC?
We have already answered this question several times and as seen in the list of
best programs to view images and photos on your PC
, the most convenient and the one that everyone should set as default is Irfanview.