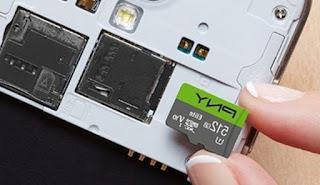 The cards
MicroSD
they can be used on many Android smartphones to increase internal memory and store more photos, music and, in some cases, even to move applications over them, so that you can continue to use the phone without giving up. Also for the MicroSD, as for every electronic accessory, they exist
different models
among them for some characteristics among which there is not only the
memory capacity
, but also the
data rate and product quality
. Choosing the cheapest MicroSD may not be a good idea if the goal is to make it last and use it on a smartphone without loading slower than it should.
In this article, we will therefore focus on
best microSD to choose for Android smartphones
, explaining what characteristics it must have e
how fast they have to be
in order to support the data transfer from the internal memory.
How to choose the best fastest microSD
First of all, it is always advisable to choose a MicroSD card must have a known brand because this is a guarantee of quality.
The best known and best brands
for MicroSD cards are
Kingston, Lexar, Samsung, Trascend e Sandisk
. In addition to the brand, it is also advisable to check the following parameters, so as to be sure we can use the best microSD for our device.
Memory capacity
The memory capacity indicates how much data we can save on a microSD; although this may seem quite obvious, unfortunately i
Android devices support cards up to a maximum capacity
decided by the manufacturer.
If in the technical data sheet of our Android phone it is indicated "expandable memory up to 64GB" and we place a 128 GB microSD
it may not be read correctly
, accompanied by data loss and very noticeable slowdowns.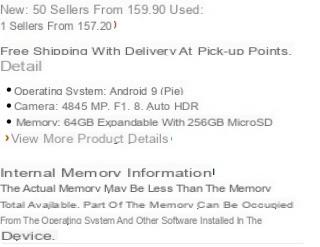 We always check the data sheet of our phone and
we only use microSD cards with capacities compatible with the device
.
Data transfer rate
The data transfer rate
it is a very important parameter for microSD to be used on an Android phone, especially if the device supports moving apps to an SD card.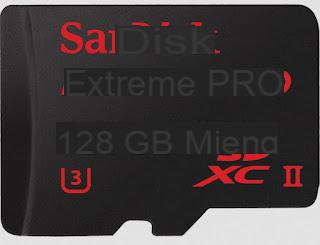 A high data transfer rate guarantees better performance when we write or when we read a file from the memory contained in the microSD. This
transfer rate of a microSD
it is indicated on the surface of the card with various abbreviations (also called classes):
the minimum class to bet on is the Class 10 (the icon of a C that encloses a 10), which has now become a standard on all microSD cards sold in recent years. It is also accompanied by the symbol UHS 1 o U1 (the icon of a U enclosing the number 1).
A faster class of microSD is indicated with UHS 3 o U3 (the icon of a U enclosing the number 3), which usually replaces the previous class and allows you to reach a minimum write speed of 30MB / s.
The fastest class of cards are reserved for 4K video capture and are referred to as Class 90 (the icon of a V next to the number 90): they are extremely fast and reach a minimum write speed of 90MB / s.
In addition to the transfer speed of the card, we will also have to check the
bus transfer rate
(i.e. the metal contacts); it is indicated with two separate classes:
UHS-I (Roman numeral I icon): achieves a transfer speed of 104 MB / s.
UHS-II (Roman numeral II icon): achieves a transfer speed of 312 MB / s.
Combining all the information provided so far, we advise you to bet only on
microSD cards that have UHS class 3 or U3 and bus class UHS-I or UHS-II
, so you can be sure you have an extremely fast card. The Class 90s are very expensive and reserved for those who use very expensive phones to shoot in 4K UHD.
Best microSD for Android smartphones
After reading the details and features that the microSD must have, below we can find
the best cards for Android smartphones
also based on the type of class and capacity.
The best
schede microSD UHS 3 (U3) e bus UHS-I
I'm:
SanDisk Extreme 32GB microSDHC Memory Card (€ 12)
Samsung EVO Plus Scheda microSD da 64 GB, UHS-I U3 (12€)
SanDisk Extreme 64 GB microSDXC Memory Card (19 €)
Samsung EVO Plus Scheda microSD da 128 GB, UHS-I U3 (20€)
Samsung EVO Plus Scheda microSD da 256 GB, UHS-I U3 (38€)
If, on the other hand, we want to focus on maximum speed, we have collected the best ones below
U3 microSD cards and UHS-II buses
I'm:
ADATA Micro SDXC Class 10 UHS-II U3 V90 64GB (46€)
Sandisk Extreme Pro 64GB MicroSDXC UHS-II (84€)
Delkin Devices micro SDXC UHS-I/UHS-II (77€)
Lexar Professional 128 GB (60€)
Lexar Scheda (30€)
Conclusions
As we have seen, it is not enough to buy just any microSD for our Android smartphone, but we will have to
choose one of the models recommended in the previous chapter or in any case stick to the recommended classes.
Keep in mind that on smartphones with MicroSD support and with the latest Android versions you can make sure that the added memory card is also used as system space for internal processes, transforming the microSD into internal and non-removable memory. In this case, I would therefore go to one that has the maximum possible speed, without saving too much in quality.
To move apps to the board, we recommend that you follow our guide on
How to move apps to SD card (Android)
.
If the space on the internal memory and the microSD start running out, we recommend that you read our guides on how
Free up Android space on internal memory and SD card
and
How to save space on the smartphone memory
.
Best MicroSD for Smartphone