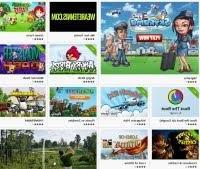 The Google Chrome web store, the web page dedicated to extensions for the Google Chrome browser is also the page where the web applications recommended by Google are collected, to use the PC (or the
Chromebook
), online only, with no programs installed.
Among these web applications there are also
many online games recommended by Google
(but not developed by Google), some of which are
free, great fun and great quality
.
The collection of games from the Chrome Web Store
it is basically a page with quick links to add to the Chrome home tab the one that appears when you open a new empty tab. All games that are completely online (some are even offline) can also be played with any other browser, both Firefox and Edge.
Remembering that on Chromebook it is also possible to install Android games from the Google Play Store, on this page we see some of the
best games reported by the Chrome Web Store
, of different genres, for all tastes.
To browse the entire catalog of games promoted by Google Chrome you can go to
this page of the American web store
and scroll down looking at titles, images, active users and, if you click on a game, also the description and comments of those who have already played. To install them just click on the "Add" button and they will be bootable from the applications tab.
For the moment the collection is unique, in the sense that there is no division by categories so the games are listed all together indiscriminately. For this reason, let's see one
selection of the best Google Chrome games
, dividing them into different genres:
1)
Action and skill games developed for Chrome
that, after installing them,
you can also play them offline
without internet connection and without any subscription or registration.
These games are lightweight and run smoothly because they are optimized for the Chrome web browser.
-
Bubble Shooter HD
is the classic bubble shooter game, where you can match balls of the same color.
-
The Sorcerer
it's practically the Zuma game, the one where you have to shoot balls along a path to eliminate those of the same color.
2) Others
games of skill and cunning
just
online
that do not require registration are:
-
Flood-it
cover the entire palette with a single color in the allowed number of passes. A brain teaser puzzle that will add a splash of color to your gaming experience!
-
Entanglement
you can play as solitaire or with multiplayer games against other friends.
The game is really beautiful, full screen, an ingenious and very challenging puzzle game for puzzle lovers.
-
2048
is a very popular puzzle game where you combine numbers.
3) Some
action games
more classic are:
-
Cartoon Strike
is a small shooter game with a subjective view and a lot of speed.
-
Web Quake
is the online version of the popular third-person shooter Quake.
-
Spelunky
is a cave exploration game with treasure hunt.
4) There are many
strategy games
, browser games where you have to build, create and manage.
-
Big Farm
it's a kind of Farmville where you have to take care of the farm.
-
SkyRama
is one of the most beautiful games in the Google Chrome web Store, where you have to manage an airport.
-
War Commander
is set in modern times and you have to create a bigger and bigger city, ruling the people, making wars and defending your state from attacks.
5)
RPG role-playing games
with registration and in-game growth of your character
-
Dark Orbit
is the famous star wars games game, with travel and space battles in simulation
-
Arcane Legends
is a browser game where you can explore an immense fantasy world with custom characters and undertaking epic missions together with other online players.
6) The
Sports Games
:
-
World Golf Tour
is the best Golf game accessible from Chrome with one click.
-
pool
is a beautiful online game of billiards.
-
Free Rider HD
is the game where you ride a bike through the mountains, with 2D side view, making jumps and trying not to fall.
Best ChromeBook and PC games from the Chrome Web Store