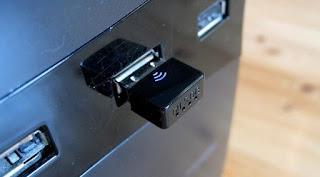 Do we have the desktop PC too far from the modem / router and cannot use the Ethernet cable to connect? In these cases it is better to use a 2,4 GHz WiFi adapter for the desktop PC, so as to be able to use the wireless network of our modem even if the PC is in a different room.
But if we have a very fast connection (higher than 50 Mega per second with FTTC or FTTH) we will hardly navigate at maximum speed, with more or less evident slowdowns based on the number of devices connected to the WiFi network and the presence of neighbors' wireless networks, which cause inevitable interference. In this case we will have to focus on
dual band WiFi adapters, supporting 2,4GHz and 5GHz networks (if supported by the modem)
, thus always obtaining the maximum speed in data transfer.
Let's find out in this guide how to choose dual band adapters and finally
to add 5GHz WiFi connectivity to your PC
.
How to choose a 5 GHz WiFi adapter
Choosing a wireless adapter that supports 5 GHz is not difficult at all, we will just have to make sure that it has the following characteristics:
-
Support for N and AC standards
: to get the maximum transfer speed from the modem, we will have to make sure that the adapter supports the 802.11n and 802.11ac standards, which is the best for connection on the 5GHz frequency. With the 802.11n protocol we will get the maximum speed of 450 Mbps, while with 802.11ac it is possible to travel even at 1900 Megabits per second, although in most scenarios it will travel at the maximum speed of 867 Mbps. On some adapters it is possible to connect to both frequencies (2,4 and 5 GHz) to achieve a higher transmission rate.
-
Adapter format
: many adapters have a compact design and can be connected to the PC via a USB port, as if they were normal flash drives; the faster models are available as expansion cards to be inserted inside the PC on PCIe x1 slot. We choose the format we want based on our economic availability, the number of ports available and the use we will make of the PC (on gaming PCs we always recommend focusing on PCIe WiFi adapters to get the best performance).
-
Safety
: all adapters support WPA and WPA2 with AES as the encryption system, so as to ensure secure connections for the PC with any modem used.
-
Coverage
: in the case of the 5 GHz frequency the coverage is considerably lower than the 2,4 GHz, so we will hardly be able to use the speed offered by this frequency beyond 10-15 meters (including walls and dividers). Therefore, to surf at maximum speed, the fixed PC must be a maximum of one room or two from the modem, otherwise it will not be possible to connect.
-
Antenna
: USB models have one or more internal antennas to pick up the signal and are effective only in optimal network conditions (few walls and very strong signal from the router); models with external antennas or with antennas arranged on a separate base can be oriented to always obtain the maximum signal and consequently a good transmission speed.
Best 5GHz dual band WiFi adapters for PC
After seeing what features a good 5 GHz WiFi adapter for fixed PC must have, let's find out in this part of the guide which devices we can view for purchase, so as to obtain the right compromise between quality and savings.
1)
USB WiFi Antenna Adapter
Among the cheapest USB adapters that we can use to connect to 5GHz networks, this Chinese brand adapter with external antenna stands out, which supports the 802.11n standard on both frequencies offering a maximum speed of 433Mbps on 5GHz or 150 Mbps on 2.4GHz. The chipset used (RTL8811AU) is natively compatible with the latest Windows, Mac and Linux operating systems without installing other drivers, however available via mini disk.
We can view this adapter from here ->
Tinxi 600Mbps 5GHz WiFi Adapter
(11 €).
2)
iAmotus Mini USB WIFI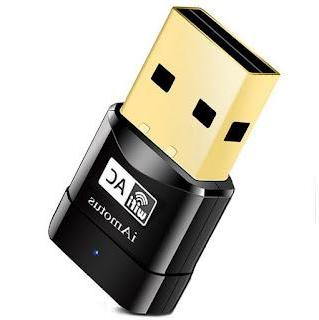 Another compact WiFi adapter that we can see is the iAmotus Mini USB WIFI, which has dual band support for both frequencies (2,4 GHz and 5 GHz), the WPS button for quick association with the modem and a speed maximum transfer rate of 600 Mbps, thanks to the use of the 802.11ac standard. Self-installing on all modern operating systems, so as to be immediately operational.
We can view this adapter from here ->
iAmotus Mini USB WIFI
(14 €).
3)
TP-Link Archer T2U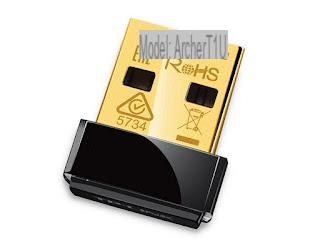 Looking for an ultra-compact adapter to add 5GHz support to older PCs and notebooks? In this case we can see the TP-Link Archer T2U adapter, which offers dual band support to the 802.11ac standard at the maximum speed of 433 Mbps on a 5 GHz network (the 2,4 GHz network is obviously supported). This adapter is self-installing on Windows 10, Mac and Linux, although you can use the driver provided in the box if you have any problems.
We can view this adapter from here ->
TP-Link Archer T2U
(18 €).
4)
TP-Link Archer T6E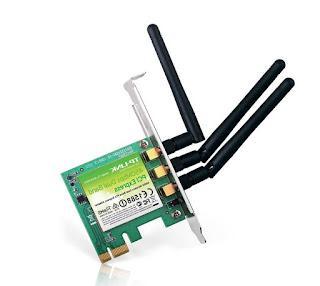 The first internal network card that we recommend viewing is the TP-Link Archer T6E, which has 2 antennas for data transmission (ideal for connecting to even the most distant modems), connection via PCIe x1 slot, support for WPA / WPA2 encryption with simplified configuration system and support for the 802.11n protocol, useful for obtaining the maximum speed of 450 Mbps (on 2.4 GHz) and 867Mbps (on 5 GHz)
If we are interested in this internal PC card we can see it from here ->
TP-Link Archer T6E
(33 €).
5)
Asus PCE-AC56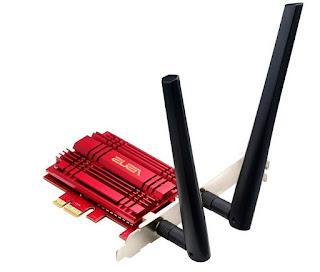 If we have a gaming PC, we can focus on the Asus PCE-AC56 internal network card to get maximum performance! This card supports the 802.11ac standard for fast connections up to 867 Mbps on a 5 GHz network, support for 2,4 GHz networks up to 300 Mbps, WPA2 encryption, two detachable antennas and separate magnetic base to be able to orient the antennas in anywhere on the case or desk. Self-installing drivers, although proprietary drivers are available on the disc supplied with the adapter.
We can view this internal network card from here ->
Asus PCE-AC56
(54 €).
6)
Hommie WIE9260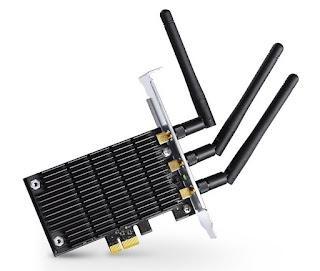 The high-end internal card that we recommend to view is the Hommie WIE9260, an internal card with other performances with three antennas adjustable in any direction, support for the Wireless Dual Band with 802.11ac standard with a maximum transfer rate of 1730 Mbps, Bluetooth and encryption WPA / WPA2. The drivers of this card are self-installing, but we can also use the supplied disk to get the best performance.
We can view this internal network card from here ->
Hommie WIE9260
(30 €).
Add 5GHz WiFi for PC, for faster connection