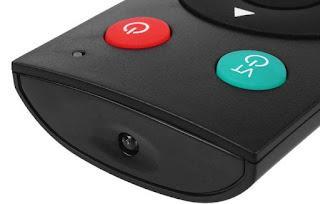 The PC can become the multimedia center of any room or living room, just install the right applications (such as Plex, Kodi or VLC) and play videos and music while we do other things or relax. But to have full control of the computer we cannot always rely on the keyboard or mouse, since this requires being present in the immediate vicinity in order to control the playback of favorite multimedia contents. What if we used a
wireless remote to control your PC remotely
, without having to get close to it?
In this guide we will show you the best wireless remote controls for PCs that can be connected and used in seconds, ideal for PCs in bedrooms where there is no TV or if we have placed a mini PC in the living room and want to control it from the sofa.
Features wireless remote controls for PC
The characteristics to be observed before buying any remote control are very few:
-
Style
: do we want a classic-looking remote control or a mini keyboard-like remote?
Both styles are available, it is up to us to decide which one to use and which one best suits the type of use we have to make of it.
-
Connection
: all wireless remote controls work through a small transceiver to be connected to a USB port on the PC, so that the connection can be established immediately. No drivers to install: all USB adapters are compatible with Windows 10 and other operating systems such as Linux, Mac and Android.
-
Backlight
: some models also have the backlighting of the keys, so you can use them even in total darkness.
-
Nutrition
: the models have a compartment where classic AA, AAA batteries or, on some models, rechargeable lithium batteries can be stored. It is up to us to choose which type of power supply to use, considering that these devices consume very little in terms of energy.
Wireless remote controls for PC: buying guide
After having seen the main characteristics of wireless remote controls, here is a roundup of products that we can evaluate to equip our PC with its wireless remote control.
1)
Ccthyp 3D SAR mini wireless air mouse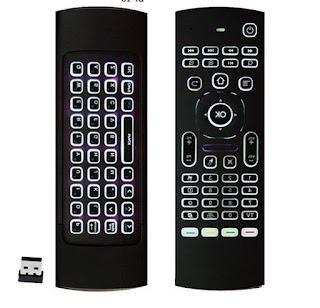 Among the cheapest remote controls certainly stands out the SAR Ccthyp 3D, a remote control equipped with all the main keys to control every function of the multimedia players and, in the back, it has a mini keyboard useful for typing in a text field or to start a search. on the Internet. The keys are backlit, so you can see them even in the dark.
The wireless remote control can be viewed here ->
SAR Ccthyp 3D
(11 €)
2)
Kodi Remote MX3 Pro mouse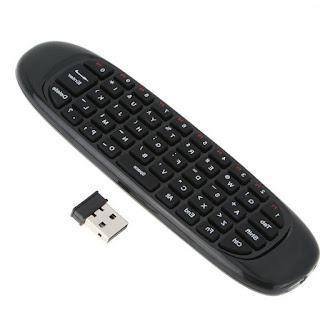 If we are looking for an extremely compact remote control we can focus on Kodi Remote MX3, a double-sided remote control capable of offering useful keys to navigate the menus and to control playback and a mini keyboard for fast typing. Built-in receiver, voice commands and rechargeable battery complete the kit for this great product.
We can view this remote control here ->
Kodi Remote MX3 Pro
(13 €)
3)
QPAU Mini Wireless Keyboard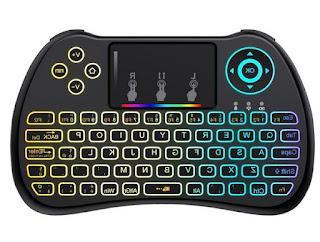 Among the remote controls with a mini keyboard style we can only recommend the QPAU 2.4Ghz Mini, equipped with numerous multimedia buttons at the top, in a touchpad to move the mouse cursor in a much more precise way and backlit keys, with a comfortable keyboard QWERTY ready to use.
If we are interested in this remote control / keyboard we can see it here ->
QPAU 2.4Ghz Mini Wireless Wireless Keyboard
(14 €)
4)
GHB 2,4G Mini Remote Control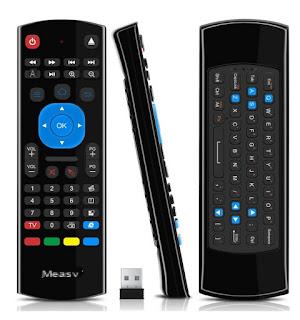 Among the best remote controls with classic style, the GHB certainly stands out, which features high stability wireless connectivity (2,4 GHz), 3 gyroscopes and 3 sensors for motion detection, one side with all the multimedia keys required for programs, TV Box and Kodi plus another side with the classic miniature keyboard.
We can view this wireless keyboard here ->
GHB 2,4G Mini Remote Control
(15 €)
5)
Rii Mini i7 Wireless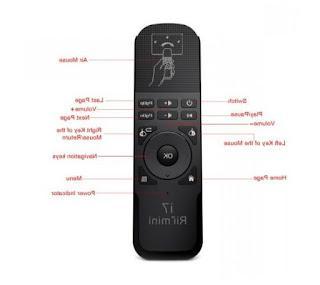 Are we looking for a compact and elegant remote control?
Among the best in terms of style we could not fail to point out the Rii Mini i7 Wireless, with an extremely compact shape, the main keys to navigate the menus and to control playback plus a tuoch surface with which to control the scrolling of the mouse.
We can view this remote control from here ->
Rii Mini i7 Wireless
(16 €)
6)
Docooler Wechip W1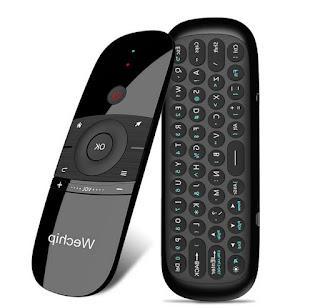 Another remote control that we can consider to control a PC remotely is the Docooler Wechip W1, with an elegant appearance thanks to the translucent surfaces, one side with simple buttons for navigating the menus and to control volume and playback, and on the on the other side a comfortable mini keyboard for typing, with a round shape (more comfortable to operate).
The possibility of using it as an IR (infrared) remote control is really convenient, thanks to the automatic learning system.
If we are interested in this wireless remote control for PC we can view it here ->
Docooler Wechip W1
(18 €)
7)
Air Mouse Keyboard Remote Control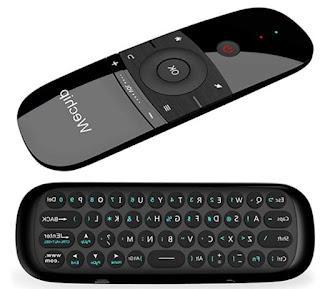 Another keyboard-style remote that is worth considering is the WeChip Wireless Remote Control with Mouse and Keyboard Function, very convenient for both TVs and TV Boxes and Smart TVs.
The elegant appearance, the touchpad and the backlit keyboard complete the equipment of a high quality remote control, viewable from here ->
Air Mouse
(18 €)
8)
YAGALA Mini Keyboard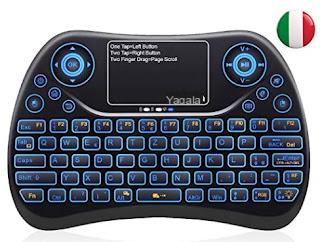 Among the most important products that we can try we find the YAGALA, a wireless remote control in the shape of a Joypad, with touchpad and all the keys to write. We can view this wireless remote control from here ->
YAGALA Wireless remote control
(19 €)
ALSO READ:
Buy a living room PC for gaming and watching movies
Wireless remote controls for PC: buying guide