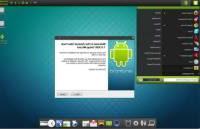 The beauty of Windows, in addition to its relative ease of use, is also the fact that it can be transformed, graphically, into another computer. There are so many ways to transform Windows by giving it the look of another operating system or even to give the desktop a graphic look inspired by a mobile phone.
You can turn Windows into Windows 10, Mac, Android, Windows Phone, iPhone, Linux Ubuntu
and much more.
Skin packs are software packages that include, within them, all the files to transform windows with a single overall installation, therefore without any need to change settings manually. These graphic themes are mostly for Windows 10 and Windows 7.
During the installation, after extracting the zip archive (by pressing the right button and choosing the option), you must be careful not to click on Next without looking and, when prompted, choose the Custom Installation by deselecting the three options that change the browser search page.
Each package also contains the patch to the uxtheme.dll file that Windows keeps write-protected.
After installation, you will be prompted to restart your computer.
Each Skin pack can then be uninstalled as you do with Windows programs, from the Uninstall Programs of the Control Panel and everything will return to normal.
Each Skin Pack transforms the graphics of menus, windows, application bars, sounds, icons, cursors and even fonts.
The best Skin Packs to download and try for free
I'm:
1)
Windows 10 Transformation pack
is the best package to transform Windows 7 or Windows 8 into WIndows 10. By installing this skin, you also get all the new startup screens of the future Microsoft system and the Metro menu. The package is available for 32bit and 64bit systems.
Other skin packs to transform Windows 7 and Windows 8 into Windows 10 only graphically are:
Windows 10 Transformation Pack 7.0
of 2017 and then
Windows 9 Skin Pack
, the most up-to-date, but free only if you agree to see advertisements.
2)
Mac OS X Skin Pack
is the transformation package to turn Windows into a Mac and experience the desktop of the latest version of the MacOS operating system, without having an Apple computer. Basically, a top taskbar, JumpPad, switcher is added, and the startup screen, Mac search, fonts, wallpapers, screensavers, visual style and cursors are also changed.
In another post, the best ways to
turn Windows into Mac
.
3)
Ubuntu Skin Pack
instead it brings the graphics of the most famous Linux distribution Ubuntu to Windows, with a really quality graphic impact with backgrounds, icons and even a utility that allows you to use the best features of Ubuntu in Windows.
4)
Android 10 Skin Pack
is available for 32 and 64 bit systems and is the best and only Android inspired skin for Windows 10 and 7. Icons, theme, wallpapers and various other things change on the computer desktop becoming similar to those of an Android smartphone. A dock bar for launching programs is also added at the bottom of the screen.
5)
iOS Skin Pack
is a skin for iPhone fans and those who want to see new iOS graphics on Windows PC. Like any other skin pack, it installs wallpapers, icons, login and startup screens, and there's a Mac-style taskbar as well.
In another post, others
10 graphic styles to change Windows
.
Best Skin Packs to turn Windows into other systems