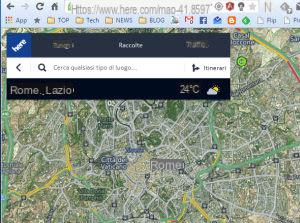 Today, when they have to search for an address, they look for it on Google Maps, an exceptional service that provides not only the drawn maps, but also the satellite view, the traffic, the buildings in 3D and the panoramic photos of StreetView.
In another article we also have some of the best hidden features and tricks in Google Maps.
Google Maps, however, is not the only site that provides free online maps on the internet, there are also other alternatives, which may even be preferable depending on the needs, because they are faster to load, because with different graphics or because with different information than those. collected by Google.
these
sites with maps and maps
are really useful to quickly find a way, a
get driving directions
, to see the world from
satellite
and to receive information on
traffic in real time
. Some of these services also provide the
360 degree view
(that of Google Street View) for most cities. The majority of these
alternative map sites to Google Maps, free,
they also have relative
applications for smartphones, Android, iPhone or Windows Phone
.
1) Here WeGO Maps
The Here WeGO (Ex Nokia) Maps service, which I have already talked about, is currently the best of the alternatives to Google Maps. It allows you to find any location in the world with ease, maintains your search history, allows you to find special places such as museums, transport, bars, restaurants, shops and allows you to save your favorite ones in your account. Here Maps has its own high quality street view function, with panoramic photos of many cities.
The nice thing about the Here Maps site is that it feels like you're using a mobile application even if it's open on your PC. Nokia Here Maps is also an offline GPS navigator app for Android and iPhone, as well as Nokia / Microsoft phones.
Here Maps also became a supplier for Yahoo Maps.
2) WAZE
Waze Livemap is the little-known online version of the well-known Waze browser app.
In addition to showing the roads, the online version of Waze is really useful for monitoring traffic in real time better than other sites can, with the measurements made directly by the numerous drivers who use the Waze application. The Dynamic Map allows you to quickly search for destinations and plan routes, add destinations and use the Map Editor to customize the map of any area.
3) Bing Maps
Bing maps represent perhaps the closest competitor to Google Maps, available online to see the map of every city in the normal world, and the 3D view called Bird's Eye. StreetView is limited to some European locations and is not available in the city. There are route directions and real-time traffic estimates. The modern and clean UI shows controls for directions, traffic, sharing and other basic operations at the top. The features of Bing Maps are the same as Google Maps, including maps for walking and public transport.
Note that Microsoft's Maps are also already included in the Windows 10 Maps app.
4) DuckDuckGo Maps
DuckDuckGo is the alternative search engine to Google that focuses on the privacy of searches, which does not track and does not store searches made by users. By searching for an address in DuckDuckGo, you can open the map, which is provided by OpenStreetMaps.
5) MapQuest
MapQuest is also a valid alternative to Google Maps because it is based on another type of maps, the open source ones of OpenStreetMap, to which all users contribute. In MapQuest you can find places of all kinds in every place, the so-called Points of Interest or POIs, such as Travel Agencies, Local Services, Hotels, Gas stations, Restaurants and Bars etc. There is a navigator function and there is a satellite view, but real-time traffic doesn't seem to work in the city. MapQuest can also be downloaded for free as a GPS navigator app for iPhone and Android. The MapQuest mobile app has more features than the website, with more search and location options for hospitals, parking lots, post offices, schools, and more. It also displays the current temperature at the detected location.
6) Wikimapia
Wikimapia is based on Google Maps (but it can also be done but it provides more detailed information and lots of photos (added by users) of a certain place searched.
All users can add new photos and additional information about a place. Wikimapia, is also very useful for creating custom maps and for finding shops, restaurants and other businesses.
7) ViaMichelin
ViaMichelin is one of the oldest sites that provides old-fashioned maps, like an online Tuttocittà. It is possible to find shops, restaurants, hotels and other places of interest throughout the city. Both on the site and in the Android and iPhone apps, ViaMichelin there are tourist itineraries. The site is very light and fast to load, ideal for slower connections that take too long to load Google Maps.
8) Mapillary
Mapillary is a particular map site, based on OpenstreetMap, which allows you to see street level photos of certain areas of the world and cities. It's not a 360-degree Street View though, so it's only good in areas not covered by Google Maps.
9) Yandex Maps
The Yandex Maps site is special and special for those interested in Russia and Eastern Europe. You won't get very detailed information for cities, but it's much better than Google Maps for finding streets in Eastern Europe, even at Street View level. Suffice it to say that with Yandex Map it is even possible to virtually visit the abandoned Chernobyl power plant and the adjacent city at 360 degrees.
10) Qwant Maps
Qwant Maps
is a completely open source Google Maps alternative site with data hosted on GitHub and with the ability for developers to create their own version by following the instructions on the project website. Qwant Maps displays a search field at the top to quickly find points of interest, addresses and places with descriptions taken from Wikipedia and possibly other sources as well.
11) KDE Marble
KDE Marble
is a free PC program similar in scope to Google Earth. It can be considered a
interactive 3D atlas
which reproduces a virtual simulation of the Earth and which can be used to obtain all kinds of geographic information.
The interactive application has different features than Google Earth, with integration with Wikipedia, the ability to download maps and navigation features to use to find roads around the world.
READ MORE
Maps and navigator for iPhone alternative to Apple Maps
Best Android apps with free offline maps and navigators
Best alternative apps and map sites to Google Maps