SEO: what it is and how it works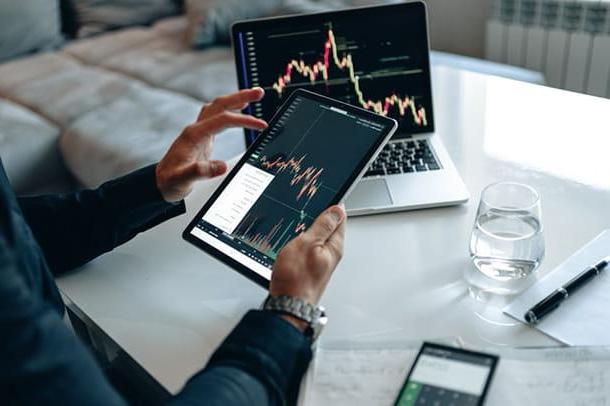 Maybe you are wondering what is SEO and how it works because you have vaguely heard about it, but you still don't have a clear idea about it: I'm here to explain it to you.
First, though, I would like to point out that when referring to SEO there is no mention of magic formulas, "clever" solutions or miraculous techniques that with certainty can make the owner of a Web page, a blog or a site become a billionaire.
Think of it like this: it's a way to sort web content, a bit like when you set up your home. Do you prefer to live covered in disorder, or in a fresh and clean room, with all things in their place, which will therefore be more beautiful even in the eyes of any visitors? I invite you, therefore, to stay with your feet on the ground and to study this discipline to get the most out of it, being wary of charlatans.
Having made this necessary premise, now I can introduce you to the technical aspects of the subject.
SEO is the acronym of Search Engine Optimization, a definition which translated from English means optimization for search engines and refers to a series of activities aimed at improving the level of identification of Web content by Google, Bing, DuckDuckGo Yandex and other such portals.
To get into the order of ideas of the question, try to think about when trying to read up on a topic on Google, the most used search engine in the Western world: the one you type in the dedicated box, in fact, can be considered a question. The latter, in technical terms, is defined Query and Google's job should be to provide you with the answers that are most relevant to your request, that is, yours research intent (Search Intent). To do this, Google uses a technology called crawlerthe muzzle, able to analyze the immense quantity of words and phrases present online, to lead you to the best solution.
The answers organic provided by Google are sorted by relevance and importance within the search engine results page, which in English is called Search Engine Results Page, more commonly known as SERP.
The terms you use to search are le keyword (o Keyword), describe from time to time a precise context and in the SEO field there are tools (which I will talk about later) useful to determine the most relevant and examined by search engine users. These data are used by those who have to create a website, a blog, a landing page and so on, to be better identified.
In this situation, carrying out SEO activities on certain Web contents should allow them to be made more precise and rational, suitable for being "read" easily by the crawler, then provided to users as an answer to their questions.
More specifically, the aspects on which one can intervene, applying SEO techniques that optimize and rationalize them, are various and do not only concern the comprehensibility of the data by search engines.
For example, you can act at the level of the Web server, JavaScript, CSS, CMS and source code, making sure that it is written in a valid way, you can optimize the structure of a website, such as to be as easily navigated by users, starting from the menus, and then continuing with the textual and visual contents present within it, up to even the external, internal and backlink (links leading from one page to another) it contains. The hypertext map of a site, a blog, a page present online is very important to define its structure and how much the topics it deals with are in-depth, since they refer to other correlates present within the same domain, to those of external sites or even it is the latter that link those contents. Furthermore it is important that a web page loads quickly, respecting the Web standard e and avoid duplicate content.
Everything just described is part of the SEO factors which, among other things, contribute to making the contents uploaded on the Net more authoritative. In addition to this, there is a vast corollary of conditions that can favor a Web page, more or less directly. Among them the seniority of a domain, the use of the SSL certificate for safe browsing, having correctly sent the sitemap to the search engine (if you don't know what it is, read my guide on how to create a sitemap). Then there are the rebound frequency low (Bounce Rate), that is the time that users spend on the page, without exiting it immediately because it does not respond to their queries, the Click Through Rate (CTR), that is, the frequency of clicks on the page and, probably, also affects the following on social profiles in some way related to the web page itself.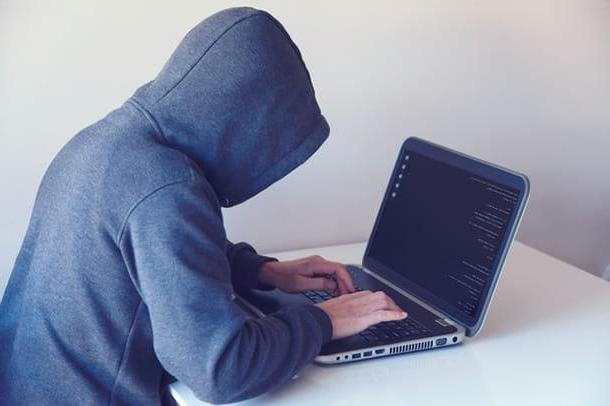 If on the one hand there are factors that can bring value to Web content, on the other hand there are also other sources of penalties, for which we talk about negative SEO. Among them, one of the worst is being linked (perhaps without knowing it) by sites of a violent type, of a pornographic nature, aimed at extorting data or money. Furthermore, the technique that until a few years ago was unfortunately widespread, consisting of obsessive repetition of keywords (Keyword stuffing), perhaps even written in bold and inserted in various parts of a Web page, has long been considered highly harmful.
The SEO practice is essentially divided into two categories: SEO on page, which refers to all the optimization operations performed within a specific web page, or a site, a blog and so on and SEO off page, i.e. the activities carried out outside a specific web page, but which have the task of leading back to it, such as, for example, the care of a Facebook page linked to the contents of a website.
SEO is not to be confused with SEM (Search Engine Marketing), another type of discipline that aims at placing topics in the SERP by means of paid advertising campaigns (Pay per click). In this regard, read my guides on how to do online marketing, how Google Ads works and how to do link building.
If the topic seems difficult to you, you should know that there are professionals involved in search engine optimization, able to help you if you want to open your own online space that is found by users of the Net. SEO, where the acronym this time means Search Engine Optimizer.
Attention: if you decide to contact such a figure, categorically be wary of those who promise you stratospheric gains with SEO, because he is trying to cheat you. Think for a moment: if there really was someone who has the formula to always make you appear in the first place in the Google SERP and earn millions thanks to this notoriety, why should he reveal it to you for a consultancy for a few hundred euros?
Rather, delve into the topic of SEO by studying and following in the footsteps of those who have achieved tangible results. For example, in the past I have personally kept the ridingworks Day, live training events aimed at those who want to create an online business, implementing a precise editorial plan to acquire visitors and profits from advertising investments on the Web.
In the above courses I have not provided magic recipes, but practical advice on strategies that I have personally implemented and have led ridingworks.com to become one of the 30 most visited sites in the city. In short, the credentials of those who offer you advice are fundamental. Look at the results they have achieved and - importantly - find out about it from independent sources (any charlatan can self-declare himself a leader in some sector!).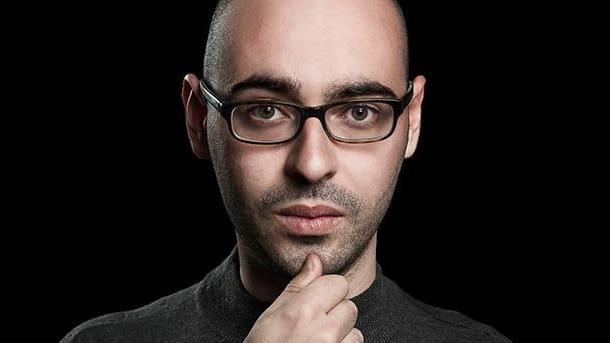 Also, if you want to stay updated on what's happening and changing in the SEO world, I suggest you check out sites like Search Engine Land (in English), a reference point for those involved in search engine optimization, SEM and Social Media Marketing, full of guides and practical advice. In the city I recommend the contents and communities of Giorgio Taverniti, a reference point in the SEO field for years.
Among other useful tools for your business, there are also SEMrush, a platform that offers various services, free and paid, to manage SEO and Moz, a service that, among the most interesting functions it offers, has the so-called MozBar. It is a toolbar version browser indicator, useful for comparing the Page Authority of pages and sites present in the Google SERP.
Google SEO: how it works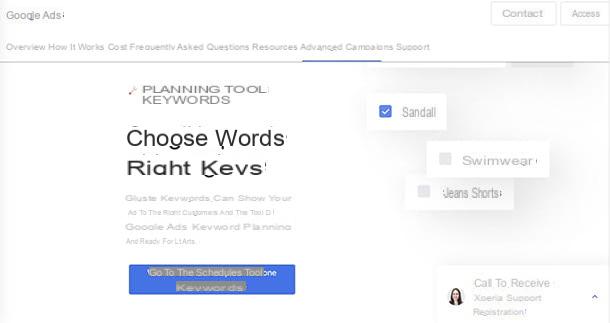 Most likely you use too Google when you have to do an online search, on any topic, then you will be interested in knowing how does SEO work on Google: continue reading to find out.
The role of Google is fundamental in determining the hierarchy of the solutions proposed for the various search intentions and, over time, the search engine has developed several methods to highlight the most relevant and important content. It has gone from PageRank, an algorithm that evaluated the relevance of the topics covered in a page through mathematical calculations, to evaluation based on link that lead to it.
Beyond that, they seem to exist at least two hundred factors several, many of them unknown, which combine with Google's functions to find the best content. Certainly, for this purpose, having implemented good SEO practices on a page (or on a site), described in the previous chapter, can give a big hand. The goal is to make Google's mechanisms recognize with confidence the contents, according to the current criterion defined TrustRank, which pays attention to their organicity and naturalness. To find out more, read my guide on how Google works.
That said, within the search engine there are two basic requirements: theindexing and positioning. The first represents the simple presence within Google, while the second refers to the position of a content in the SERP, which one would always want as high as possible and is a goal that can be groped to achieve through SEO. Regarding all this, read my guides on how to index a site, how to rank on Google, how to submit a site to search engines and how to be first on Google.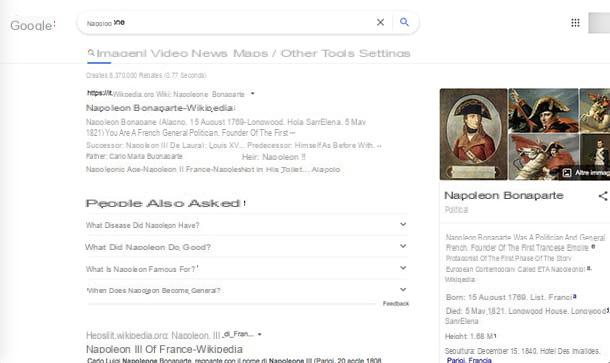 Entering a slightly more technical area, in the SEO per Google, are of considerable importance keyword and the formulation of the elements that make up each single result present in the pages of the search engine, also called snippet. In particular, the first line, called Tag Title, must contain the main keyword that best represents the topic being talked about and which is also convenient to use, because it is not inflated. Then there is theURL, the unique address that connects to the content published on the Net and also must contain the main keyword in a direct and precise way.
Finally, a brief description is identified, but more articulated than the elements just mentioned (called Meta Description) in which the most important keyword is found again, but within a captivating phrase, capable of attracting the user's interest and leading him to click on the link that leads to our site. These elements, or part of them, can be managed by those who deal with SEO by means of some tools that we will analyze in the next chapter.
Google itself provides users with some indispensable resources to take care of the SEO aspects of an online project, such as it Keyword Planner, useful for determining the most relevant and advantageous ones to use, in relation to a topic and also for designing investment plans around them. Very important for sending the sitemap of a site and to monitor any errors or penalizing actions that involve it is, then Google Search Console.
There are also tools that allow you to monitor visits to a page or site, the type of interaction that users carry out within them, as well as to plan sponsored campaigns to highlight the contents within the SERP. It is about Google Analytics e Google Ads: to learn more about these opportunities, which are mainly linked to marketing, read my guides on how Google Analytics works and how to create a Google Ads campaign.
SEO tools
Putting search engine optimization strategies into practice requires some SEO tools specially designed. I want to introduce you to some of the best known and used in the industry.
Remember, however, that the use of tools of this kind does not have "miraculous" effects and, indeed, in some circumstances it can even be counterproductive. My advice, therefore, is to always try with a "manual" optimization of the contents and try to understand, in case of lack of positioning on search engines, where to act to improve the situation.
Yoast SEO: how it works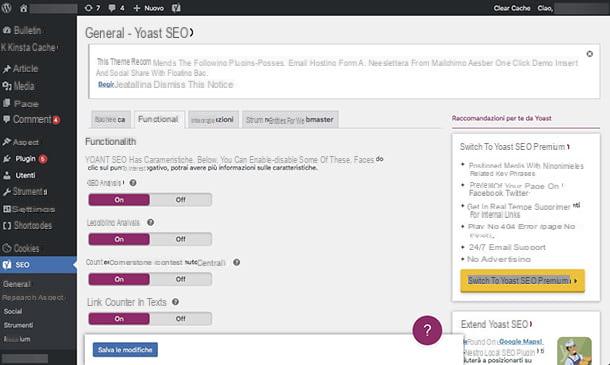 You may have heard of Yoast SEO, that is a plugin dedicated to SEO, which can be installed on the CMS (Content Management System) WordPress, the most popular system in the world for creating blogs and websites. But, perhaps, at this point you are wondering how Yoast SEO works: it is immediately explained.
Yoast SEO allows you to automate many of the processes necessary for the construction of Web pages and sites in such a way that they are optimized, such as the definition of the snippet (I told you about it in the previous chapter) and the indication of the will to index them or not or, again, if label them as more relevant content. At the same time, it can also perform the function of editorial assistant, reporting errors in terms of SEO or readability of the contents during their production.
Getting Yoast SEO for your website implies that you have already registered domain e hosting, therefore also downloaded WordPress: to know how, read my guide on how to install WordPress.
You will also need to have a WordPress theme, necessary to characterize your website graphically and at the structure level: please choose a theme that is already optimized for SEO and to respect i standard terms of page loading speed. Typically, you should already find Yoast SEO included in the package.
If not, you can download it from Dashboard (o Dashboard) of WordPress, by clicking on the entry Plugin, then in the window that will be generated choose the item Add new and in the space provided type the term Yoast SEO. Once the option appears on the screen, click on the button Attiva. I remind you that Yoast SEO is available in one version free, widely used by most users, as well as paid, for professional and / or business needs.
At this point, with the plugin active, always from the WordPress click on the item Yoast SEO: you will notice, in the main area of ​​the screen, several tabs associated with the plugin itself.
Through the card Dashboard you will receive warnings from Yoast SEO about any optimization problems on your site, while from the card Generali you will be able to take advantage of the Yoast SEO setup wizard, activate the link counter in the texts, check the credits of the people who developed the plugin and restore the default settings if necessary.
You will then find the card Functionality, very important to configure the real SEO aspects: among them the structure of the snippets, which will then be visible on Google, at the level of Tag Title, URL and Meta Description and the activation of the sitemap.
Through the card Your data, you can help Google generate a knowledge graph for your site, within the search results. Basically, the knowledge graph is that side panel, which you can sometimes see on the right of the SERP, very rich in additional information on a topic, including logo or image.
Using the card Webmaster tools You can also decide on which search engine you want to index the site: if, for example, you have an e-commerce that sells products in Eastern countries, you will also need to consider Yandex, the search engine in use in Russia.
Finally, the tab Safety allows you to temporarily (or permanently) suspend the indexing of a page, an article, a category or to manage the indexing of only the main links when, for example, these vary from desktop to mobile devices. In this case, it is said that their canonicity must be set (Canonical).
How SEOZoom works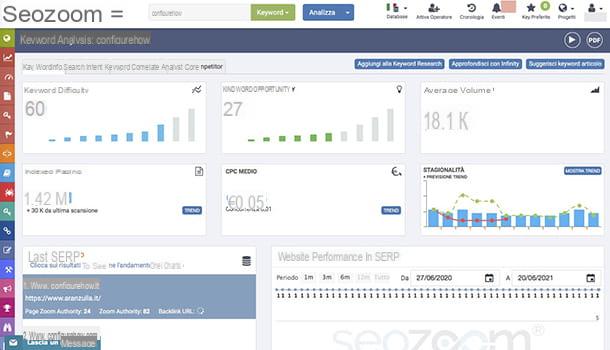 You've decided that you want to do things right for your Web project, so you need a solid foundation and you're wondering if there is a particularly advanced tool for researching and studying keywords. The answer is yes and what you need is to understand how SEOZoom works.
SEOZoom is one of the most complete tools for managing the main aspects related to SEO, not only for identifying the best keywords for a given topic. Please note: SEOZoom is SEO in mind and designed in your languagen language.
To start using SEOZoom, connect to the official website of the program: here you can choose to request one demo, that is a group conference, lasting 20 minutes, where you will be explained how to use the SEOZoom suite, or join a subscription to start working with this tool.
There are several plans for activating SEOZoom, all including a free trial: the plan Lite allows a user to work on 2 web projects, performing up to 3.000 searches per day, obtaining up to 6.000 results per day, for a cost of 49 € + VAT per month. Then you will find the plan Professional, which allows you to manage the editorial plan for 5 users and work on 10 Web projects, carrying out up to 5.000 searches per day, to obtain up to 15.000 results per day, at a cost of 69 € + VAT per month. Plan Business grants the management of the editorial plan of 10 users and to work on 60 Web projects, carrying out up to 10.000 searches per day and obtaining up to 35.000 results per day, paying 139 € + VAT per month. Finally the plan Corporate authorizes the management of the editorial plan of 20 users, who can work on an unlimited number of web projects, carrying out up to 40.000 searches per day and receiving up to 50.000 results per day, for a cost of 469 € + VAT per month. More info here.
Once you have chosen the most suitable subscription for you and created your account on SEOZoom, you will be able to access the control panel and set up your SEO project. This tool has a lot of features: to get started you can use the field located at the top to type a word or indirizzo web, then click button Search type.
The option keyword will return data relating to the keyword you searched for, such as the search intent with which it is most often used and the keywords related to it. The voice Mastery allows you to receive a general overview of traffic, keywords positioned on search engines and the authority of a website, while the voice URL it does more or less the same thing for a specific page located within a site. Finally the voice Keyword research it allows to identify the informational and transactional keywords with respect to the searched term. In each of these cases, press the key Analyze to start scanning the results.
SEOZoom is also available as plugin per WordPress: from the Dashboard (o Dashboard) of WordPress click on the entry Plugin, then on the voice Add new and type the name of the plugin you are looking for. Once identified, in correspondence of its tab, click on the button Attiva.
SEO: how it works