What is cloud computing and how it works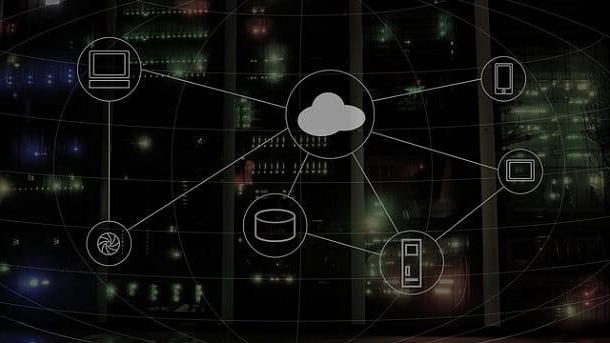 Although this is a rather large topic, I can guarantee you that I understand the mechanisms behind how the cloud computing it's easier than you can imagine!
The so-called "cloud", in fact, is nothing more than the technique of using a series of computers, scattered in various parts of the world, which they work together in order to carry out common operations of various kinds, which may require storage space or processing power that cannot be obtained from a single location.
In this context, the services of Cloud Storage, that is, those who make available to the space on the Internet to save backup copies of your files. Once archived, they can be viewed by a wide range of devices (PCs, smartphones and tablets, for example, but also Smart TVs and other connected devices) after browsing from a browser or installing specific software.
There are, however, other _declinations_ of the cloud world: services SaaS, or software-as-a-service, which offer the option of run remote software for complex data processing; services PaaS, or _platform-as-a-service_, which provide the user with entire development environments, which can be used for provide services of various kinds to its customers; or, again, the services IaaS, which offer the possibility of take advantage of complex hardware equipment, directly from your desk, in order to perform tasks that require extremely high resources (both in terms of hardware and connectivity), difficult to obtain from a common server.
The peculiarity of cloud platforms, to whatever category they may belong, is their abstract nature: the services offered do not come from a single server or from a single computer battery, but are usually provided through complex computer networks who work with an approach parallel and concurrent, that is, able to perform different tasks which, however, combine to provide the requested services in the best possible way.
For example, cloud services distribute user data on a large number of disks, physical and virtual, spread over multiple remote servers at the same time: in this way, they try to provide access speed (selecting the closest server, depending on your location), data integrity (in the event of a hardware malfunction, there are always other servers that have the same data in replication) e safety (Cloud environments are generally protected by sophisticated distributed protection mechanisms).
Depending on the services provided and the necessary resources, the use of cloud platforms can have a more or less high cost: it ranges from the free availability of some cloud storage services, to the rental of entire infrastructures that can cost even thousands and thousands of euros per month. As I have already told you, it is the amount of resources made available that makes the difference!
Now that you understand the concept of cloud computing, it's time to focus on what, I bet, arouses the most interest in you: cloud storage, those that can be used to save data on the Internet and retrieve them at any time, from any device. In the following chapters of this guide, I am going to give you an overview of what are the most well-known services of this type.
How Apple's cloud (iCloud) works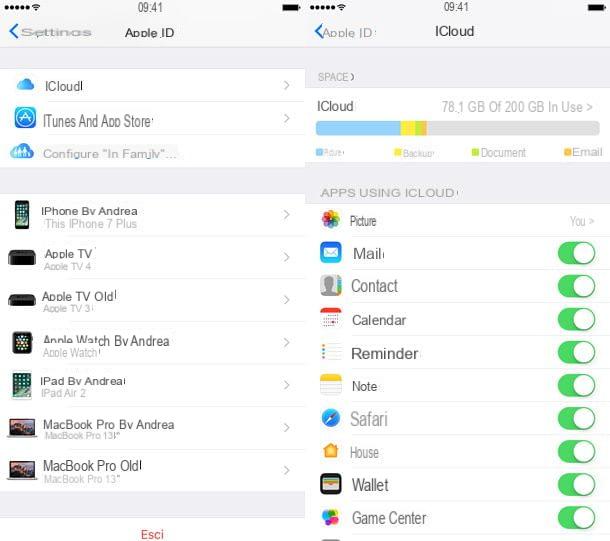 You've heard of iCloud, Apple's service that allows you to create backup copies of your data online (on a space called iCloud Drive) and to synchronize data and settings between the various Apple devices, and now would you like to better understand how it works? Then this is the right tutorial section for you!
Basically, iCloud is a free cloud service that offers 5 GB of storage space. If desired, however, it is possible to purchase additional space by subscribing to a paid subscription, with prices starting from € 0,99 / month for 50 GB.
To begin with, in order to use iCloud it is essential to have a Apple ID: if you do not already have one, you can connect to this website, start the procedure to create one and, after completing the form for registration to the service, confirm your identity by following the link that will be sent to you later , by email. If you are having difficulty proceeding on your own, you can follow the directions I gave you in my tutorial on how to create an Apple ID.
Alternatively, you can create a new Apple ID through the iTunes management software by clicking on the menu Account> Sign in ... and then on the button Create a new Apple ID, exactly as I explained to you in my guide on how to register on iTunes.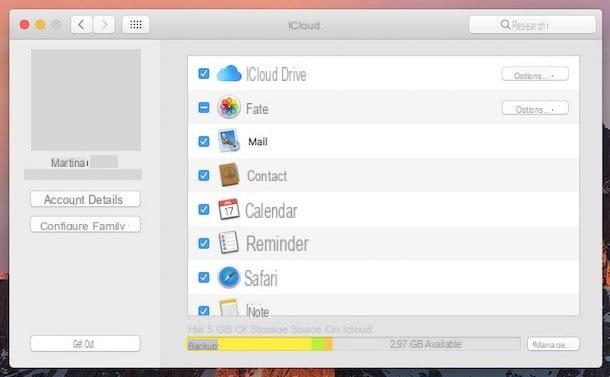 Either way, you can use the services offered by iCloud both on Apple devices (be they iPhone, iPad or Mac) and on PC Windows o via web browser.
iCloud on iOS - to back up data and settings on iCloud, you can act in two different ways: by specifying the Apple ID when activating the device or by activating the service later: to do this, go to the menu Settings> [Your Name]> iCloud and move up ON all levers that refer to the synchronization options (mail, contacts, calendars, photos, documents and so on). To access archived data, save new data, manage available space and perform all other operations on the cloud, you must go to Settings> [Your Name]> iCloud, touch the icon available space graph and then press the item Manage space. If you want to see what's on iCloud instead, you need to open the app Fillet and touch the wording iCloud Drive annexed to the section Shop by Department.
iCloud your macOS - the purposes of iCloud on macOS are, more or less, the same views for iOS: the synchronization of contacts, favorites, photos, calendars, passwords between the various devices and shared access to them. If you haven't activated iCloud when configuring your Mac, go to System preference (the icon ofgear annessa there Dock bar), click on your voice iCloud and put the check mark next to all the items you want to sync: contacts, favorites, photos, calendar, key rings and so on. To view the details of the space in use, click on the button Manage ... located at the bottom right. Finally, to view the data stored on iCloud Drive using the Apple ID in use, you need to access the section iCloud Drive attached to the left sidebar of the Finder.
iCloud on Windows - if you wish, you can also use iCloud services on a Windows PC by downloading the appropriate official client, installing it and logging in with your Apple ID. You can then specify the items to synchronize using the appropriate window. To see the contents of the disc iCloud Driveinstead, you have to open theFile Explorer Windows (the gialla poster located on the system tray) and click on the item iCloud Drive attached to the left bar.
iCloud Web - as needed, you can access the information and data stored on iCloud / iCloud Drive via any online browser: connect to this website and, after logging in with your Apple ID, use the iCloud control panel to access the section that interests you most.
To better understand how iCloud works and how to use it, I urge you to consult my in-depth tutorial on the subject, in which I was able to deal with this topic in great detail.
How the Google cloud works (Google Drive)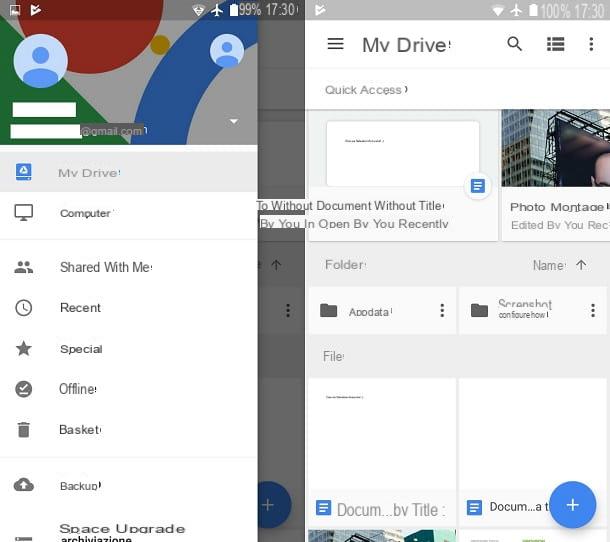 For your information, Google Drive is Google's cloud storage service, designed for creating backup copies of your data (and, in the case of Android, your settings), which can thus be managed and viewed from PC, smartphone, tablet and via the Web, as well as shared "on the fly" with other users of the Net.
By default, Google Drive delivers well 15 GB of free space, which can be increased upon subscription to the service Google One, with prices starting from € 1,99 / month for 100 GB additional space. For more information, you can consult my in-depth analysis dedicated to the service.
As you can easily imagine, to use Google Drive it is essential to have a Google account: if you have not yet, connect immediately to this website, fill in the form proposed with the requested information (name, last name, username e Password, to be typed twice), then press the button NEXT and define the additional details following the simple procedure that is proposed to you.
Alternatively, you can also create a new Google account from smartphones and tablets: if you are on Android, go to the Settings of the operating system, go to the section Account, tap the item (or button) Add account and, after selecting the logo of Google, touches the voice Create account and follow the procedure that is proposed to you.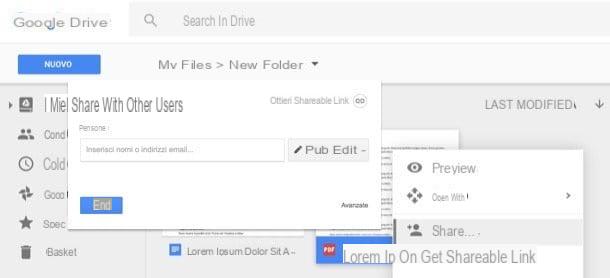 If, on the other hand, you find yourself on iOS, you have to go to Settings> Passwords and Accounts> Add Account (on iOS 14 and later you have to go up Settings> Mail or Settings> Contacts), select the logo of Google and, after touching the voice Create an account, proceed by following the instructions shown on the screen. How do you say? Are you afraid of not being able to do it alone and would you like a step-by-step guide on this subject? No problem: you can follow the guide I have dedicated to the topic.
As I have already mentioned a few lines above, you can save, synchronize, view and share data on Google Drive both via smartphone and tablet, after installing the official app, and via PC and Web: here's how in detail.
Google Drive is Android - after starting the app, select the profile configured on the device or log in using the account you prefer, then wait a few seconds for the data to be synchronized. If you want to upload or create a new file, premium pulsating capacitor positive (+) lead located at the bottom right; to share an existing file, tap the button (⋮) corresponding to its preview and tap the item Share attached to the menu that is proposed to you. Finally, to activate or deactivate the synchronization of Android data and settings, tap the button ☰ located at the top left, choose the item Settings and touches the voice Backup and restore. For further information on the use of Google Drive on Android, you can consult my guide dedicated to the topic.
Google Drive on iOS - the operation of Google Drive for iOS is quite similar to what we have seen above: after logging in to your account, you can press the button capacitor positive (+) lead to create or upload a new file or touch the button (...) located next to the preview of a file already present for share it with other users. In this case, you cannot automatically synchronize the device settings (as Apple devices use the iCloud service), however you can make a backup of contacts, calendar, photos and videos by going to the section Settings> Backup, reachable through the main menu of the app, which you can access by tapping the button ☰ (top left).
Google Drive on PC (Backup and synchronization) - through the official Google client, which you can download from this page, you can automatically create the backup of your PC folders and view the files on your Google Drive space. After installation, start the program, perform the login to your Google account and, through the screen that is proposed to you, select the folders to synchronize with Google Drive. From now on, you can easily access the shared files by going to the folder Google Drive attached to the sidebar of File Explorer (Windows) o del Finder (Mac): To add new files, simply transfer them to the above folder. To share them with other users, instead, you have to right-click on the respective icon and choose the items Google Drive> Share ... give the purpose menu.
Google Drive is the Web - after connecting to this page, log in using your Google account and, if you want to upload new files, click on the button New located at the top left and choose if upload a file o upload an entire folder. Alternatively, you can speed up the process by dragging the file or folder into the Google Drive window. To share an item, right click on it and choose the option Share… from the menu displayed on the screen.
For further clarifications regarding the functioning of Google Drive, and to obtain additional details on the configuration of the apps and the installation of the desktop client, I recommend a careful reading of my guide to the use of Google Drive, in which I have explained everything to you. down to the smallest detail.
Note: in addition to Google Drive, "Big G" makes the Google Photos service available to users, specifically designed for free storage of photos and videos made via smartphones and tablets. For additional information, I refer you to my specific guide on this topic.
How the Amazon cloud works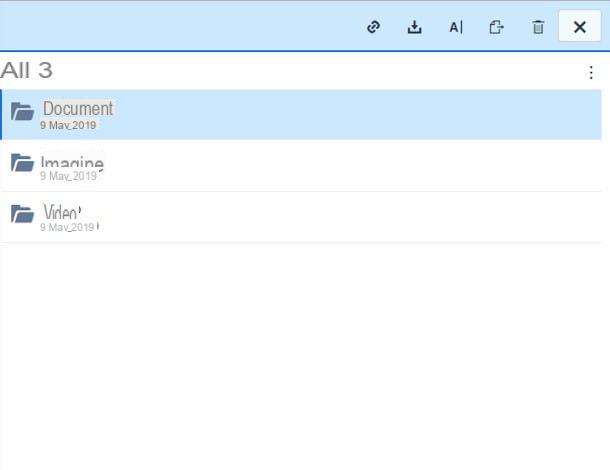 Il servizio Amazon Drive is reserved for all holders of an Amazon account (here you can find instructions to create one quickly) and offers, basically, 5 GB of space to be used for free to store photos, videos and personal files. If needed, it is possible to increase the space available by subscribing to a dedicated plan, with prices starting from € 19,99 / year for 100 GB of additional space.
Files stored on Amazon Drive can be accessed from apps for Android and iOS smartphones and tablets and PC, through any browser for surfing the Internet: I'll explain how to do it below.
Smartphones and tablets - after downloading the Amazon Drive app for Android or iOS, launch it and log in using your Amazon account credentials. The app interfaces are very similar to each other: press the button (⋮), its Android or on the button (...) su iOS to upload files o create folders. Instead, use the button (⋮) or the Arrowhead downwards, sites in correspondence of each element, for share it via link, post it o delete it.
PC - connected to this website, click on the item Log in located at the icon of the computer and log in to your Amazon account, to view all the files in the cloud. To upload a new item, click on the icon instead up arrow located in the upper right corner of the page, or drag the file or folder to the Amazon Drive screen. For share, download, to shift o eliminate an already existing element, click on it and use the buttons that appear at the top to perform the operation you want.
Finally, I would like to specify that Amazon Prime account holders can take advantage of unlimited storage space for automatic saving of photos from smartphones and tablets, through the app Amazon Photos for Android and iOS, as well as via the PC program of the same name.
Other cloud services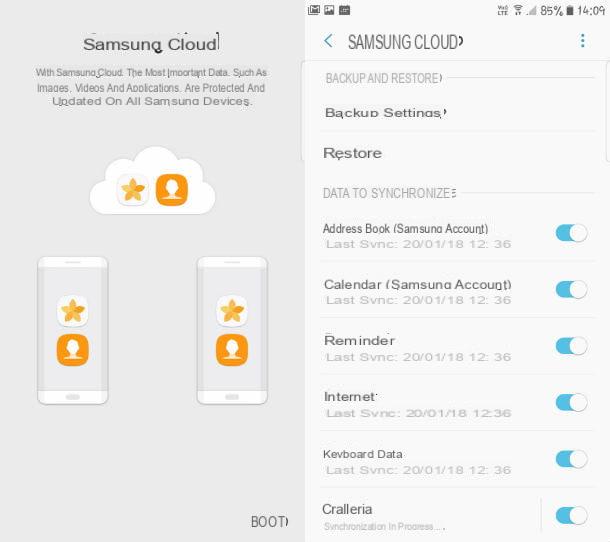 The ones I have shown you so far are just some of the best known cloud platforms in the computing scene, but they are certainly not the only ones! Numerous suppliers, in fact, offer the possibility of obtaining this type of service, both free of charge and in the form of a subscription or rental of entire platforms. Below is a list of a number of cloud services of this type.
Samsung Cloud - as the name suggests, Samsung Cloud is a service that basically offers 15 GB of free space, which can be used to synchronize photos, videos, music, documents, contacts, settings, apps and many other elements of Samsung-branded devices. I told you about this service in my dedicated tutorial.
Huawei Mobile Cloud - is the cloud storage service managed by Huawei, mainly dedicated to smartphones and tablets of the aforementioned brand. It allows you to automatically archive photos and videos acquired via mobile devices and, on request, also elements of different categories (documents, presentations, etc.) and settings of devices. Basically, Huawei Mobile Cloud is dedicated to owners of HUAWEI ID, is compatible with many devices of the manufacturer (family P20, family P10, family Mate 10, PSMART, P8 Lite, Y7, Y5 Pro 2017, P9 Lite Mini, Nova 2, Honor 10, 9, 8 (Pro and Lite 2017), 7A, 7C, 6A and tablet T3, for example) and offers 5 GB of free storage space. More info here.
Telegram cloud - although this service is not exactly similar to what we have seen above, the "cloud" of the Telegram messaging app can be used to easily exchange files between multiple devices. It is enough to send a file to yourself (to be precise, in the Saved messages) to find it available on all other devices where the same Telegram account is configured.
Aruba Cloud - the Aruba Cloud platform does not have much to do with online file storage and is mainly dedicated to IT professionals and companies that need great computing power: its services, in fact, range from rental of virtual private servers to the use of entire pre-configured processing platforms, with the possibility of obtaining dedicated assistance and extremely scalable performances, depending on the usage scenarios. More information is available in my tutorial dedicated to Aruba Cloud Hosting.
How the cloud works