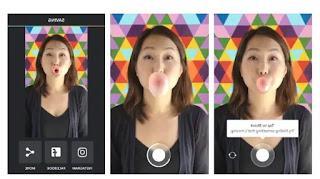 I
boomerang
they have become very popular thanks to Instagram and they are those
very short videos that go forward and then rewind continuously
, thus repeating the same scene without interruption,
looped
.
The Boomerang app from Instagram
you can download it for
Android
and for
iPhone
and it works by taking very close shots that are eventually composed into a 3 second video.
While the Boomerang is a very nice type of video in its own right, it is possible to create better ones using other tools. There are also other applications for Android that allow you to create videos with the Boomerang effect that have many more options to customize the loop, adding effects, making longer videos, slowing down or speeding up the scene and also adding text and to play videos with music in the background.
1)
Boomerang Video Converter
(disappeared)
Boomerang Video Converter is a free application that you can use to create video, change audio, flip or trim video, convert video to MP3 and also to create loops or boomerangs. The app allows you to edit existing boomerangs from the phone gallery and crop an already recorded movie to turn it into a boomerang. The app has options to adjust the forward and reverse speed of the video and to add multiple loops in the same video.
2)
Boomerate
Boomerate is a good looping video editor for editing boomerangs using its tools. You can change the video speed by making it faster or slower using a slider and you can add up to 4 loops in a video. After editing the video, it can be saved and shared.
3)
Looper Video
The Loop Video app can be used as a boomerang video editor, to edit them and to create loops from existing videos. You can import a boomerang video from your phone and put the video in forward and reverse mode by choosing the speed and adding even more loops in the same video.
4)
ReverX - magic reverse video
Loop Video is a cute boomerang video editor for Android that includes several effects to make it cuter. The app then allows you to create loops from existing videos by repeating a scene that goes back and forth continuously. With this application you can also add music or other type of audio to the video, choosing it from the phone memory.
5)
Loop Video GIF
This is a very simple app, which allows you to edit boomerang videos and add more loops. The app is just an editor, therefore not one that records boomerangs, but just that modifies them with effects, music, text, filters and symbols.
Create looped Boomerang videos and edit them (Android App)