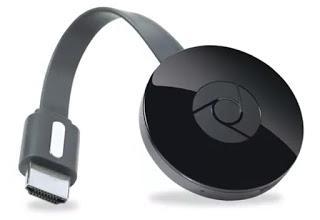 the Google Chromecast
it was, and still is, one of the most successful technological objects ever, because it allows you to watch on any TV, even non-Smart TV, movies and videos streaming from the internet or those stored on your PC or smartphone. The success of the Chromecast is due both to the price accessible to everyone and not at all demanding, and to the ease with which it is possible to configure it.
On a technical level, the Chromecast is a key with HDMI connection and wifi connection, which attaches to the TV and works as a receiver of data from another device which can be a computer or a smartphone or any tablet, Android or iOS. The latter is the main difference from similar devices such as the Fire TV Stick, namely the fact that the Chromecast does not work autonomously and has no apps inside it.
With a Chromecast you can not only watch videos and movies and listen to music
, but you can also see photos from your mobile phone and computer, see your PC desktop on the TV, surf the internet and many other things.
In this article we look at some of the
better functions of the Chromecast
, with a guide in
16 points that explains tricks and applications to become masters of the legendary Google stick
.
Today you can buy it
the Google Chromecast to turn any TV into Smart TV
.
Articolo Index
Guide to get started with Chromecast
from PC to TV
Chromecast with a Mac
Chromecast child Android
Chromecast with iPhone or iPad
Chromecast without Wi-Fi
Computer video and film
Streaming from Smartphone or Tablet
Photo on Chromecast
Music on Chromecast
Draw on Chromecast
Play on Chromecast
TV window
Cell phone camera
Powerpoint on Chromecast
Reset Chromecast
1) Starting up and initial configuration of the Chromecast
To use the Chromecast on the TV
it is necessary to have a TV with HDMI input (any screen with HDMI connection is fine), a Wifi network accessible from PCs and mobile phones at home, a smartphone or an Android tablet, an iPhone or an iPad or even just a PC or a Mac with the Chrome browser. The only trick to use is to keep the router close to the TV and computer.
Only if you are using a Chromecast Ultra will you need a TV with 4K viewing support and a high-speed Internet connection. The initial setup is really simple, but it can only be done from a smartphone and not from a computer.
To connect, you need to download
the Google Home app
free from the device app store (
Google Home for Android
e
Google Home for iPhone and iPad
). Within the app, go to Add> Configure Device> Configure New Devices and follow the onscreen instructions. The wizard updates the Chromecast software and connects the key to the wifi network.
After connecting the Chromecast, you can immediately try with the
Youtube app
mobile phone and try to watch a video on TV by pressing the Chromecast button which is the one with the symbol of a screen at the top right.
2) Cast from PC to TV using Chromecast
To use Chromecast with a Windows PC (Chromecast supports Windows 7, Windows 10 and Windows 8.1) you need to open the Google Chrome web browser. Any site opened with Chrome can then be seen on the TV screen by pressing the menu button at the top right (the one with three dots) and then on
Broadcast
. You can then choose whether to stream content from a single card (for
see any internet site on TV
), whether to stream the entire desktop (for
see the windows of other programs
) or even if you want to stream a video file or a movie saved on your PC (to see downloaded movies).
To make the selection, in the Cast window, before pressing the name of the Chromecast on which to cast, press the menu of
References
.
Whether you choose to cast a single Chrome tab or stream a file, you can continue to use your PC with Chrome without affecting the broadcast and what you see on TV. The important thing is to leave Chrome open and running in the background.
With the Chromecast you can then watch Netflix on a non-smart TV).
If, on the other hand, you choose to broadcast the entire desktop, whatever you see on the PC monitor, it will also be projected on the TV. Again Chrome must remain open, even if in the background.
Chromecast supports streaming video from the internet
. If you find another streaming video, live from a web page, you can use the Cast button on Chrome from PC.
As for local video streaming from PC, Chromecast only supports MP4 and WebM video formats, but luckily there is an easy solution to watch all movies including AVI and Divx (see point 7).
If you stream a full-screen video from your PC via Google Chrome, you don't have to keep it in view on your computer monitor all the time. If you want to do something different on your computer, but you want to
keep streaming video from full screen from Chrome browser
, after putting it in full screen, press Alt + Tab to switch to another program.
3) How to use Chromecast with a Mac
To stream a video or the entire desktop from your Mac, the process is the same as described for Windows.
Open Google Chrome, press on the button with three dots at the top and then click on Cast, choose the Chromecast and the Sources to select to cast a video or movie on the Mac, a browser tab or the desktop.
4) How to use Chromecast with Android
The support of Android devices with the Chromecast is better than other devices and there are many ways to cast content on TV. With the Google Home app, the main one, you can broadcast what you see on your smartphone, including all applications and games, on TV, then using your mobile phone or even an Android tablet as a remote remote control to do anything. In this regard, we have written a special guide for
Cast Android to TV
.
With Android you can too
cast the entire screen of your smartphone or tablet to TV
. In this way it is possible to cast content even from apps that do not natively support Chromecast devices. To cast Android screen to Chromecast, open the Settings app, go to Device Connection> Cast and choose your Chromecast device from the list. If you do not find the option, open the Google Home app, then press the profile icon at the bottom right, scroll through the options and press on "Mirror device".
Some apps, like YouTube, have a built-in broadcast button that looks like a small TV screen. tapping that button will automatically stream the video to the Chromecast, not including the phone interface.
5) How to use Chromecast with an iPhone or iPad
With an iPhone, you can cast content to a Chromecast
only with apps that support this broadcast. Consequently, the function that casts the whole screen is not supported on the iPhone. If the app you are using supports Chromecast, you will see a small button similar to a TV screen somewhere on the home screen or on the application menu. Tapping this button will display a list of Chromecast devices found on the network.
In another article,
How to cast videos and photos to TV from iPhone and iPad with Chromecast
6) How to use Chromecast without Wi-Fi
Only with Android it is possible to cast videos on TV on a Chromecast without a Wi-Fi network by following the instructions in point 1. When the Android smartphone finds a Chromecast that is not on the wifi network nearby, just touch its name and then enter the PIN which should appear on the TV screen to complete the connection.
We have written a guide on this, talking about the
guest mode on the Chromecast and hotel use
However, the ideal would be to have your own portable router plug it in and have your own wifi network in the hotel which, even if not connected to the internet, allows you to watch the movies saved on your laptop on TV without the need to use cables, as you would do. at home.
7) Play any type of computer video on Chromecast
Since Chrome does not allow you to play all video file formats, so to open AVI or Divix files or DVDs on PC to watch them on TV on Chromecast you need an external program.
Without looking any further, you have to use the free Plex program, install it on your PC and use it to watch videos on TV with the Chromecast.
In another article the step by step guide for
watch streaming videos and movies from your PC with Chromecast on TV
.
A very convenient free app, then, is
video stream
which allows you to open videos and play them on TV via Chromecast and which works as a remote control via the Google Cast extension.
From version 3, you can also use
VLC to play computer video on Chromecast from PC
The program also supports casting on Chromecast
Sodaplayer for PC
, especially useful for viewing Torrent and Acestream videos.
8) Watch streaming videos from your smartphone or tablet
On Android, videos can be viewed on Chromecast by opening them with an app like
EZCast
, free, which allows you to open any website to project it in streaming on the TV with Chromecast. With EZCast you can also open the videos saved on the mobile phone memory. If you want to watch a streaming video from a website on Chromecast, it must be opened with Chrome on Android or iPhone and then it must have the Chromecast icon. In another article the guide to use Chrome and Firefox on Android with Chromecast.
Another app to see every video saved in the memory of the Android smartphone is
Localcast
which also supports streaming video from internet and computer via SMB (file sharing from Windows) or DLNA / UPnP (via Plex program).
Also for Android it is possible to use the app
Web Video Cast
to be able to broadcast online videos (and therefore those of websites) displayed on the Android smartphone on the TV.
Even that a popular app like
ES File Explorer
allows you to open videos on your Android phone or PC to watch them on TV with Chromecast.
9) See the photos of your Android mobile on TV
see photos taken with the smartphone camera, on Android and iPhone
you can use the Google Photos app, very comfortable, easy and to have also to manage the photos taken. In Google Photos, when you open a video or photo, you can press the Chromecast key to cast.
Other good applications for viewing photos on TV are:
LocalCast for Android allows you to view photos in automatic slideshow on TV, without having to choose them manually.
Castify for Android instead allows you to see the photos of the mobile on TV through the Chromecast.
For iPhone
instead you can also install the Photo Video Cast to Chromecast app that projects both photos and videos on TV.
It is also possible to view personal photo slideshows on TV with Chromecast.
10) Listen to music on TV
From the PC you can choose to cast an MP3 file on Chromecast to listen to it on TV. You can also use a program such as Sodaplayer or VLC Media Player or Plex, all programs already seen above.
From Smartphone, in addition to Youtube, the app to use to listen to mobile phone music on TV is certainly Google Play Music. The app is compatible with Chromecast so there are no tricks to discover. If you want to use Play Music from PC, the only job to do is to upload the songs from your computer to the internet in Google Play Music, which allows the free upload of 10000 songs maximum.
Chromecast is also supported by the Spotify app for streaming music.
11) Draw on the TV
With the CastPad app you can also draw with your finger or stylus on your Android smartphone or tablet, seeing what you draw on TV.
12) Play with the Chromecast
You can also play games with the Chromecast and on the PlayStore you will find some games to project on TV from your smartphone (as seen in point 2, each game can be played on TV).
The best game however is Super Sync Sport and other games where you use your mobile as a controller, which you can play on your TV, without installing anything.
Absolutely try projecting on TV the tab where you open the game from Chrome on your computer.
13) Turn the TV into a window
with long, relaxing videos, for example you can see a fire lit with a resting cat, animals eating in the forest, space in motion, a storm and much more. The videos can be searched on Youtube and can be projected on TV using the PC with Google Cast on Chrome.
14 ) Project your mobile phone camera on TV
You can see on TV the shooting of the Android smartphone connected to the same Wifi network as the Chromecast using the EZCast app, already mentioned in point 3.
15) Powerpoint on Chromecast
With the Polaris Office app you can project Powerpoint presentations and documents from Android and iPhone on TV.
16) How to factory reset Google Chromecast if it no longer works
It also happened to me that the Chromecast suddenly stopped working and refused to connect to the network.
In case of problems with the connection of the Chromecast, if it worked fine yesterday and today it is not, it is worth doing the factory reset and reconfiguring it from scratch. To do this, you can use the Google Home app on your Android phone and iPhone, from the Options menu.
If this does not work due to communication problems, then take the key and, without disconnecting it from the USB power cable, press the only button there is and hold it down for 25 seconds.
The list of tricks continues with others
6 little-known ways to use Chromecast
.
Chromecast guide with 16 tricks and applications to use it at its best