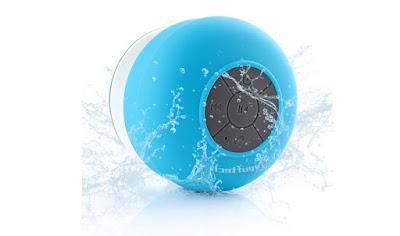 Many like to listen to music even when they are in the shower or bathroom. Singing in the shower is a habit of many people, even more so if accompanied by streaming music offered by the numerous online services or, for those who love a more classic approach, accompanied by music transmitted by the FM radio. Obviously it is not conceivable to carry your brand new smartphone with you in the shower, even in cases where it is waterproof (IPX7 or IPX8 certification), because it takes very little to drop it from a considerable height and break it, with all the regrets of the case. .
Instead of bringing you the precious smartphone
in the shower or near the bathtub,
or
in the pool, on a boat or on the beach
, you can listen to music using one of the
waterproof Bluetooth speakers
available for purchase; just connect them to your smartphone (positioned at a safe distance) and thus be able to listen to music without fearing any splash of water or shower gel. In this guide I'll show you
the best Bluetooth speakers
which you can take into consideration when you want to listen to music in situations where humidity is king.
Features waterproof Bluetooth speakers
Below I have collected all the features that a waterproof Bluetooth speaker should possess to be worth the purchase:
1)
Certified waterproofing:
easy to say waterproof, if you are not certified! To obtain a waterproof device, check that the IPX6 or IPX7 certification is available in the data sheet, all very valid for use in the shower (in the case of IPX7 the resistance to splashes and splashes is superior).
2)
Audio quality
: Usually this type of Bluetooth speaker has only one speaker, but large enough to sound better than many other non-waterproof speakers.
3)
Battery
: The built-in lithium-ion battery should provide 8 to 12 hours of continuous listening, more than enough for home use.
4)
Connectivity
: in addition to Bluetooth it should also be equipped with a mini USB socket to connect it directly to the phone or other devices using the cable.
5)
FM radio
: some models of waterproof Bluetooth speakers also have built-in FM radio, so you can hear the music transmitted on radio stations without having to connect a smartphone.
6)
Controls
: the controls are often integrated into the waterproof body, so as to avoid having to place slightly waterproof keys on the surface of the device.
7)
Hooking
: the waterproof boxes can be positioned in the shower by means of a rear suction cup or by means of a support hook, so as to be able to satisfy every need.
Best waterproof Bluetooth speakers
After seeing the features that a Bluetooth speaker must have, here you can find a list of the devices that you can buy online.
Neuftech Bluetooth speaker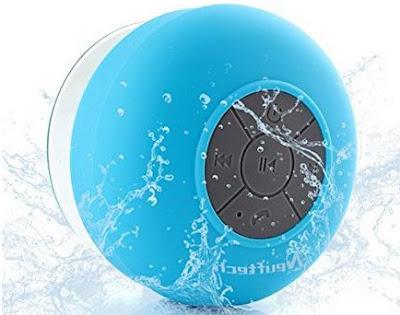 The cheapest waterproof Bluetooth speaker you can buy is supplied by Neuftech and boasts a high grip suction cup (so you can place it on the shower tiles), Bluetooth 4.0, front control keys and a built-in microphone, so you can answer calls in I arrive on your smartphone even while you are in the shower, complete with a dedicated key for answering and hanging up.
If you are interested in this Bluetooth speaker you can view it from here ->
Neuftech
Powerful Bluetooth speaker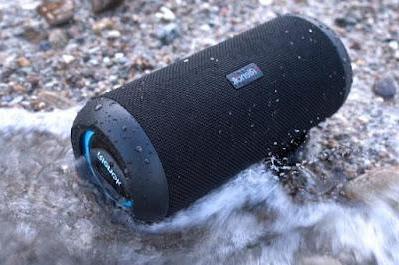 Those who want a more powerful chest can buy it
RIENOK 30W speaker
with rounded shape, LED light, Powerful Bass, IP67 certification and Hands-free call. Ideal for the sea, camping and any outdoor activity without fear of getting it wet.
Guzack Bluetooth speaker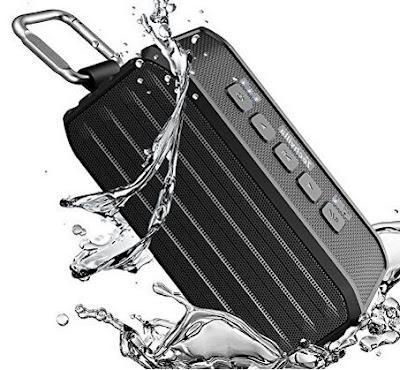 If you are looking for a simple waterproof Bluetooth speaker you can go for the speaker
Guzack bluetooth
, waterproof that is a case that can also go underwater and that can be attached to the wall with a suction cup. This speaker also has a built-in microphone, so you can answer calls even in the most unthinkable moments.
Beach Bluetooth speaker
Are you looking for a Bluetooth speaker for a boat or a beach?
A larger case model ideal for the sea and the boat is the SCIJOY IPX7 waterproof speaker, with a design in the shape of a horizontal stereo, with bright LEDs and a convenient hook with which it can be hung anywhere. In addition to the hook, it has a high-grip suction cup, so that it can also be freely positioned on the shower tiles.
Moogo Bluetooth speaker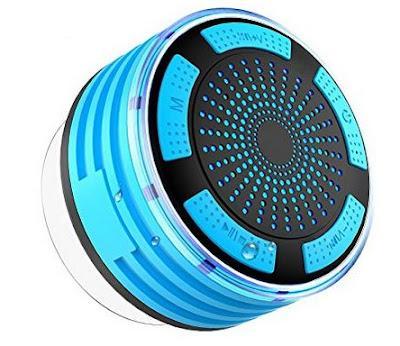 Do you focus a lot on aesthetics?
Then the waterproof Bluetooth speaker that's right for you is the
bluetooth speaker, moogo
, thanks to its round and modern lines, it will allow you to make the shower area even more beautiful with an element that integrates well with the colors normally present in a bathroom. This case boasts IPX7 certification, so it offers good resistance to splashes and splashes of water even if you accidentally get the shower jet close to it. In addition to the resistance, this speaker offers the Bluetooth 4.0 connection (compatible with all devices), the integrated FM radio, the hands-free for calls and multicolored LED lights to signal the operation of the device.
Best waterproof Bluetooth speakers for shower, bathroom or beach